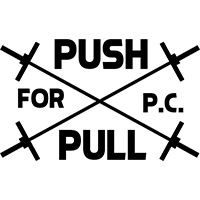 Put your muscles to work for pancreatic cancer! Help patients battling and support research to beat the 3rd deadliest cancer in the U.S. Sign your box up for free, and start recruiting by REGISTERING HERE. CrossFitters at all levels are welcome.
The Push/Pull for Pancreatic Cancer is a CrossFit competition designed to encourage personal fitness and raise awareness and funds for pancreatic cancer. This disease has the lowest survival rate after five years of all top ten deadliest cancers — only 8% — yet it's also one of the least funded. Do your part to end pancreatic cancer by making your daily workout more meaningful.
How it works:
Boxes can enter for free by creating a team with their gym's name, and asking their members to sign up under their team. Boxes who set up their own teams can create a unique team code, or simply have members search for the box's name when registering. They then program the WOD for any day of their choice in the month of November (Pancreatic Cancer Awareness Month).
Individuals enter by registering under their box's team. The $25 fee gets you a Push/Pull for PC technical tee or tank top. Make sure to wear it during the WOD in order to compete! Individuals will be able to win prizes from their participating boxes. Project Purple will also be awarding prizes to the top overall male and female over and under 40 (RX and Scaled categories) from all our Push/Pull for Pancreatic Cancer participants, will be given prizes by Project Purple.
The WOD:
20 minute AMRAP
11 Pull Ups
18 Push Ups
3 Dead Lifts (body weight)
200 Meter Run
Fundraising
Interested in going the extra mile for pancreatic cancer? Project Purple has a fundraising page set up, and will be providing prizes to the top fundraisers (prizes to be announced). We can provide you with all the tools you need to crush your goal, from raffle prizes to personal coaching, and more. To get started: