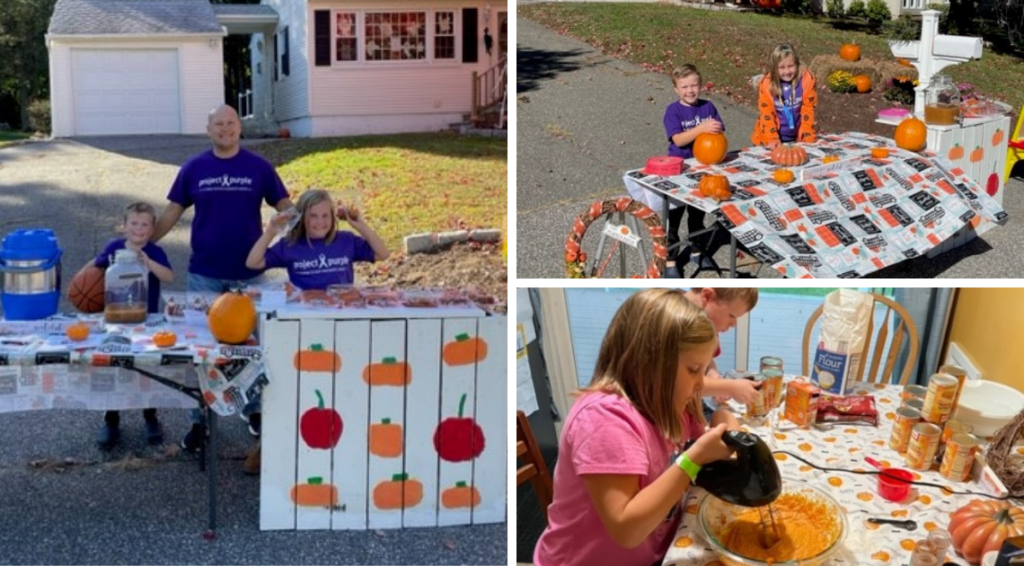 The Napychank family is celebrating the start of Fall by spreading a little seasonal cheer. Michael, the father, and Emmett and Lillian, his two children, will be hosting their fourth annual pumpkin bread stand, a tradition they started to raise money for pancreatic cancer research. This year, they are again donating to Project Purple, along with the American Lung Association, to support cancer patients with some good old-fashioned pumpkin spice. 
The stand will take place on October 29, 2023, on Marshall Street in Torrington, CT. You can pre-order or call Michael at 203-841-9412 for more information.
Michael got the idea for the stand when he learned that one of his co-workers had been diagnosed with pancreatic cancer. 
"I just started researching charities," said Napychank, "and Project Purple popped up, and I really enjoyed their message. That's kind of where it all started." 
However, Napychank wasn't entirely sure how he wanted to support his co-worker's battle until he saw his girlfriend create a lemonade stand for research for children with congenital heart defects. This fundraiser sparked Napychank's interest, and from there, he and his children began to think about how they could raise money for pancreatic cancer. 
"My kids and I got thinking like, 'everyone does lemonade stands, why don't we do something in the fall, you know let's do something different.' So I'm like, 'What do people like in the fall, pumpkin and apple cider, what's better than that!'"
Napychank found a recipe online for their famous bread, and slowly began to tweak the recipe during the baking process. And of course, the kids added their own secret ingredients! 
The family works together every Fall to put the stand together, and the kids love every minute of it! They help with not only the baking, but also with spreading the word around town, jumping on their bikes to put up flyers. However, their favorite part of the whole process is getting to help polish up the stand itself. 
"We built the stand from scratch," explained Napychank, "I keep it outside, so every year it kind of gets a little worn, so every year we paint it and put on the pumpkins and apples. My son actually added some worms on there. You know, I don't know if that's too appetizing, but oh well!"
The family enjoys putting on the fundraiser so much that they have started to experiment with other seasonal stands. Since the first year, the family has experimented with other seasonal stands. One year, they organized a sugar cookie bread and hot chocolate stand during the winter. 
"We kind of want to do it for every season, it just hasn't happened yet!" said Napychank. 
The family has been donating their proceeds from the stand to Project Purple for the past few years now. However, this year, the children's grandmother was diagnosed with lung cancer, causing them to open up their giving pool to include the American Lung Association. 
"I wanted to combine the two," Napychank explained, "and in the grand scheme of things, if we continue to do this, I would want to keep including charities. That's somewhat of a vision of mine, to not just donate to one charity, to spread the wealth a little bit so to speak."
With big plans for the future, the Napychanks are excited to continue the stand for years to come. Thank you to them, and everyone else who has donated to Project Purple this year. If you are interested in hosting your own event in support of Project Purple, please click here for more information. Now, go get some pumpkin bread!