Meet Brandon, Guest Blogger, about his experience at the NYC Half Marathon
"In 2017 I will be running my 9th NYRR New York City Half Marathon. I first ran the NYC Half in 2009 and have run it every year since, and I truly believe it is the most fun and the best road race in the world! The NYC Half gives you a unique and amazing way to see New York. This is the only road race where you run through beautiful Central Park, right down the middle of Times Square where you get to see yourself on the big video board. You get to run past the Intrepid Air and Space Museum, and you finish up running by One World Trade Center, with the Statue of Liberty to your right and a finish line on Wall Street. If you enjoy running, the NYC Half is the coolest way to experience New York and you'll want to do it again.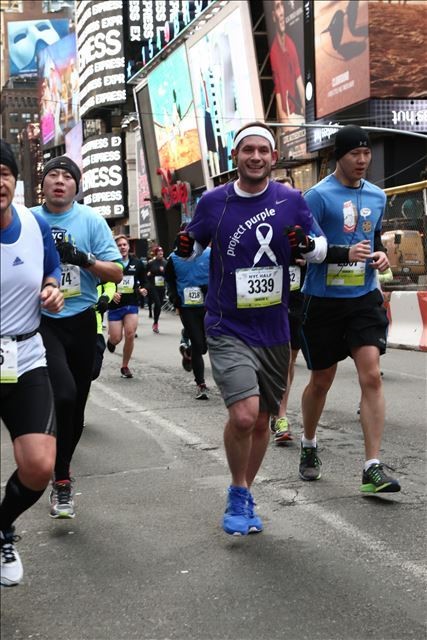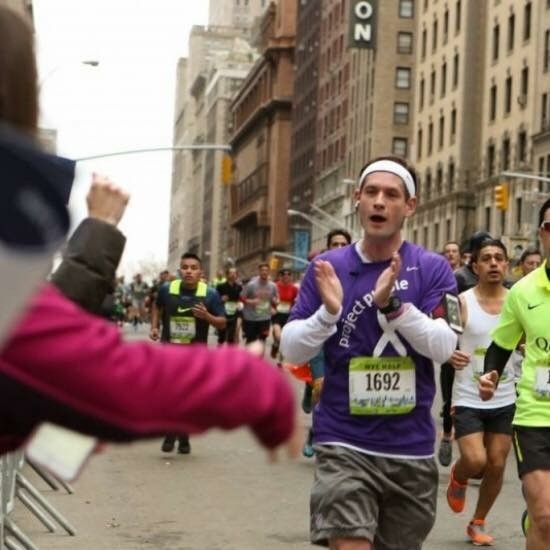 In 2014 I ran my first NYC Half with Project Purple and it made what was already my favorite road race into my favorite weekend of the year. To raise money for an amazing cause and to be able to gather with friends and teammates throughout the weekend and after the race, gives the race more meaning and enhances the whole experience. It's meant so much to me, I've run for Project Purple at the NYC Half every year since 2014. For me raising money for Project Purple is easy because I can see the great work Project Purple does and my donors see this as well. Project Purple really is family. Just this past year a friend and co-worker's father received the terrible diagnosis of pancreatic cancer. I had told my friend about Project Purple and by the end of the day Project Purple was working with him to make sure his father was in the right hospital and receiving the best care. My friend, our manager and myself were moved to tears over how amazing Project Purple is and how quickly they moved in to help. That's the thing I love most about Project Purple, it really is family and I love how its not just about finding a cure… Project Purple takes care of those currently fighting, it helps the care takers and the families. Project Purple provides those who've lost loved ones with a community and a family to help them get through the most difficult time in their lives.
Finding a cure and improving the long-term prognosis of a pancreatic cancer diagnosis is also extremely important. I was fortunate to meet Lance Armstrong 15 years ago and one of the things he told me that was surprising to me was that most forms of cancer are immediately treatable now. He was explaining to me the importance of education, helping people find the right doctors and selecting the best treatment. Right now that outlook doesn't really exist for pancreatic cancer and I run for Project Purple because I want to add pancreatic cancer to that list of forms of cancer that are immediately treatable. I know its possible and I know we'll get to that point.
Running the New York City Half Marathon is an incredible experience you'll love and running for Project Purple gives it a purpose and a meaning. I'm so excited to be back with Project Purple in 2017, to train with my teammates and friends and to be able to experience that amazing weekend in March."
— Brandon Harper