One of the most popular races in the country, the Napa to Sonoma half-marathon, sells out immediately after registration opens. In fact, the race has earned a reputation for filling quickly every year. While there are no spots available through regular registration for the 2017 race, Project Purple is accepting applications to run with our very own Napa to Sonoma team!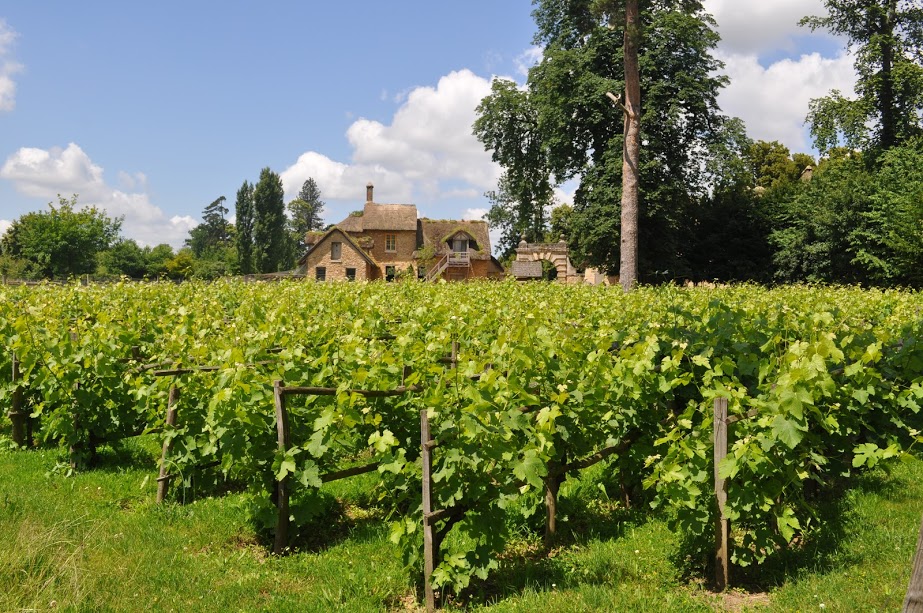 It is easy to imagine why Napa to Sonoma is such a popular race. The event, put on by Destination Races, takes place in beautiful Northern California Wine Country.
Napa to Sonoma Half Irresistible to Runners & Wine Lovers
Macy Usher, charity and hospitality manager for Napa to Sonoma explains the race's popularity. "Napa is one of the top wine country regions in the Western United States and in the world. A lot of people want to come and taste our wine and experience all the Napa region has to offer. The race has a great course, running through vineyards and finishing on the Sonoma Plaza. It is just beautiful."

Napa to Sonoma features a point-to-point 13.1 mile course, followed by a 2.5 hour after party in Sonoma Plaza. Ms. Usher works exclusively with the wineries and charities for the race. She worked within the winery industry prior to coming to Destination Races, the parent company of Napa to Sonoma. "People love running and people love wine, so we pair the two together. Our runners go through the vineyards on the course and at the end of the race there is a wine and musical festival. Our runners do wine tasting after the race."
Napa to Sonoma More than a Race. It is an Experience.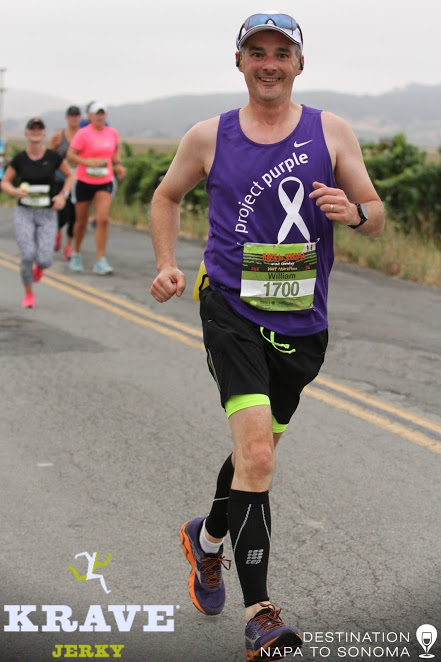 Ms. Usher believes the race is exceptional because the race team creates a whole weekend experience out of the race. In addition to the half-marathon and after party, runners can take part in welcome reception and the pre-race dinner held at a local winery.
The local wineries love to partner with Napa to Sonoma. At the post-race festival they get the opportunity to show off their wines. This year, Ms. Usher plans to have between 25 and 40 wineries participating in the festival. While the half-marathon allows 3,500 runners, the festival brings 8,000 to 10,000 participants annually.
It is no wonder Napa to Sonoma draws runners from all 50 states as well as from different parts of the world. "This is such a beautiful area. There are lots of fantastic places to hike. We have amazing restaurants here. We are close to Bodega Bay and San Francisco. Many of our runners extend their trips and enjoy a family vacation after the race."
Project Purple Napa to Sonoma Team
Project Purple became a charity partner for Napa to Sonoma in 2016. The event was a big hit with all who participated. Runner Bill Nugent was impressed with the race's organization and attention to details. He says, "Napa to Sonoma is a fantastic race. The race course is beautiful with lots of people along the way to cheer you on. Everyone running the race is in a great mood because of, well frankly, wine! The finish is great. You go right through the middle town and into a square where they hand you a wine glass and let you rehydrate."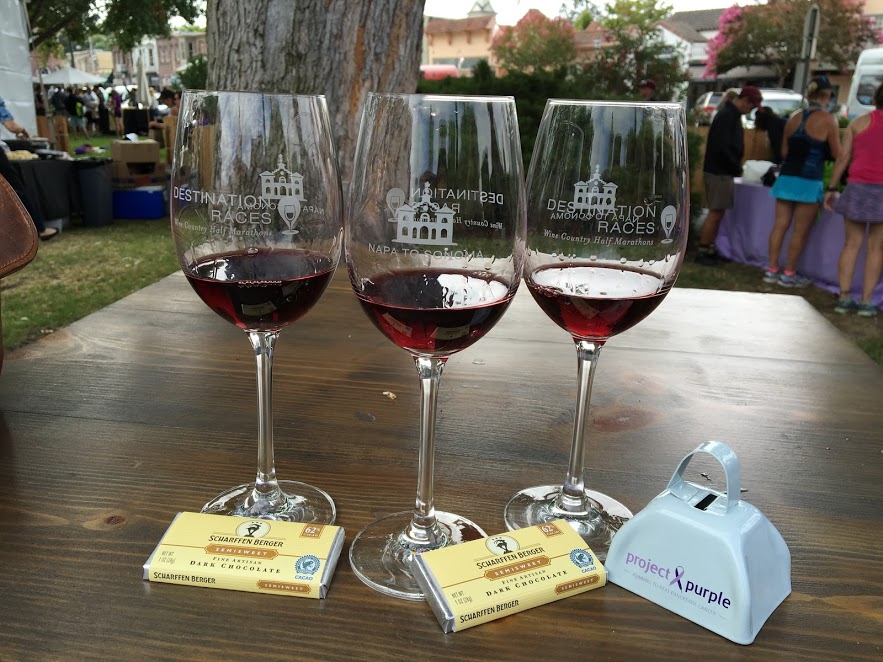 It seems that everyone in the area supports the popular race. "The people in Sonoma really roll out the red carpet. If you sit in a restaurant, the waiter will chat you up about the race and ask you how it went," Bill adds. "We made a long weekend out of the race and had a fantastic time all around."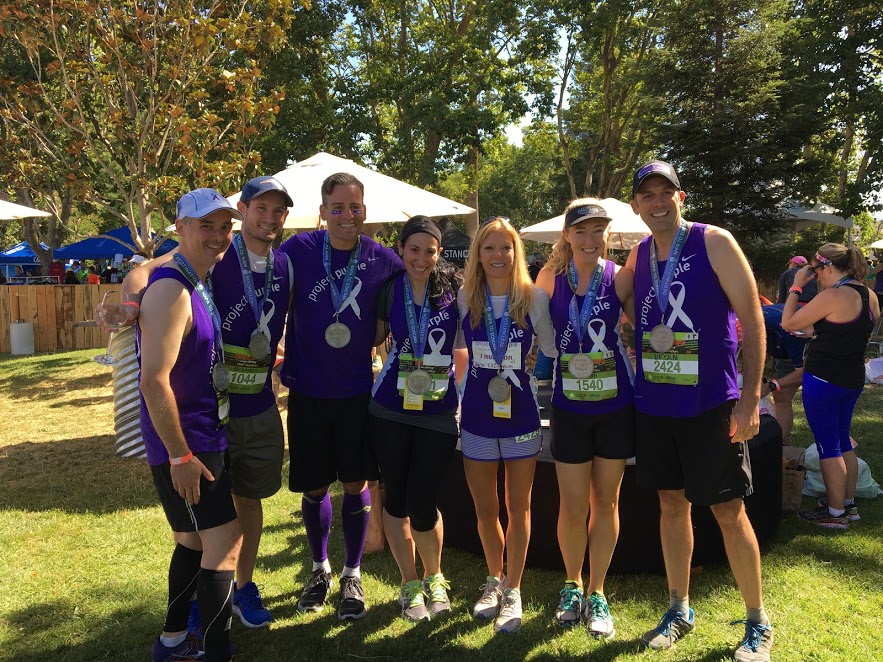 Enjoy a great destination event and join Project Purple's Napa to Sonoma team. Bring your friends and family along to enjoy the natural beauty of California's Wine country while helping to raise funds to end pancreatic cancer with Project Purple.
To apply for Project Purple's Napa to Sonoma team, follow this link:
To learn more about the Napa to Sonoma race, click here:
http://destinationraces.com/runn2s/
All photos courtesy of Sandy and Bill Nugent.