Family was everything to Erin Lancaster's grandmother, whom she called 'Nona'. Nona had 14 siblings and gave birth to seven children of her own. When she passed away from pancreatic cancer in 2012, the family banded together to honor her. Over the last several years, the family participated in fundraising 5ks and other events, but this year Erin wanted to do something new and big to honor her Nona. Erin will be taking the streets of New York City by storm as she runs the NYC Half-Marathon with the Project Purple team.
Pancreatic Cancer Diagnosis
Erin's grandmother first became ill in early 2012. Her stomach was bothering her and she just did not feel particularly well. She was always good about taking care of herself, however, and though she was generally healthy she would see the doctor when needed. Accordingly, she sought the help of her physician.
In March, 2012, Erin's family received devastating news. Her grandmother had pancreatic cancer and it had metastasized through her body. Erin recalls, "It was very out of the blue. My mom called me and told me Nona had pancreatic cancer. It was just earth shattering for me." Eventually, Nona had to go into compassionate care. She passed away just three months after her diagnosis in June, 2012.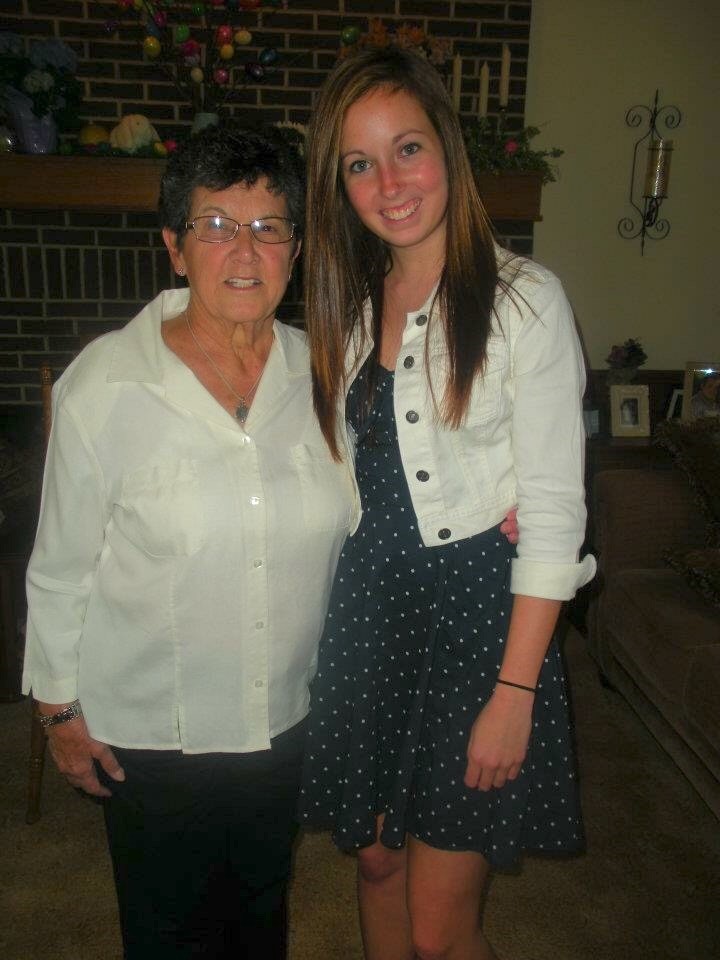 Erin Remembers her Nona
"Whenever something good happened in your life, you called Nona right away," Erin says. "She put everyone else before herself." In all large families, holidays are an important time for gatherings. Erin's Nona always enjoyed a glass of wine at these holiday celebrations, and this was one of the first clues that something was wrong. "Nona was diagnosed right before Easter," Erin remembers. "She was normally always with a glass of wine, but that day she had the same glass all day. I knew something wasn't right because she wasn't enjoying her wine anymore."
Erin continues,"Every summer, my dad and his six brothers and their families all go to the beach in North Carolina. In the morning, I would go out on the balcony and I would always see Nona down at the pool drinking coffee. I miss that. The first thing we always did was go out to say good morning to her. She was the glue holding the family together."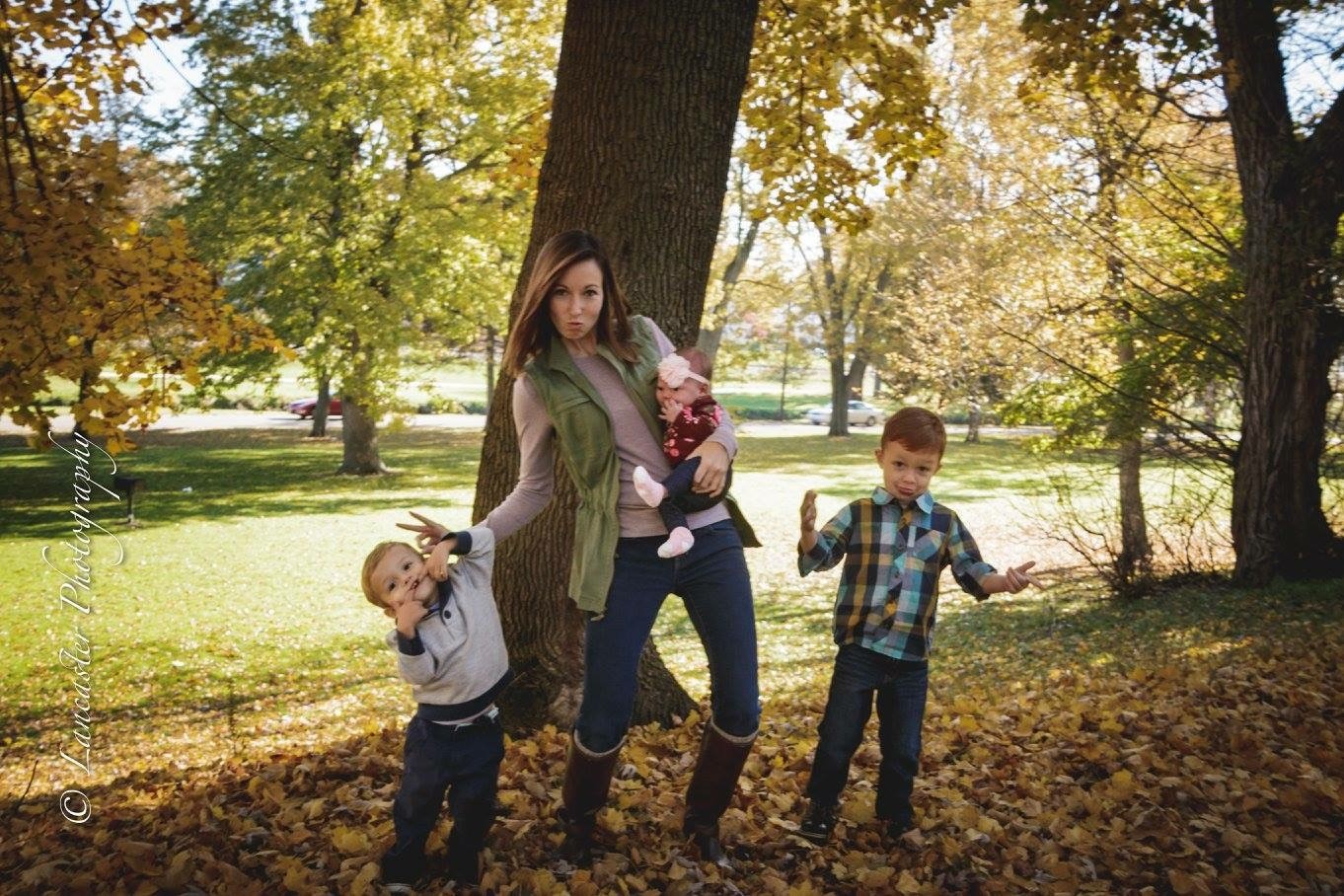 Erin Lancaster Runs
Erin lives in North Canton, OH, close to her family. She ran cross-country all through high school, but opted not to run on a college team. Instead, she started challenging herself by running half-marathons.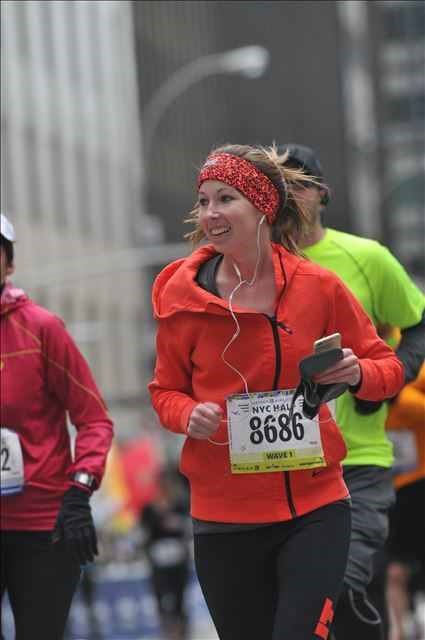 Erin loves running because it gives her the chance to explore the outdoors and see places she might not otherwise visit. She explains,"I am the kind of person you can't put on a treadmill because I just enjoy running outside. I spend 99% of my time looking around at the world while I run. I really love city races. It is my own form of sight-seeing!"
New York City Half-Marathon
In 2016, Erin got into the New York City Marathon through the race's lottery. She had a fantastic experience last year and wanted to do it again in 2017. "New York City is the biggest race I have ever done. I loved the atmosphere. It is very organized and there are crowds the whole way. It is a really fun and exciting race."
This year, however, Erin's lottery luck ran out. Though Erin initially disappointed not to be selected, she realized she could gain entry through a charity. When she found Project Purple, she knew she had found the perfect charity team for her. (Learn more about the race HERE)
Fundraising for Project Purple
Though Erin found her fundraising goal a bit intimidating at first, she quickly learned she had nothing to fear. People were extremely supportive and generous. She says, "It is gratifying to see that people are willing to give. I come from a very small community. There are so many families who have lost family members to cancer, and they have been very giving. It is incredible to see that people care as much about the cause as I do. As soon as I announced I was running the New York City Half-Marathon, a lot of people said they were proud of me and made donations."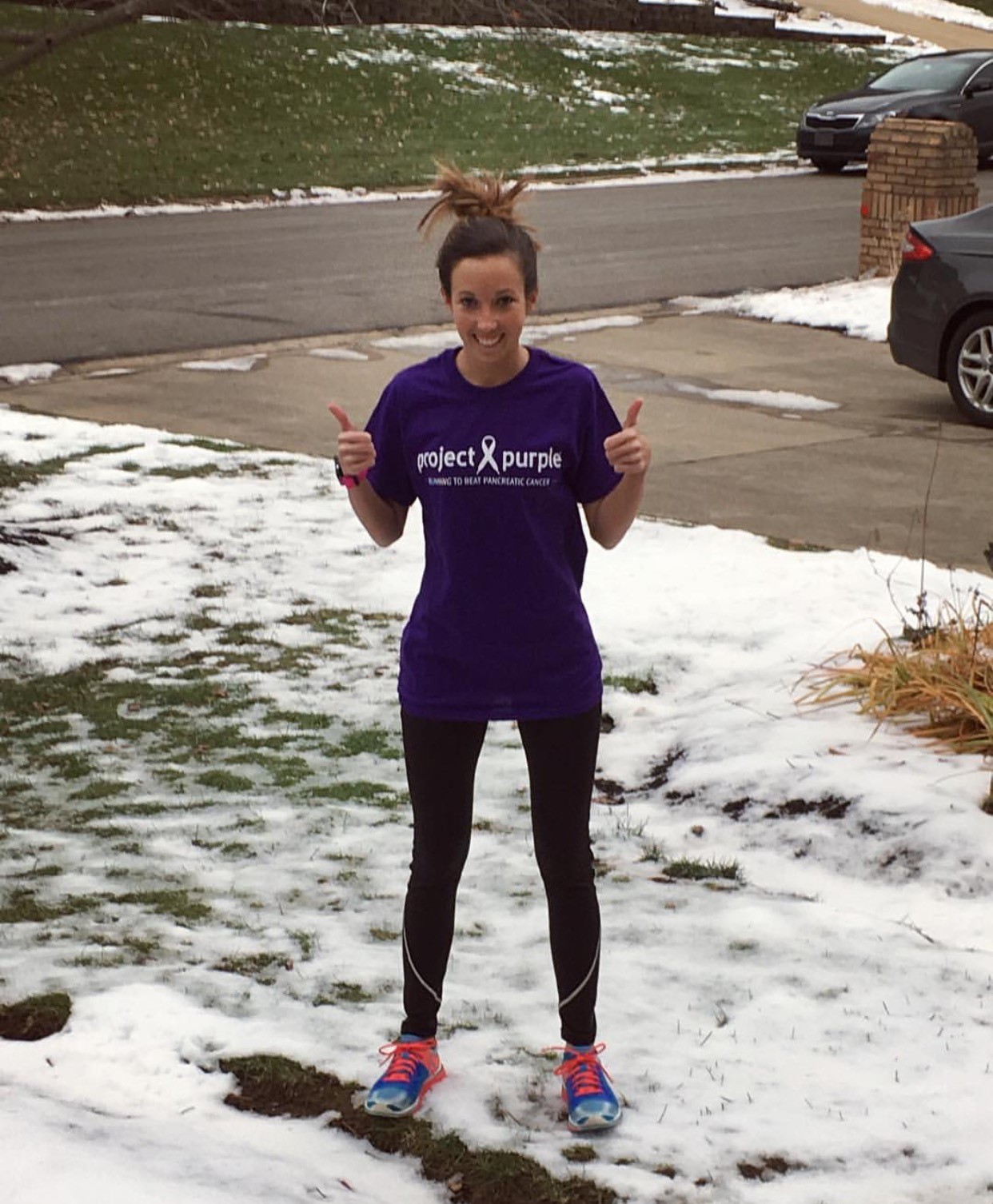 Erin enjoys being a part of a fundraising team. She likes the supportive and helpful emails she receives from Project Purple. Furthermore, she is looking forward to meeting her teammates in New York City. She says, "I may have reached my goal, but I don't want to stop. I am very excited to be a part of this team. I have never done anything this big and I feel like I am taking part in something much bigger than myself!"
To make a tax deductible donation to Erin's Project Purple New York City Half-Marathon click the following link. After donating, please share with your friends!
Erin's Project Purple Donation Page
If you are interested in running the sold out New York City Half-Marathon with Project Purple, click HERE