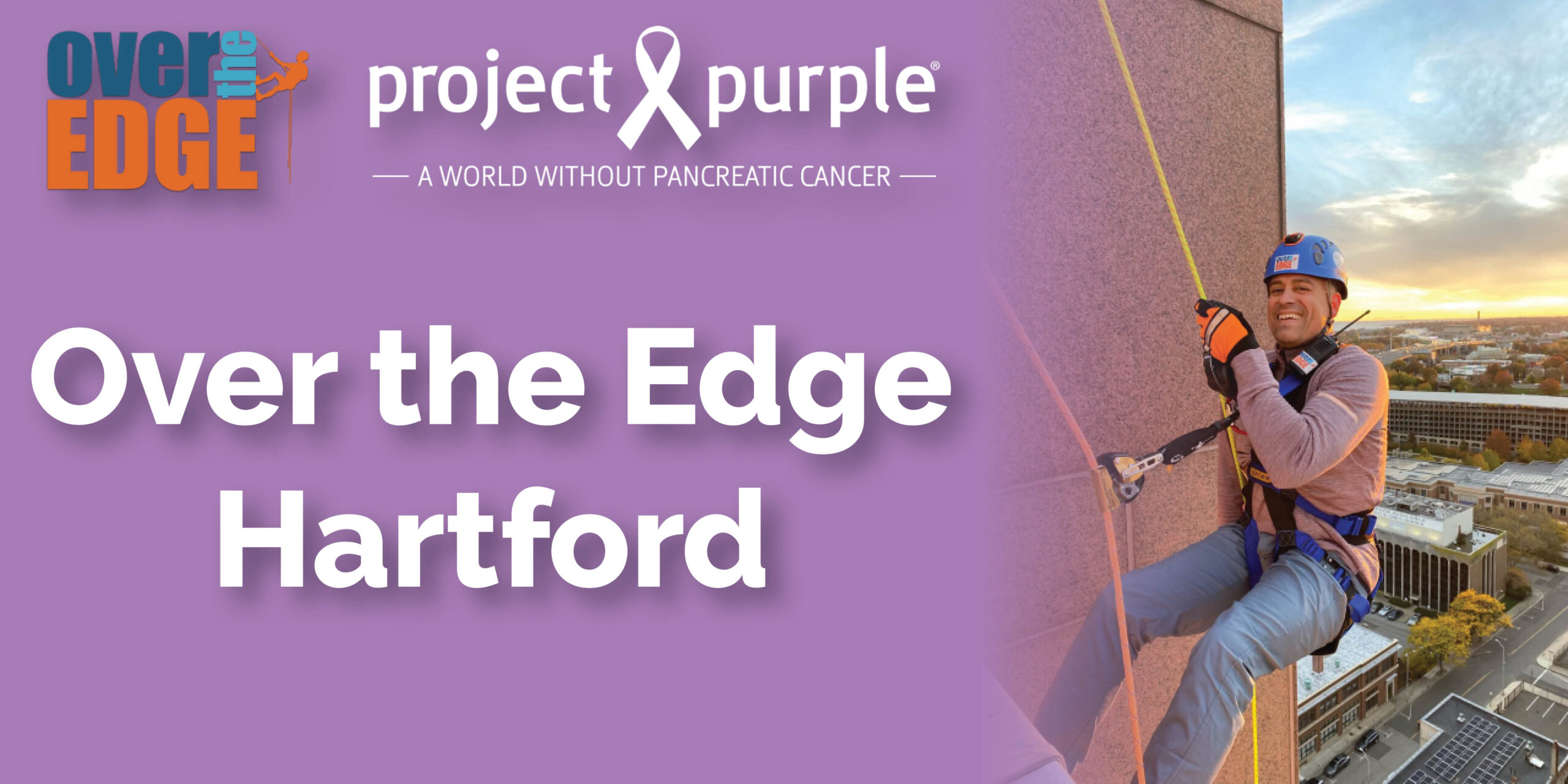 Project Purple is offering individuals the chance of a lifetime. On Saturday, Sept. 16, Project Purple's Over The Edge fundraiser will give participants the chance to rappel down 90 State House Square in Hartford, a fourteen-story building in the Connecticut state capital.
"Whether urban rappelling is a bucket-list activity for someone or something that never crossed one's mind, the experience will be unforgettable!" said Dino Verrelli, founder and CEO of Project Purple. "We're excited to bring this unique fundraising opportunity to Hartford this summer."
Looking for our signup page? Click here!
What is Over The Edge?  
Project Purple will be partnering with Over The Edge, an urban rappelling fundraiser that has hosted over $1,000 urban rappelling events. They seek to "provide unique and powerful experiences while bringing about positive change in the communities."
Urban rappelling participants get to experience a city like never before. Over The Edge not only has comprehensive safety protocols to ensure participant safety, but also consults with an External Technical Advisory Committee. According to their website, "this committee is made up of renowned leaders in the fields of rope access, technical rescue, engineering, life safety equipment and rope manufacturing," so participants can be sure they are in the hands of experts. 
"Although it's not something you can do every day, it is something that a lot of people are actually eligible to do," said Beth Wadden, an Over The Edge team member who spoke recently on the Project Purple Podcast. "I've spent time on the roof [of some buildings] talking with grandmothers!"
The only prerequisites for rappelling are fairly simple: participants must weigh at least 100 pounds and be at least 16 years old. However, the opportunity is only open to as many as 100 people. Those who register must raise $1,00 to participate. To sign up, go to bit.ly/HartfordOTE.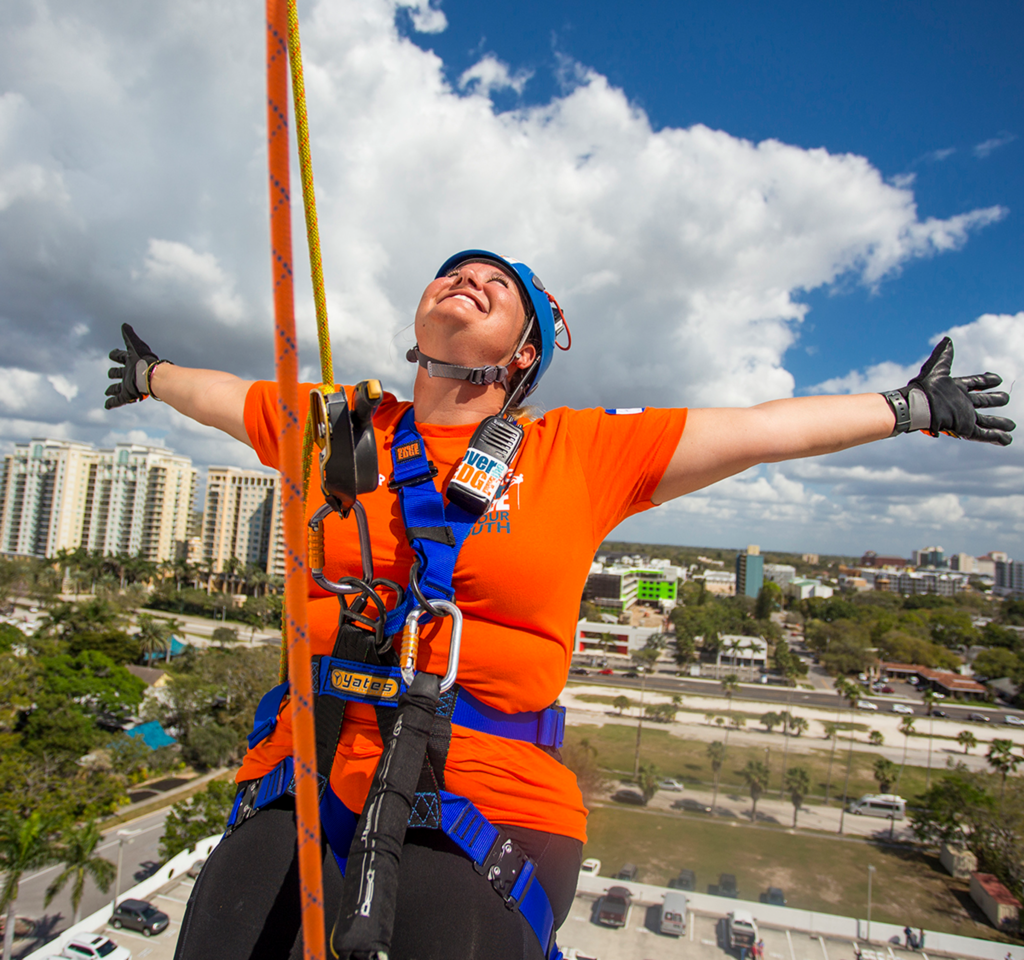 Urban Rappelling is a Once in a Lifetime Experience
Urban Rappelling essentially allows participants to descend safely down the side of a man-made structure. Some people do this professionally, such as cleaning crews or perhaps the SWAT teams that you see on NCIS. With the help of harnessing and controlled pulleys, a person can descend at their own pace down the side of a building. 
Typically, you encounter rappelling in the context of rock or mountain climbing. However, Over The Edge and Project Purple takes this experience and places it in an urban setting. The office building where Project Purple will be hosting the event is one of the tallest buildings in Hartford, and offers participants a stunning view of the city as they descend down the side. 
"Breathtaking, mesmerizing, an adrenaline rush in regards to what you are able to do," said Verrelli. "I think it is a little surreal, from the perspective of what we're doing. It's like finishing a marathon, you have that same feeling of accomplishment."
Urban rappelling is an amazing experience that is a bucket list-worthy item for many people!
About Over The Edge 
Project Purple will host this event Sept. 16 from 10 a.m. to 2 p.m. For those who are interested in donating to this event, please click here for more information.
If you are looking for a team-building activity for your company, or even just a fun outing for the office, this event is a great experience for everyone on your team. With all expenses paid through the fundraising goal, from the insurance to the equipment. There are various levels of sponsorship, so please contact Sam DeCosta at info@projectpurple.org if you are interested in sponsoring this event.
About Project Purple 
Founded in 2010, Seymour-based Project Purple provides financial aid and hope to patients battling pancreatic cancer and funds critical research in the detection and treatment of the disease. Its primary source of funding is through peer-to-peer fundraising by individuals participating in marathons, half marathons and other physical activities. In 2022, more 15,000 individuals helped raise more than $1 million to support Project Purple's mission of a world without pancreatic cancer. Project Purple has funded nearly $3 million in research and provided more than $700,000 in financial aid to help patients cover medical bills, utilities and housing costs while undergoing treatment. For more information, go to www.ProjectPurple.org.
Media Contact: 
Sam DaCosta, sam.dacosta@projectpurple.org, 203-714-6052