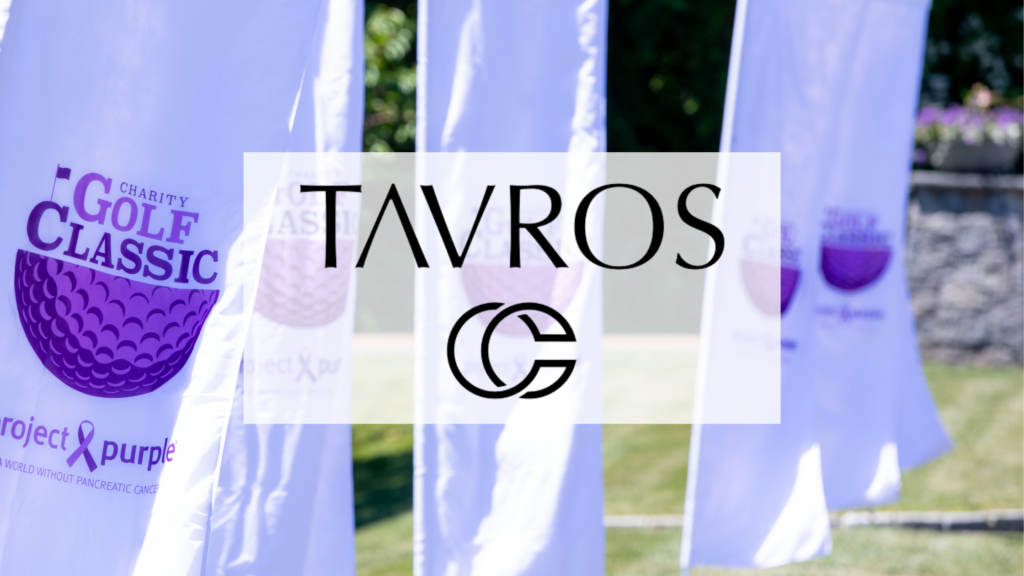 Proceeds to help combat pancreatic cancer – the second-deadliest cancer in New England
SEYMOUR, Conn., April 3, 2023 – Project Purple, a national nonprofit with a mission of a world without pancreatic cancer, announced today that Manhattan-based Tavros Capital and Queens-based Charney Companies have partnered to secure the $10,000 title sponsorship of the organization's Third Annual Golf Classic to be held this summer.
"We're thrilled to have the support of Tavros Capital and Charney Companies for our marquee event this summer," said Dino Verrelli, founder and CEO of Project Purple. "The firms' generosity will help us treat our golfers to an unforgettable day while raising critical funds in the fight against the second-deadliest cancer in New England."
The Third Annual Charity Golf Classic Presented by Tavros Capital and Charney Companies will be held Monday, June 5, at Shorehaven Golf Club in East Norwalk, Conn. Several remaining sponsorship opportunities are available, including gold ($7,500) and silver ($5,000), towel, ball, contests, and premier and standard hole sponsor ($250). More information is available at tinyurl.com/GolfClassicSponsors or by contacting Vin Kampf at vin@projectpurple.org.
Registration for single golfers and foursomes is available at: tinyurl.com/GolfClassicGolfers. Golf registration includes: cart, 18-hole scramble, use of locker rooms and practice range, lunch and a reception buffet with open bar following golf.
The sold-out 2022 Golf Classic raised more than $82,000 to help Project Purple fund pancreatic cancer research and patient financial aid. It drew 144 golfers from across the New England region.
ABOUT TAVROS CAPITAL
Tavros Capital is a privately owned real estate investment management and development firm with a strong focus on New York City, and a global investor base of family offices, trusts, high-net-worth individuals and institutions. As an owner and property manager, Tavros aims to ensure a positive experience for its tenants through attention to detail and a focus on quality of life. More information is available at TavrosCapital.com.
ABOUT CHARNEY COMPANIES
Charney Companies is a fully integrated real estate development, construction and management firm with a focus on developing, owning and operating residential and commercial real estate in the New York City metro area. Charney owns, operates and is under construction on over 2 million square feet throughout Brooklyn and Queens, and has won awards and accommodations from municipal organizations and media outlets for its work over the last 5 years. More information is available at CharneyCompanies.com.
ABOUT PROJECT PURPLE
Founded in 2010, Project Purple provides financial aid and hope to patients battling pancreatic cancer and funds critical research in the detection and treatment of the disease. Its primary source of funding is through peer-to-peer fundraising by individuals participating in marathons, half marathons and other physical activities. In 2022, more 15,000 individuals helped raise more than $1 million to support Project Purple's mission of a world without pancreatic cancer. Project Purple has funded nearly $3 million in research and provided more than $510,000 in financial aid to help patients cover medical bills, utilities and housing costs while undergoing treatment. For more information, go to www.ProjectPurple.org.