Project Purple Jayne Snyder Fellowship Grant for Pancreatic Cancer Research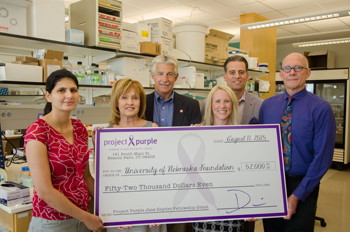 In May of 2015, our organization was fortunate enough to be the official charity partner of the Lincoln Marathon and Half. This was a huge honor for us, once of our board members being from Nebraska. The Lincoln Track Club, who organizes this race every year, was generous enough to provide us not only with entries for the race, but they also donated all the proceeds from the marathon's lottery program. Thanks to their generosity, we were able to create this new grant.
The Project Purple Jayne Snyder Fellowship Grant is a $52,000 gift, which will support pancreatic cancer research at the University of Nebraska Medical Center in Omaha, Nebraska. It will pay for one year's salary for a designated research fellow at the medical center, researching a cure for the disease and working on a potential clinical trial. The grant is named in memory of long time Lincoln Track Club board member Jayne Snyder, who lost her battle with pancreatic cancer in 2011.
The designated research fellow for this year's grant is Dr. Kamiya Mehla, a postdoctoral fellow at UNMC. Congratulations Dr. Mehla!
Project Purple is once again fortunate to be the official charity of the Lincoln Marathon for the 2016 race. For more information about this race, please visit the Lincoln Marathon Team [link to the 2016 Lincoln race page] page.


Lincoln Track Club