What's Your Why?
Why do you do what you do?
For those of us who work at Project Purple, our "why" is the impact we get to make on the lives of those touched by pancreatic cancer. We stay motivated by talking and working with people who are passionate about ending this disease. What about you?
During this campaign, we want you to share your "why" with the world. Why does running, fundraising, volunteering, or simply spreading awareness for pancreatic cancer matter to you? Use the blank "What's Your Why?" card below, or create your own special message to share on social media.
DOWNLOAD AND PRINT A "WHAT'S YOUR WHY" CARD
How do I share my why?
Easy! Just take a photo of your why, like the one below, and share it on social media. Wherever you decide to share it — Instagram, Facebook, Twitter — tag us and use the hashtags #projectpurplewhy and #projectpurple!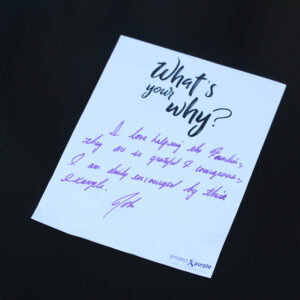 Youtube
If you want to throw together a video to share your "why" instead of a photo, just make sure you share it your social media pages so we can see it. Make sure you use hashtags #whatsyourwhy and #projectpurple for these, too.
Social Badges
We've made it easy to update your social media image to show your social community your why. Just grab one of the below images and swap it out with your current social media profile image.