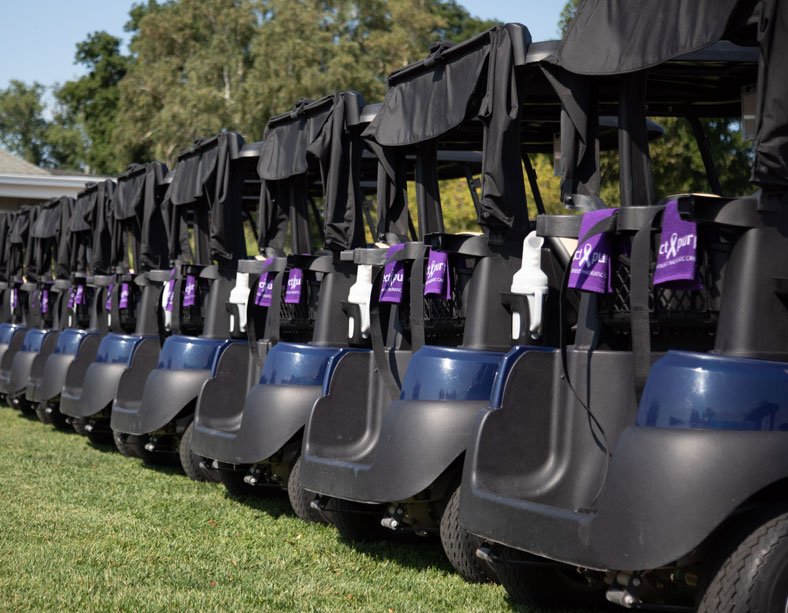 The first annual Project Purple Charity Golf Classic took place on September 13th , 2021 at the Shorehaven Golf Club in Norwalk, Connecticut. The event had over 100 attendants, including 76 golfers in 19 foursomes, and raised over $50,000 for research and patient financial aid for pancreatic cancer.
"It was a great first event and a great day," Project Purple Founder and CEO Dino Verrelli said. "Shorehaven is one of the top golf clubs in the northeast and it was really cool to put on a high- end event."
Golfers were provided with Project Purple-themed Goodr sunglasses and buffs, and carts were loaded with a sleeve of Titlest Pro V's, a towel, Lemon Perfect Water, and Rise Coffee. They were also given lunch and dinner, and were provided beer by Rob Allen of the SoNo Brewing Company.
The event gave prizes to the two top-scoring foursomes, and also had four closest to pin prizes and a prizes for the longest male and female drive. There was also a two round putting contest, with the first round before the 12:30 tee-off. During the event there were multiple raffles, both in-person and online, with over thirty donations of items.
"People had a good time, they enjoyed themselves," Verelli said. Project Purple would like to thank all those who attended, as well as the event's sponsors, which include Porch & Patio, Donney & Burke, Vitality Sports Therapy & Massage, Crossroads Community Church, Triple S, B & B Boatworks, Nationwide Capital Funding, Stani Dairy, Ding Autoparts, Minuteman Press, Carey & Guarrera, VCA Bay Brook Animal Hospital, Prestige Barkley, Tito's Handcrafted Vodka, SoNo Brewing Company, Lemon Perfect, Rise Coffee, New Balance, Dornack Restoration, Ion Bank, Sherry Varela, Mike Ouellette, Jim Pantelidis, and David Kostolansky.