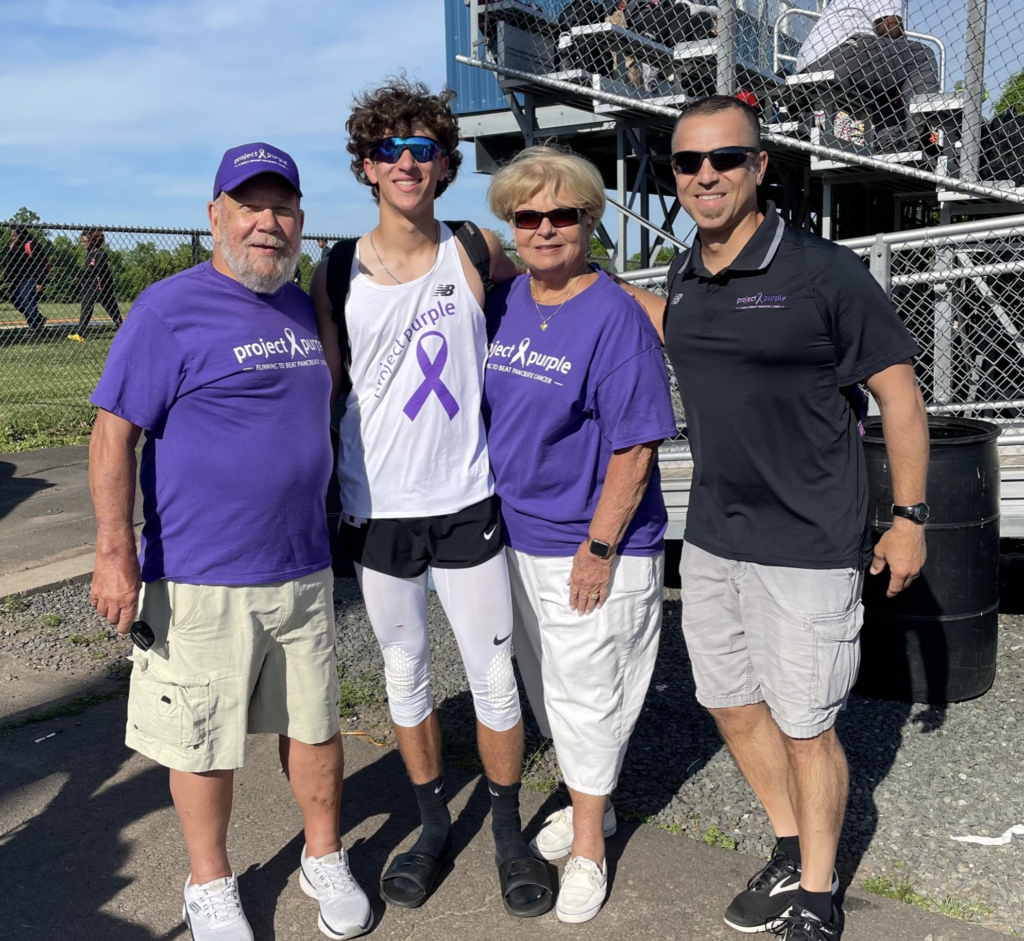 Project Purple is family. Ten years ago Brian Reeves's stepdad, Ron, was diagnosed with pancreatic cancer. After searching for organizations that help patients and fund research, he found Project Purple. Project Purple helped the Reeves family navigate Ron's health and made running for pancreatic cancer a whole family affair.
The Reeves family has been fortunate that Ron has since recovered from pancreatic cancer after a Whipple procedure made it possible. But typically only 1 in 5 cases of pancreatic cancer are operable and the five-year survival rate is only 11%. A disease where 71% of patients die within a year of diagnosis, it's incredibly difficult to navigate and find hope. But Project Purple exists to help families through this journey and support them with resources, financial assistance, and fund important research that's going into early detection and finding a cure.
"I cannot count the number of times, especially in those first few months, where I reached out to Dino (the founder of Project Purple) and he helped guide me and my family towards resources, answers, and often a better mental state," Brian shared.
Upon learning about Project Purple's running programs, Brian and his wife began raising money by running half marathons and other races. Running provided an outlet for finding purpose and creating an impact in the lives of others impacted by pancreatic cancer. Even their son, Will, started running with them at a young age. They wanted to be part of a community that supports patient efforts and research funding.
This July will mark 10 years since Brian's stepdad had his Whipple surgery and now he's on the sidelines of every race his grandson Will runs.
"I consider my family quite lucky. I know many families don't get 10 years and so few get 10 more months. My kids get to hear his booming voice cheer them on and my mom has enjoyed over three decades with her husband," Brian said.
Will is now an 11th grader at Southington High School and has been running ever since he was able to walk. Project Purple has been a part of his life for as long as he can remember.
Will runs track for his high school and competes in the hurdles, 400, and is training for the decathlon. At his meets, you'll spot him proudly wearing his Project Purple gear.
"By running I hope to help spread awareness of this disease. It's helped me keep going throughout the entire year," Will said. "Anytime I wasn't feeling my best all I had to do was look down and remember who I was running for. Look in the stands and see my grandfather who beat pancreatic cancer. Whether it's seeing him in the stands or hearing him from across the track (because he's that loud) it keeps me going knowing I'm running for a bigger cause."
Words of advice from Will to anyone going through life challenges: "Remember what has gotten you to this point in your life and what's important to you. Use those things to keep you going. And never stop."
About Project Purple
Project Purple believes in the power of community and its ability to bring hope and support to patients and families impacted by pancreatic cancer. The organization is dedicated to improving early detection to help increase the low survival rates, and most importantly get us to one day have a world without pancreatic cancer.
Patient Financial Aid: Project Purple offers financial support to patients and families battling pancreatic cancer. Since the organization's founding in 2010, Project Purple has provided over $525,000 in financial aid.
Research Grants: Since 2010, Project Purple has given over $2,265,000 in grants to various hospitals, universities, and research labs. This includes a $1.25 million grant to The Laura and Isaac Perlmutter Cancer Center at NYU Langone to establish a first-of-its-kind center dedicated to early detection.