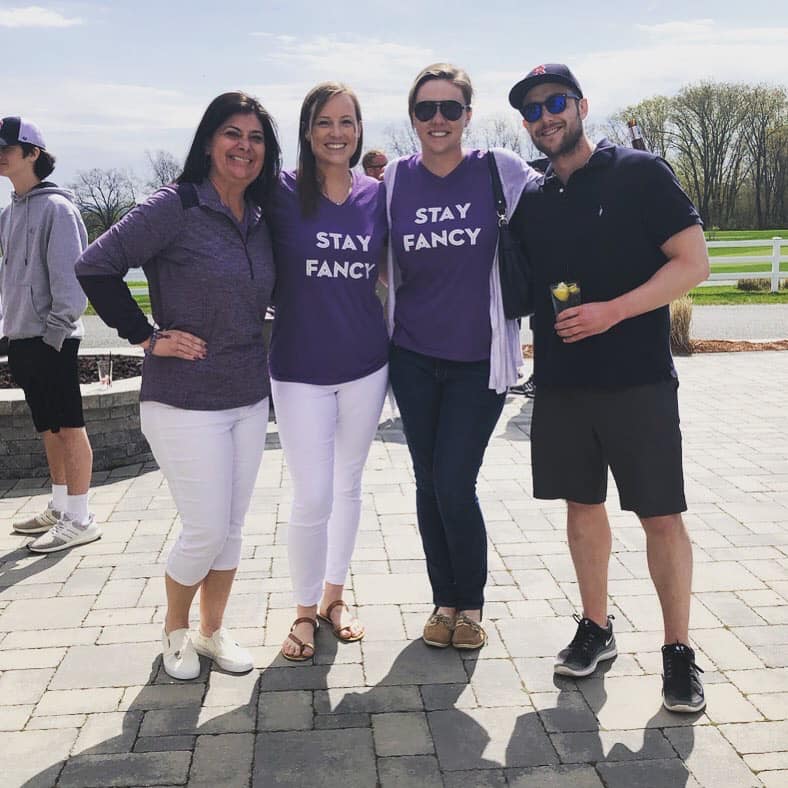 Our Community has supported Project Purple in so many ways over the past 10 years. We asked one of our alumni Lisa Pierce to share her reasons for the annual golf outing in memory of her mom that benefits Project Purple. Thanks to Lisa and her family and friends for continuing to believe in our mission at Project Purple.

1.) Event name and where does it take place & when.
We named our tournament the Fancy Nancy Memorial Golf tournament in honor of my Mom and our favorite nickname for her – "Fancy Nancy." The tournament is held each May on the Thursday before Mother's Day, at Four Oaks Country Club in Dracut, MA.


2) Meaning behind the event.
My Mom was a big-hearted person who loved helping others, a huge fan of golf, and loved spending time with her family and friends. She jumped at any opportunity to hit the links with her golf-loving friends, her brothers, and even helped her nephew get into the game. When my mom passed away from Pancreatic Cancer, I was determined to honor her in a way that would help spread awareness about this disease while also raising funds to help others going through a similar journey. A golf tournament raising funds for Project Purple seemed like the perfect way to honor her – a day dedicated to golf, her closest family and friends, and raising money to help others.


3.) How easy was it to plan/ how much invested into it.
With some help from my boyfriend, aunt and uncle, and the golf course, the first tournament came together nicely. I spread the word through Facebook, Instagram, e-mail, and word of mouth, and quickly had several foursomes sign up to play. The fundraising aspect mainly comes from hole sponsorships and donations for the raffle held during the post golf lunch. Hole sponsorships are a great opportunity for companies to donate and have their company name displayed at the event, and for family and friends to donate. Raffle donations are also great – local companies love donating to causes like this, and family and friends are always looking for ways to help. Most of our raffle items come from family and friends purchasing items to raffle off or creating baskets for prizes. Four Oaks has also been amazing to work with – all the details of the golf tournament itself are handled directly by their staff, including naming the first, second, and third place teams, longest drive winner, and "closest to the pin" winner, and the lunch afterwards.

The organizer of the event just needs to worry about: keeping a list of golfers/teams, payments from the golfers and keeping track of the money, seeking donations, and keeping a list of items for the raffle, providing a goody bag of snacks for each golfer, and organizing the raffle tickets/raffle during lunch.


4.) What was one thing or maybe a couple things that really made it so successful.
Appealing directly to people who knew and loved your loved one. People want to contribute to their honor and their memory. Explaining in more detail what their money is going towards is also super helpful. "Pancreatic Cancer Research" is vague, and most people do not understand what exactly goes into that. Tell them about the goal of early detection, tell them how this will help doctors diagnose people sooner which will enable patients to beat this disease. Tell them about the search for treatments that DONT make patients incredibly sick and weak. Tell them about the fund that go towards helping patients and families pay their bills when they are struggling financially due to oppressive medical bills. These are things that people can relate to and people want to help make happen. I give a little speech at the end of the golf and prior to lunch explaining these things and thanking everyone for helping this cause.

5.) Why did you choose Project Purple.
Project Purple has been my go-to charity since my Mom was diagnosed. Right away I knew I wanted to get involved with an organization to help patients and research, and once I heard about Project Purple's mission, I knew they were the one. Project Purple stands out to me because in addition to raising funds for pancreatic cancer research, some of their funding goes directly to patients battling pancreatic cancer right now. Research is incredible and essential to ultimately beating this disease, but directly aiding patients is something that not many organizations do. Not only that – but when I reached out to them about the Boston Marathon in 2016, they immediately sent my Mom a blanket care package. Project Purple is an amazing organization with a special mission. They are personally dedicated to helping patients and funding research and make a personal connection to patients and families who reach out.