Heather and Mike Horner felt like their lives were falling perfectly into place. She married her best friend and the love of her life, Michael Horner. The couple had recently moved into their 'dream home'. They had a beautiful baby girl, Mary Helen. Their love was deep and could withstand anything. While they knew life would sometimes hand them difficulties, they were not expecting pancreatic cancer. Even though pancreatic cancer took Mike away from Heather and Mary Helen in August, 2016, it could not break Heather's love and devotion. Even while she continues to grieve, Heather is training to run for Project Purple. She and her sisters, Kathleen and Kelly, formed 'Team Mike'. They will run the Napa-to-Sonoma Half-Marathon together to honor Mike's life.
Second Meetings, First Dates
Heather and Mike's relationship was a product of 21st century dating. Heather went out on a date with Mike, the first man she met through the website eharmony.com. The couple soon realized they had met several years earlier on New Year's Eve, though nothing had come of that first meeting. This time around, the timing was right and the couple hit it off. Mike and Heather were married two and a half years after their first date.
Heather says, "There are so many reasons why he was 'the one'. He made me feel so special, like I was the only one in the room. Everything about him made me happy. He was just so special. He was everyone's friend and he made everyone laugh, especially our daughter, Mary Helen."
Mike Horner
Mike was young, active and healthy, but painful indigestion led him to see his primary care doctor twice. Since he had recently switched jobs, Mike's doctor thought stress might be giving him ulcers. His condition quickly deteriorated, however. On December 17th, Mike was in such severe pain Heather insisted on taking him to the emergency room. Within 12 hours, Mike was admitted to the hospital's oncology department. He had stage IV pancreatic cancer.
"We were at the local hospital thinking they were wrong," Heather recalls. "We thought we would go to another hospital and they would figure it out." When the reality of Mike's diagnosis set in, he and Heather launched into action. Between December 17th and the first of the New Year, they consulted with oncology teams at five different medical centers across the United States. Four of the five teams felt Mike should start an aggressive form of chemotherapy immediately.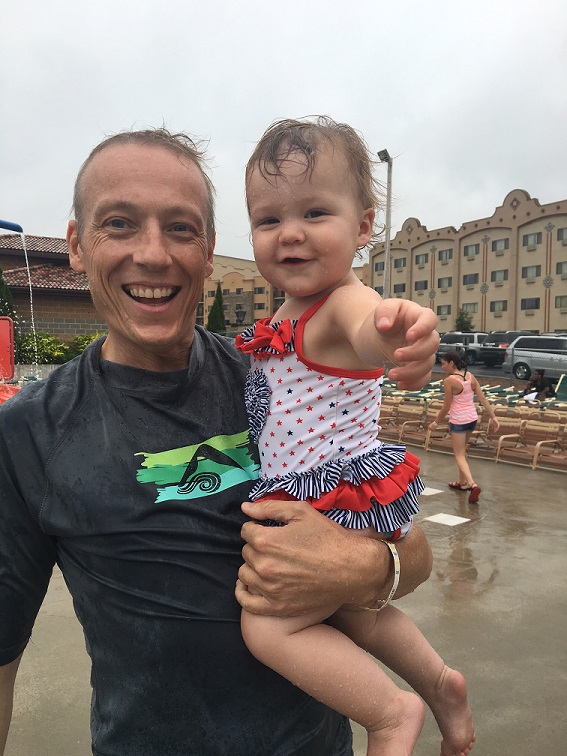 Because Mike was so young and healthy before his diagnosis, doctors expected him to tolerate the chemo well and to respond to it quickly. However, Mike's cancer had spread to his liver and he was already feeling quite sick from his cancer. He was extremely ill and the treatments made him feel even worse,
Trying to Find Normal
Still, Mike did whatever he could to make life as normal as possible for his wife and daughter. Heather recalls, "He got up every morning with Mary Helen no matter how badly he felt. He probably faked it much more than we ever knew." Not only did Mike continue to care for his young daughter, he continued to work full-time as a Project Manager in the Information Technology Field..
During Mike's treatment weeks, Heather recalls a lot of quiet time spent at home reading and just being together. During his weeks off from chemotherapy, Mike had the ability to make everyone forget he was a cancer patient. Heather says, "On those non-chemo weeks, there was no evidence of cancer in our lives. We were just a young, active family."
Beloved husband and father Mike Horner passed away in August, 2016, just hours before his 46th birthday.

Project Purple
Prior to giving birth to Mary Helen, Heather and her two sisters had enjoyed running together. In fact, her sisters ran and raised money for Project Purple during Mike's pancreatic cancer fight. Despite the fact that Heather has not run farther than a 5k in the past three years, she is running the Napa to Sonoma Half-Marathon in July. Running has helped her tremendously as she has faced moving forward without Mike by her side. Kathleen and Kelly will be by Heather's side for the race, just as they have been there to support her throughout Mike's illness.
Running through Loss
Mike was the glue in his and Heather's world. Heather says, "Mike was the easiest person in our entire family. He was the glue in our social circle; the one who brought everyone together." Though Heather still feels as if she is moving through a fog, she feels it is important to show their daughter Mary Helen that even under the worst circumstances in life, we have to pick ourselves up and keep moving forward. "If Mike could get up and get out of bed with Mary Helen when I know he felt like total garbage, then I can show her we can keep going."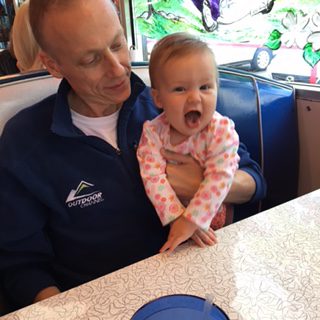 For now, Heather is just trying to figure out how to navigate the world without her husband and best friend. "We had dreams and retirement plans. I lost my best friend. The biggest loser is Mary Helen. Mike was born to be a dad. He helped me to be more comfortable with being a mom and she is missing out on having him in her life."
Heather adds, "It is still really raw. When I am not sure what I am supposed to be doing, I think, 'What would Mike do?' I wrote a lot of things down when he was alive so I wouldn't forget his perspective on life and raising Mary Helen."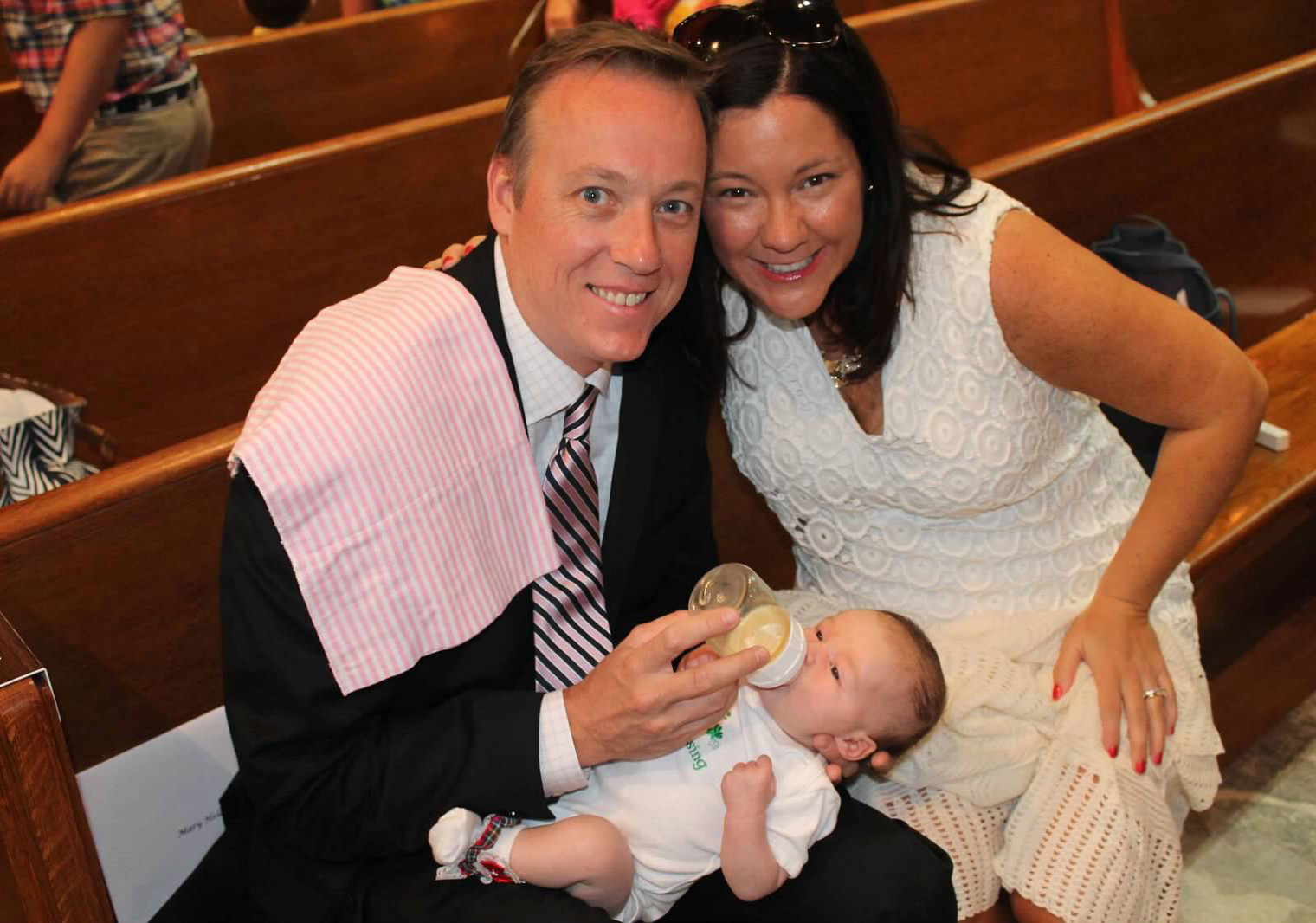 Why Heather Runs
Heather explains why running for Project Purple is so important to her. "It is unacceptable to me that someone who lived a healthy, active, completely engaged life has this disease go undiagnosed. By the point where they realized what it was, they had very few treatment options. Over the course of seven days, we went from talking about Mike coaching Mary Helen in softball to whether he would make it to her first birthday. That is a life-changing seven days."
Heather hopes there will soon be a method of early detection for pancreatic cancer. She believes it is unacceptable to have an illness that is rarely, if ever, found before it has become a death sentence. For now, she looks forward to the cathartic experience of running with her sisters. She says, "Mike would be really proud of the support my sisters have given us. They have continually reminded of us how important family is."
To make a donation to Heather and 'Team Mike' in honor of the life of Mike Horner, please click HERE