When Diana Wenrich was just 10 years old, her stepfather, Tom Gulcynski, came into her life. He has been such an essential part of Diana's world for so long, she refers to him simply as 'Dad'. She says, "He has always treated my sister and me as his daughters. He never uses the word 'step'. He has always been a huge motivator to us and he is very encouraging and supportive of us." An avid runner, Diana is training to run the New York City Marathon with Project Purple to show her appreciation for her dad, the man who always supports her.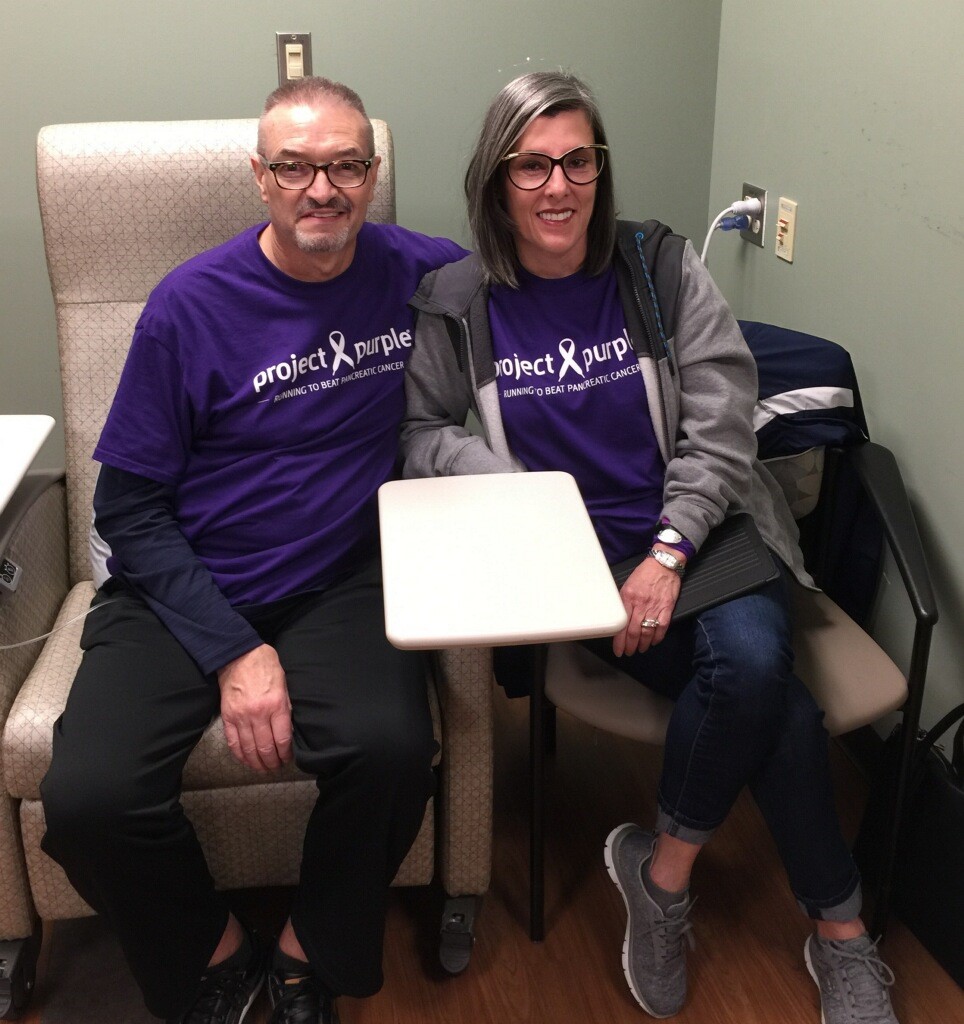 Tom Gulcynski
When Tom married Diana's mother, Eneida, 25 years ago, their blended family quickly became a cohesive unit. Tom worked for Ford Motor Company for 39 years and the family often moved around in support of his career.
Through all of their years together, Tom taught his two daughters a number of important life lessons. Diana believes one of the most important values Tom has passed on to her and her sister, Christina Morin, is a strong work ethic. "He is a hard worker. I have never met anyone who works harder than him. If he does something, he does it well. He instilled those values into me and my sister. He pushed us to be our best."
The support and encouragement Tom has given Diana has always stayed with her through the years. When Diana was graduating from high school, her family was in the process of moving from New York State to Florida for Tom's job. It was Diana's dream to attend Penn State University, but her mom did not want her to be so far away from home. It was Tom who came to Diana's rescue. He said, "If this is what Diana wants to do, we are going to support her." Diana is still grateful to Tom for being in her corner. "I got a great education and I owe it all to him. He believed in me and he gave me independence and freedom."
When Tom retired from Ford five years ago, he and his wife moved to Florida to be closer to Diana and her growing family. They wanted to be available to help her take care of her children, Dylan and Anna.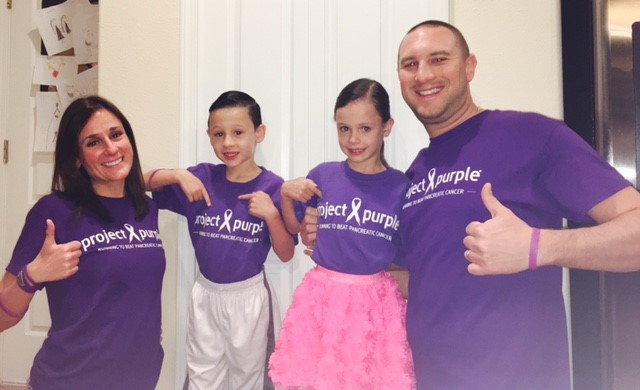 Pancreatic Cancer
Tom developed stomach and back pain in October, 2016. Initially, his doctor believed his pain to be due to arthritis. When his blood tests all fell within the normal range, there was no reason to believe anything serious was wrong. Tom's doctor also recommended he make some dietary changes. When his symptoms failed to improve by January, 2017, Tom had an endoscopy. The results were, once again, normal.
Even though his doctor could not find any major medical problems, there was clearly something amiss. Tom lost an alarming 25 pounds over a matter of weeks. Eventually, Eneida took him to the Emergency Room. Incredibly, all of the initial tests run at the hospital were also normal. The staff was getting ready to discharge Tom when the doctor decided to run a CT scan, just to be safe.
The CT scan finally revealed the cause of Tom's symptoms. He received an official diagnosis of stage IV pancreatic cancer that day. By the time his disease was discovered, it had already spread to his liver. He was immediately referred to an oncologist to start treatment.
After his first four rounds of chemotherapy, Tom had another CT scan. Unfortunately, it showed that despite his treatment, the cancer was still spreading. He is now on a more aggressive chemotherapy regimen in hopes his tumors will shrink.
Despite all he has been through, Tom maintains his positive nature. Diana says, "His attitude is amazing. He is living day by day and living his life to the fullest. He is not giving up at all. When he feels good, he wants to do things. It is remarkable with what he is facing how he gets up each morning ready to face the day."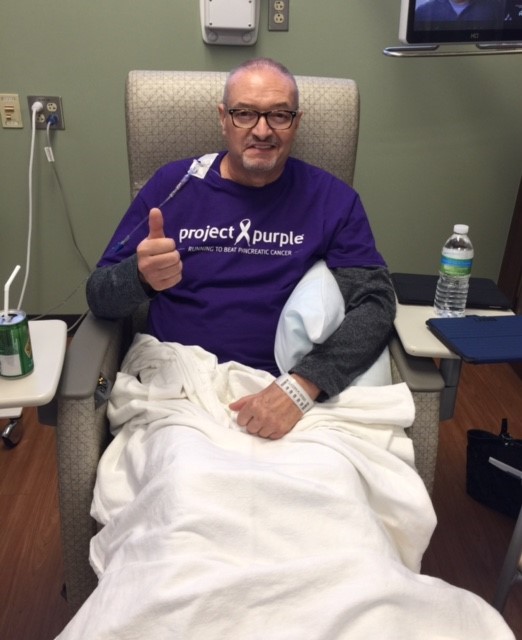 Diana Wenrich Becomes a Runner
Diana had never run a mile in her life until she daughter was born. A couple of her friends had recently started running and quickly shed their pregnancy weight. "I told my husband I would never run, but I was exercising and not losing my baby weight," she explains." At that point, Diana decided to give running a try. "I ran about ten steps and thought I was going to die," she says. But Diana was undeterred. She kept at it and two weeks later was able to run a half-mile without stopping. The progress inspired her to keep pressing on with her running program.
In 2013, Diana ran the Disney Marathon in her first attempt at the 26.2 mile distance. Since then, she has run five marathons and 20 half-marathons. When her father was diagnosed with pancreatic cancer, she found Project Purple and felt that using her running to raise money and awareness was a great way to support her dad.
When Diana looked at the Project Purple website, she was thrilled to see the charity partners with so many major marathons. She opted to run the New York City Marathon because she wanted to start her training and fundraising as soon as possible to give a boost to her dad's morale.
Project Purple
Diana has found the Project Purple family to be an amazing source of support for her and her family. Project Purple founder Dino Verrelli calls often to see how Tom is doing. Diana says, "I am thrilled to be part of this team. Everyone from Project Purple responds quickly when I have a question. Whenever I need something from my dad, Project Purple is there."
Tom feels the Project Purple love, too. When he goes in for chemo, as many of 20 of his loved ones and supporters don their Project Purple shirts and post photos on social media in his honor. He is in awe of the number of people who have made an effort to support him.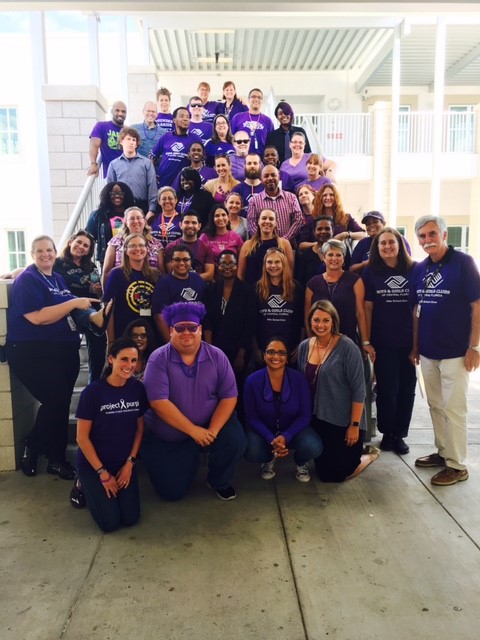 Why Diana Runs
Diana runs for Tom because of all he has done for her and her family over the years. She says, "He has given the world to my sister and me. Anything we have ever wanted, we have gotten. I mean beyond material things, all of the love and support. This is the least I can do for him. I want him to just know how many people love him and are here for him. I hope to make him proud. It is the least I can do."
Watch this video Diana put together for Tom:
To make a donation to Diana's Project Purple NYCM fundraiser, click HERE