Jordan Serati learned a lot from her mother, Julie, growing up. She learned kindness and compassion, as well as how to take care of others. However, nothing was as powerful as the lessons Serati took from her mother's seven-month pancreatic cancer journey. Now, as a surgical ICU nurse, Jordan is using those lessons from her mother every day. 
"One thing I know about myself is that I am a really good nurse," said Serati. "And it's only because of that situation. I am able to connect with families really well now…I think it is a huge privilege to know what people need; I can now meet people's needs better than I could before."
She also has learned a lot about perseverance and generosity from her mother, a woman who always gave her time to others. Today, she is preparing to run the New York City Marathon to honor her mother. This race will allow her to carry on her mother's legacy of generosity and kindness as she fights for a world without pancreatic cancer.
Community and Cancer  
Serati, born and raised in Kansas City, has always stayed close to her family, and admired how her mother and father have operated within their community. Her mother, somewhat of a local celebrity, was known for her generosity and lively spirit. She was heavily involved in all aspects of community life, a maternal presence many people looked up to. She gave the best advice and was always the first name on the sign-up sheet when someone in the community asked around for volunteers. 
"My elementary school needed to raise money and they did a walkathon," Serati describes. "She dressed up as a mall-walker named Dolores from New Jersey and she would do this character bit for all these kids and these kids were obsessed with her. She did it for years and she was just known as Dolores." 
So, when her mother was diagnosed with pancreatic cancer in September of 2020, the family and surrounding community came together to take care of her. Even though the family received an outpouring of support, nothing can fully lift the weight of being a caregiver off a person's shoulders. 
"Being a caregiver is the most exhausting experience because you want to be there for her physically, and also emotionally and spiritually," said Serati, "but it's really hard when no one is filling you up to then fill her up, you know, and there's no time to fill yourself up because you are taking care of her."
Julie was diagnosed with stage three pancreatic cancer. Thankfully, she responded well to treatment for almost three months. However, in January of 2021 her condition took a turn for the worst.  
"I think a lot of that time is kinda blocked out in our minds because my mom was in such a vulnerable place and it was hard to see her like that," Serati admitted. " I don't want to remember her like that, I want to remember her as strong and healthy and being the leader and the loving caregiver of our family."
Julie sadly passed in April of 2021. If you were to ask Serati what her mother's death meant to her friends and neighbors, it would be indescribable. Julie was so special to so many people, and her passing left a hole in the community. 
"It was a huge loss for us," Serati explains. "She was everything to everybody. She was a huge color in our community and had such an impact on everyone's lives. It was kind of unthinkable that she was the one to suffer and to lose her life to this." 
Today, Serati is trying her best to walk in her mother's footsteps, practicing the kindness and generosity that Julie gave to so many. This is a way for Serati and her family to keep Julie's memory. 
"The biggest compliment I can get is that I look like my mom and sound like my mom," said Serati. "It's very evident that we can still feel her. At least me and my siblings, we are all so similar to her because these just instilled such foundational values of caring for people and being selfless and being thoughtful and trying to help everyone you encounter and you know just living a faithful life that you can translate to any situation."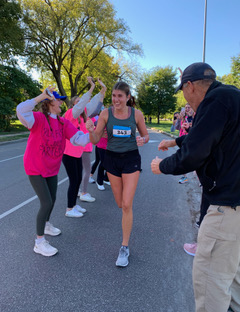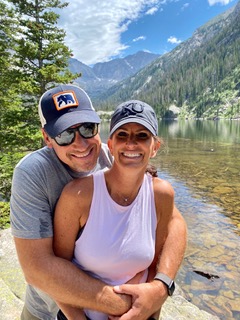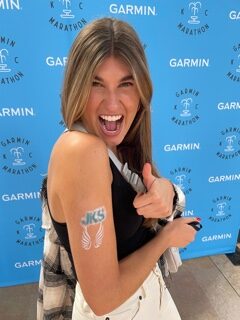 Living a Legacy of Love 
Since her mother's passing, Serati has begun to focus on how to put into practice the life lessons she learned from her mother. She believes her mother's cancer journey has given her a unique understanding of her patients and their family's experience. Now, one of the ways she has been living out her mother's legacy is by putting this perspective to use in her career.
"I love that I have that ability to meet a family where they're at," said Serati. "I think I am able to create a kind of therapeutic environment…and I'm really grateful for my ability to do that just because I have been the family member that a nurse has come and hugged and explained the situation to." 
Though Serati has found new meaning in her role as a nurse, she has also felt called to participate in fundraising efforts and spread awareness. It seemed like the perfect way to accomplish this new goal was by using the pass time she had relied on so heavily during her mother's treatments. 
"Running has been my biggest coping mechanism. My mom died in April 2021 and I ran my first marathon that October," Serati explained, "so during those five, six months, I just put all of my energy and all of my grief into training. When I ran those twenty-six miles in October, every single mile was for her. It was kind of a demonstration of, 'okay, I can do hard things even without her and I can do this for myself and prove that I am not totally broken by this situation."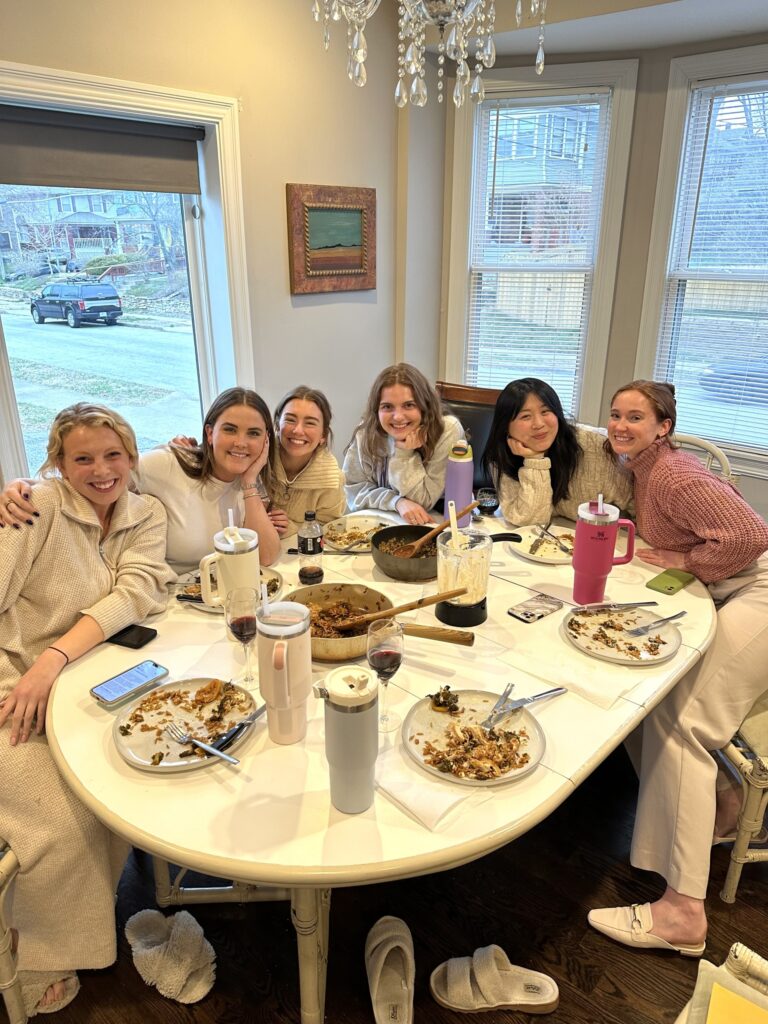 Serati began looking for more ways to get involved in the fight against pancreatic cancer. While she had participated in other events, she had always wanted to run the New York City Marathon. She was looking for ways to get a slot in the race when her friends took it upon themselves to make her dreams a reality. They applied to Project Purple for a spot on their running team. When she was accepted, they surprised her with the notice on the two-year anniversary of her mother's passing. 
"They ended up presenting me with my acceptance letter," Serati said, "and it was the most emotional experience. We were at dinner and I just freaked out."
Serati could never have expected what happened next though. After accepting her spot on the team, she set up her fundraising page. Within a day, she had met her goal. 
"I am up to $11,000 now," said Serati, "which is so overwhelming. And it's nothing I'm doing, it's everything my mom was." 
The outpouring of support has meant everything to Serati. She is so grateful to have the opportunity to run this race not just for her mother, but for all those who have been impacted by pancreatic cancer. 
"I don't think I'm emotionally prepared yet. I have been emotional on Zoom calls and I'm like, 'I'm screwed if I'm crying on the Zoom calls, what am I going to be in person after running,'" said Serati. "I am so honored to be a part of this team and I think it is the greatest privilege that I get to run alongside people who have been impacted by this, people who have survived this, this is just the coolest experience."
Now, Serati not only gets to make an impact with patients but now can make an even greater difference in the world around her, truly living out her mother's legacy of love and compassion. 
If you want to support Jordan's fundraising efforts, you can click here to donate to her page. If you are like Jordan and want to get more involved, please see our Upcoming Events page. We know you will do great out there in New York City!