The Notre Dame-Fairfield boys' high school hockey team hosted a pancreatic cancer awareness game with West Haven High School on Jan. 4th at the Wonderland of Ice in Bridgeport, CT., and their combined efforts raised over $3,000 for research and patient financial aid. Players, parents, and fans gathered to honor Carolyn "MeMe" LaSalle who was diagnosed with pancreatic cancer in 2021. Her son, Wayne, is an old friend of Project Purple founder and CEO Dino Verrelli. After MeMe's diagnosis, he called Dino to talk to him about his experience with the disease and with hopes to plan something special for her.
The teams and fans fundraised for the cause by selling t-shirts and tickets for the game and raffle. Shirts came in styles for both schools, but they shared the same purple color and read "MeMeStrong" on the back. Along with encouraging fans to buy the shirts, players from both teams showed their support for MeMe by wearing commemorative helmet stickers that read "For Carolyn LaSalle" and using purple stick tape.
Prior to the game, MeMe had the honor of dropping the ceremonial puck to her grandson Colby LaSalle, and West Haven's Javed Ullah. As MeMe, dressed in all purple, dropped the puck, players and attendees cheered and shared a touching moment in celebration of her battle. Colby is the starting goalie and captain of the Lancers hockey team. He received first-team honors for both the coaches' all-state team as well as GameTime CT's all-state team last season. Footage of the puck drop can be found on Project Purple's Facebook page.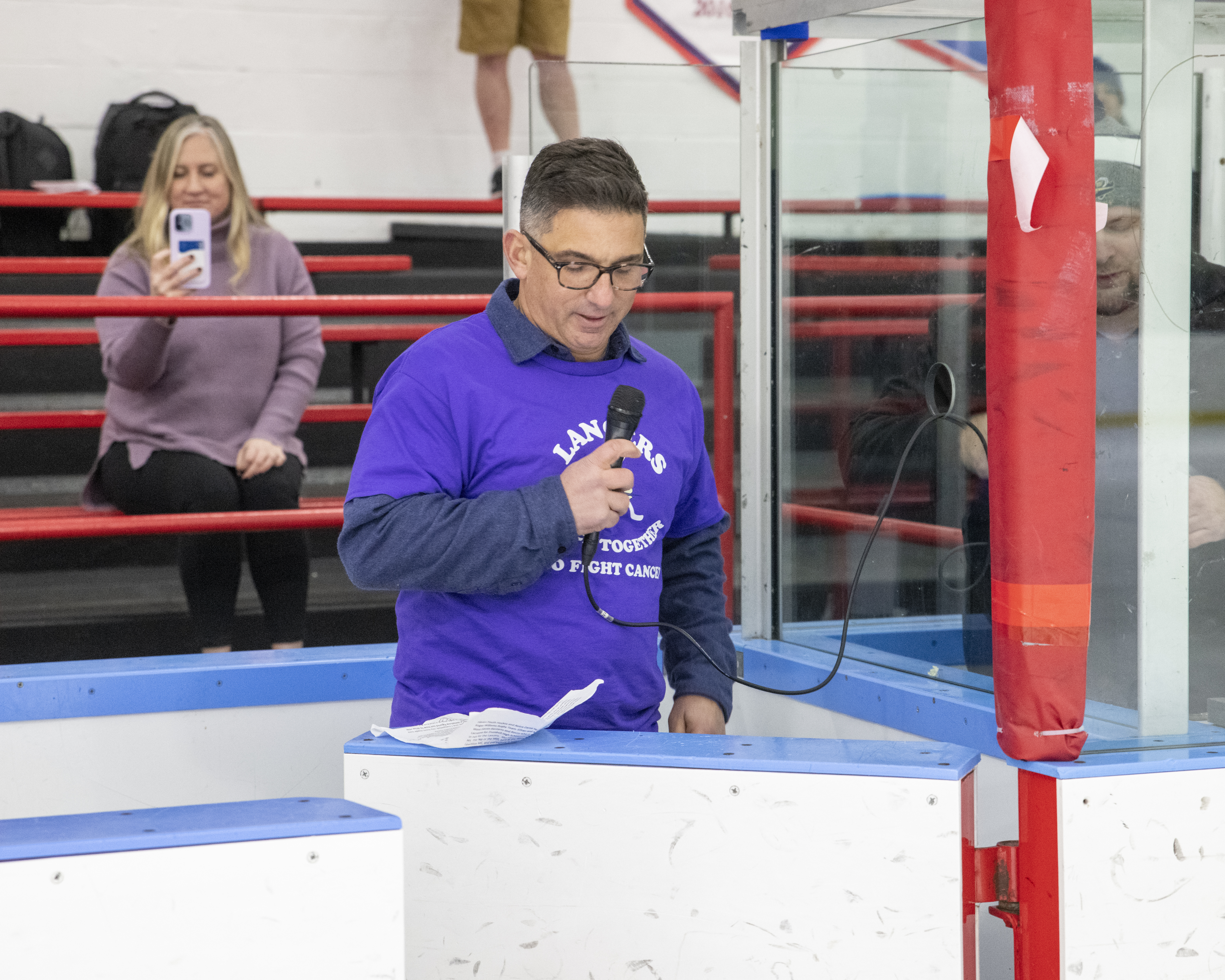 Once the game was underway, Notre Dame's Tim Finkenzeller put the Lancers ahead with a goal, and the team maintained a 1-0 lead until West Haven tied the game in dramatic fashion with a six-on-four goal to tie the game with just seconds left, sending the match to overtime. The Lancers ultimately prevailed on a game-winning goal from the stick of Onyx King late in overtime, earning their third straight victory, and improving their record to 4-3.
Thank you to the teams, fans, parents, and all that were involved in making the fundraiser possible. If you would like to host a fundraising event for Project Purple, contact info@projectpurple.org.
The Project Purple team continues to fight for a world without pancreatic cancer, and CT-area hockey fans can help support the cause as the team will be attending and selling tickets to the Bridgeport Islanders vs. Lehigh Valley Phantoms game on Feb. 26th. $12 of every ticket purchased at this link will directly support Project Purple's mission of a world without pancreatic cancer. Click here to purchase or learn more: https://fevo.me/projectpurple23.
Note: We would like to thank Chris Eadevito at Eadevito Photography for providing photos for us. To see the "Project Purple Ceremony" album from this game, visit https://cephoto.shootproof.com/gallery/NDF22-23/album/14049138. To get in touch with Chris or see more of his work, check out https://cephoto.shootproof.com/.