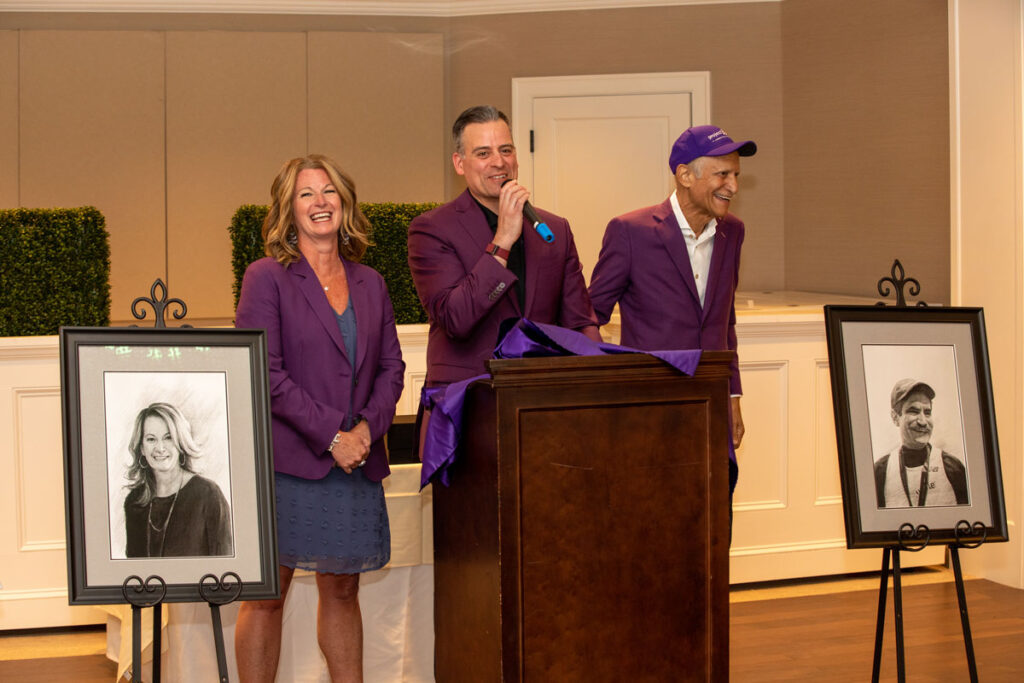 Note: If you are a researcher looking to apply for a grant, visit projectpurple.org/grants
SEYMOUR, Conn., Nov. 30, 2022 – To close out Pancreatic Cancer Awareness Month, Project Purple announced today five grants totaling $632,000, made possible largely by the fundraising of the organization's marathon and half-marathon teams. Project Purple teams raised over $1 million participating in races including the Napa to Sonoma, SoNo and New York City half marathons; and the Lincoln, Chicago, Twin Cities, New York, London and Berlin marathons. 
"Our team members really stepped up this year to help advance our mission of a world without pancreatic cancer," said Dino Verrelli, founder and CEO of Project Purple and host of the Project Purple podcast. "Both the New York and Chicago teams shattered our previous fundraising records for those races, collectively raising more than $800,000. At the same time, they helped amplify awareness for Project Purple and provide financial aid and care packages to people battling this deadly disease."
The grants announced today include: 
1. Pantelidis Family Grant, a grant totaling at least $262,000, which will be dispersed over a 4-to-5-year period. Application details will be in announced in early 2023. 
2. $75,000 grant to Hartford HealthCare's Cancer Center in Hartford, Conn., to help develop a means for early detection of pancreatic cancer.
3. $100,000 grant to the Targeting Resistance in Cancer Cooperative (TRICC), led by Michael Jon Pishvaian, M.D., Ph.D., director of gastrointestinal, developmental therapeutics and clinical research programs and associate professor of oncology at John Hopkins School of Medicine; and Jonathan Brody, Ph.D., vice chair of research and professor, department of surgery at Oregon Health & Science University. 
4. The Rick Carone Research Grant of $75,000 to fund pancreatic cancer research for either early detection or curative treatment. The grant will be awarded to a research institution in the Chicagoland area. Application details will be announced in early 2023.
5. Innovations Grant, with total funding of $100,000, which will fund research for early detection or curative treatment. Application details will be announced in early 2023.
"Pancreatic cancer is one of the deadliest cancers in our country, largely because people are not aware of its subtle symptoms and because there's not a test for early detection," Verrelli said. "Much of this grant funding will go specifically to establishing a means for early detection."
Brody of TRICC said, "Thank you to Project Purple for supporting us and sharing our vision to put into motion a multi-institutional approach to staying one step ahead of an individual's pancreatic cancer to optimize therapies for patients. The base collaboration between Johns Hopkins on the East coast and Oregon Health & Science University on the West coast has the potential to be a global initiative that could hopefully benefit all patients with cancer."  
ABOUT PANCREATIC CANCER
Pancreatic cancer has a 5-year survival rate of just 11 percent. It is the 3rd leading cause of cancer deaths in the United States, primarily because most people are diagnosed at stage 4, after the disease has spread beyond the pancreas. The symptoms of pancreatic cancer, which are subtle and often go undetected, include: 
– Sudden weight loss
– Recent onset of diabetes
– Indigestion
– Changes in stool
– Loss of appetite
– Stomach pain
– Jaundice
"The only way we as a nation are going to stem the rising tide of pancreatic cancer and help increase the survival rate is by dramatically increasing funding of research to develop a screening for early detection," Verrelli said. "Breast cancer has mammograms and colorectal cancers have colonoscopies. We need a similar test for pancreatic cancer today." 
Project Purple encourages everyone to be aware of the disease's risk factors and make lifestyle changes, if needed, to control one's risk. According to the American Cancer Society, risk factors include: 
– Obesity: Obese people (body mass index of 30 or more) are about 20 percent more likely to develop pancreatic cancer. Gaining weight as an adult can also increase risk.
– Age: Patients tend to be older than 45 and the risk increases as people age.
– History of pancreatitis: Pancreatitis, long-term inflammation of the pancreas, is often seen with heavy alcohol use and smoking.   
– Type 2 Diabetes
– Smoking: People who smoke have about twice the risk of getting pancreatic cancer than those who have never smoked.
– Race: African Americans are slightly more likely to develop pancreatic cancer than whites.
– Family history: about 10 percent of cases are familial. 
ABOUT PROJECT PURPLE
Founded in 2010, Project Purple provides financial aid and hope to patients battling pancreatic cancer and funds critical research in the detection and treatment of the disease. Its primary source of funding is through peer-to-peer fundraising by individuals participating in marathons, half marathons, Crossfit gym challenges and other physical activities. In 2022, more 15,000 individuals have competed in about 25 events to support Project Purple's mission of a world without pancreatic cancer. Prior to today's grant announcement, Project Purple had funded more than $2,264,000 in research and provided more than $510,000 in financial aid to help patients cover medical bills, utilities and housing costs while undergoing treatment. For more information, go to www.ProjectPurple.org.