When Les Sargent battled colon cancer, one of his first symptoms was nausea and dry heaves. When this symptom recurred, it sounded an alarm for the Sargent family. "Dad never complained," Pam Sargent-Morris recalls. "He didn't share too much information. I just knew he had some dry heaves."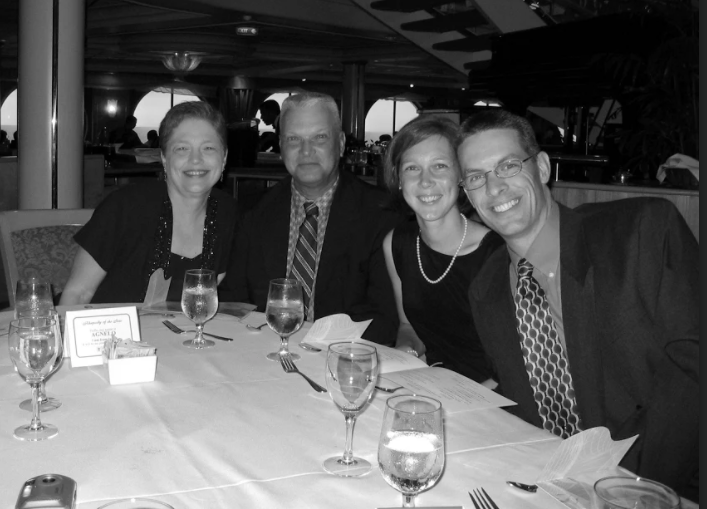 Testing revealed Les's liver enzymes were dangerously high. He was immediately sent by ambulance from Stillwater, OK to a hospital in Oklahoma City to be more closely evaluated. When he arrived in Oklahoma City, doctors noticed his skin had a yellow hue, indicating he had jaundice. A surgeon placed a stent in his bile duct to relieve the symptoms of his jaundice.
In addition, Les's kidney function was below normal. He was a diabetic and his doctors were becoming increasingly concerned about his condition. Finally, they located an abdominal mass.
The first conversation Pam had with her mom, Diana Sargent, was difficult. "When Mom called and said he was in Oklahoma City in the hospital, I asked her, 'Is dad OK?' Mom said, 'I don't know.' She told me it was probably a non-cancerous tumor, but we did not know yet. I thought, 'He can't have cancer again. He already survived cancer!'"
Eight Weeks
For two weeks, Les remained in the hospital, growing weaker and weaker. Finally, on February 17th, 2017, Les received a diagnosis: Stage IV pancreatic cancer. Pam recalls, "It was a huge shock. You think, 'No! Not that. Not pancreatic cancer!'" Back when her dad was diagnosed with colon cancer, Pam remembers the doctors mentioning how deadly pancreatic cancer was; it was the kind of cancer you definitely did not want to have.
There was very little doctors could offer Les Sargent for treatment. He was released from the hospital and sent home to his family. The Sargent family was astonished by how quickly the disease ravaged Les. Towards the end, he couldn't even get out of bed. He passed away eight weeks after his initial diagnosis, on April 19, 2017. Pam says, "He was fine and then weeks later he wasn't. You always wonder, 'could I have done something differently?' It was only eight weeks. How can that be? It is hard to comprehend how this cancer can be so aggressive like that."
Les Sargent
"My dad was the most brave and courageous person," Pam says. "When he found out he had pancreatic cancer, he tried to calm us down. He said, 'Everything is going to be OK', even though he was the one with the cancer."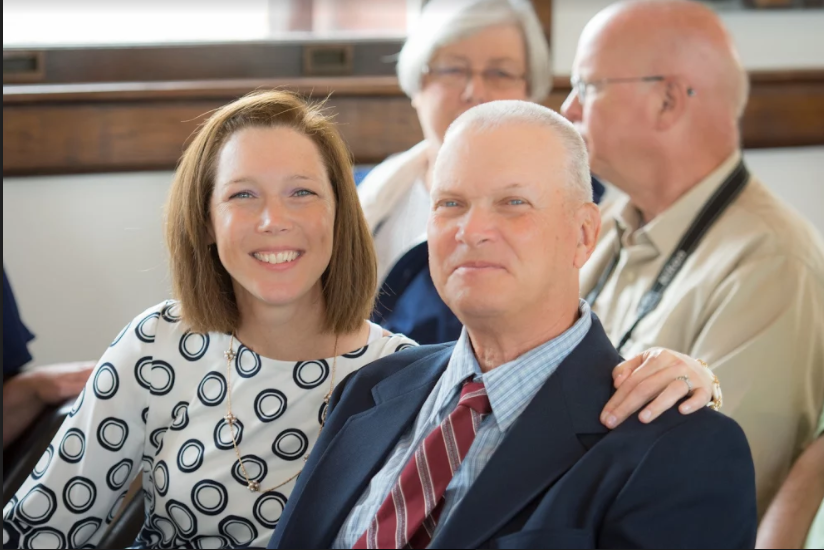 A tool designer for Mercury Marine in Stillwater, OK, Les retired in 2003. As a child, Pam enjoyed working on crafts and other projects with her dad. They also took part in a lot of family camping trips. Her dad loved to travel.
"He was quiet, but once you got to know him, he would talk your ear off," Pam recalls. Everyone knew Les enjoyed playfully teasing people who were in his inner circle. In fact, it was considered an honor of sorts to be on the receiving end of Les's teasing. People frequently tell Pam, "Your dad must have really liked us because he teased us so much."
More than anything, Pam always knew her dad loved her deeply. She explains, "Dad was always there for us no matter what. I always knew I could count on him. He loved his family."
Running Through Life
Pam ran for her high school cross country and track teams. Once she went to college, however, running went by the wayside. She says, "I wasn't disciplined to continue on my own. Eventually, I realized I missed it." Pam returned to running by training for a 5k. A couple of years later she and a friend from high school decided to train for and run the San Diego half-marathon.
Pam planned to run the New York City Marathon in 2012, but Hurricane Sandy had other plans. The race was cancelled. However, Pam kept her dream alive and ran the race in 2013. Her mom and dad came to watch her run the race. Though Les loved to travel, he did not think he would enjoy New York City. It turned out he thoroughly enjoyed his time there. He told Pam he was so glad he had made the trip and 'your legs got me here'.
Their trip to New York City still rates among Pam's best memories. In 2016, she returned to run the marathon again and her parents came with her. Though Les had not yet been diagnosed with pancreatic cancer, he wasn't feeling well during the trip. Still, he wanted to be there to see his daughter finish the race. "He knew it was his last trip to New York," Pam recalls. "He was tired, but he didn't want to let me down."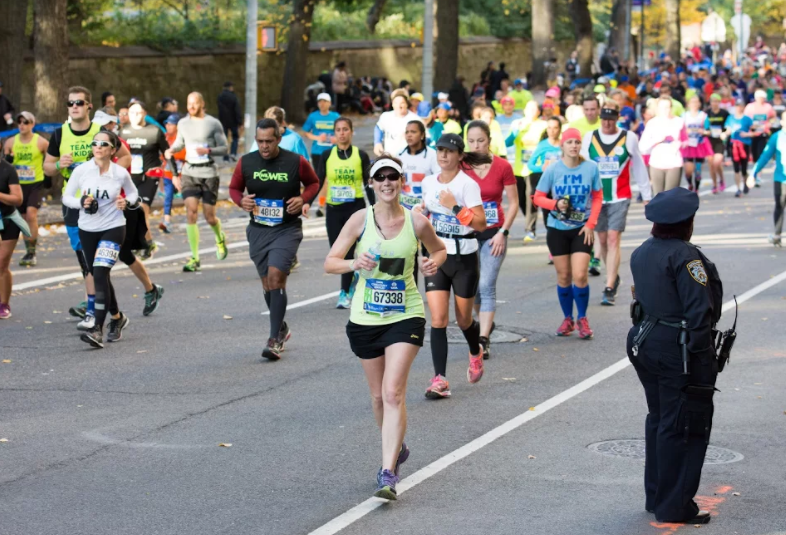 Pam Sargent-Morris Preps for Chicago Marathon
This year, Pam was selected to run the Chicago Marathon through the race lottery. She had wanted to do the race for a while, but something didn't feel right to her. She wasn't excited about the race the way she was when she was training for New York. Her dad's diagnosis made running a marathon seem unimportant in the grand scheme of things. However, when she found Project Purple, everything changed.
"I felt like the marathon would be much more than a run for me. It's going to be for dad. I know this race is going to be like no other. My dad and I had spoken about it when I got in. My parents were planning to come with me," Pam explains. By the time he received his stage IV pancreatic cancer diagnosis, Les was too ill to travel. Still, even if he could not make the trip to Chicago, Les reassured Pam, "I will be with you."
Every weekend of her father's brief battle with pancreatic cancer, Pam came home to spend time with him. They always discussed the Chicago Marathon. Pam's dad frequently encouraged her to look for the meaning in life experiences, even the unpleasant ones. He said, "There is always a reason why things happen. You may not know what it is yet, but there's a reason." Pam took this to heart. She told her dad, "There's a reason why I came across Project Purple."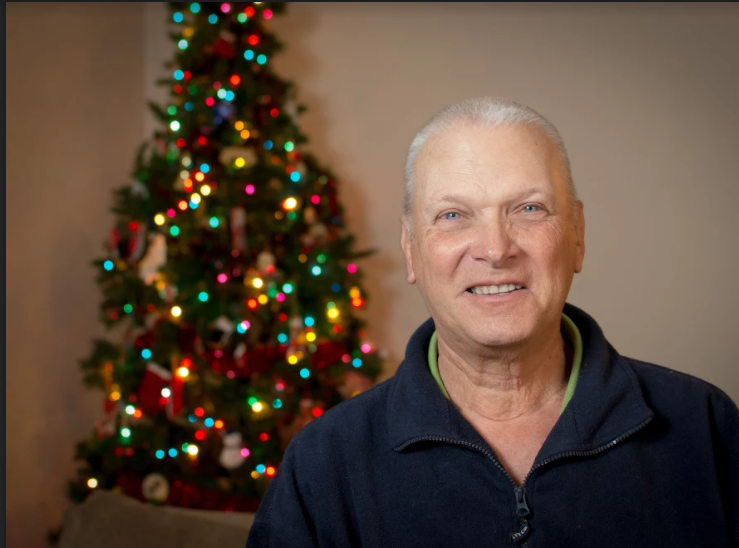 Mission Project Purple
She continues, "It sucks that my father had pancreatic cancer, but doing something for Project Purple has given me meaning in my life. I have a mission: raising money for Project Purple. I am doing it for my dad. He will be with me and running for him makes me feel close to him. He was just so open and we felt so close towards the end. I have never seen such a brave person. I just know Chicago will be a race like no other."
To make a donation to Pam Sargent-Morris and her Chicago team, please click HERE