We are less than two weeks away from the TCS New York City Marathon, one of the biggest and most exciting marathons in the world! The Project Purple team has done an incredible job so far raising awareness and funds for pancreatic cancer. As we count down these final moments before the big race, we hope our runners feel confident in their training and ready to run! Today we celebrate two more of the Project Purple running alumni as they tell us who they are running for and why they are returning to run with our team.
Project Purple Alum Michael Pilliod
Michael Pilliod is running the TCS New York City Marathon for the third time with Project Purple. He runs in honor of his mom, Barbara Pilliod, who passed away after a short but intense battle with pancreatic cancer.
Mike explains why he keeps returning to run in New York City with Project Purple, "I was hooked three years ago when I showed up for the first time to be a part of the NYC Marathon and had the privilege to represent Project Purple. This will be my third year in a row running the NYC marathon for Project Purple which I run in celebration of my Mom, Barbara Kane Pilliod, who lost her short battle with pancreatic cancer 4 years ago."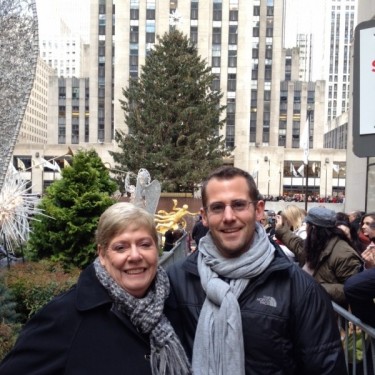 Mike continues, "My motivation comes in many forms and there's an intimate connection to NYC since my Mom was born and grew up in New York City on the east side. Barbara Kane Pilliod was always a city girl at heart and attitude. It's an incredible blend of celebrating her life with the great Project Purple family and my love of long distance running. Running in a marathon with so many people and such incredible fans encouraging you along the way is a magical experience. I always visualize the Project Purple cheering section at 110th street right after mile 18 during my long runs!"
Project Purple Community
While the New York City Marathon is a special race to Mike, he continues to return, in part, because of the special community he found with Project Purple. "Above all though the family connection that Dino built is the reason I keep coming back to New York City. I have met some amazing people and look forward to sharing this experience with more of my friends and family each year. It's a rare experience to have so many different people connect in such an intimate way; Project Purple is so welcoming and you immediately feel part of the family and I am committed to running each year!"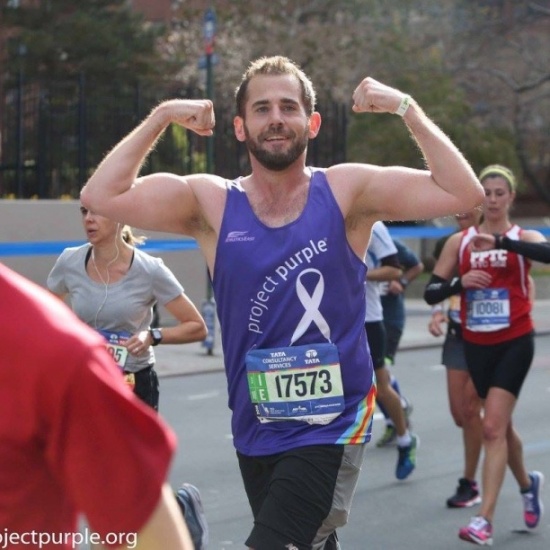 To donate to Mike's Project Purple fundraising campaign, please click HERE
Project Purple Alum Jeremy Levy
Jeremy Levy was dating Victoria Nicolov when her father, Assen Nicolov, was diagnosed with pancreatic cancer. "I am honored that I had the ability to meet him," Jeremy explains. While he and Victoria were dating, he flew from the East Coast to Seattle to spend time with Assen as he went through treatment for his cancer. Unfortunately, Assen passed away after an 18 month battle with pancreatic cancer.
When Victoria and Jeremy wed this past March, it was a bittersweet occasion. There was nothing Victoria wanted more than to have her father present at her wedding. While Jeremy wished his father-in-law could be there to walk Victoria down the aisle, he was also grateful he had the chance to meet Assen. Jeremy acknowledges many of those diagnosed with pancreatic cancer only survive weeks or a few months.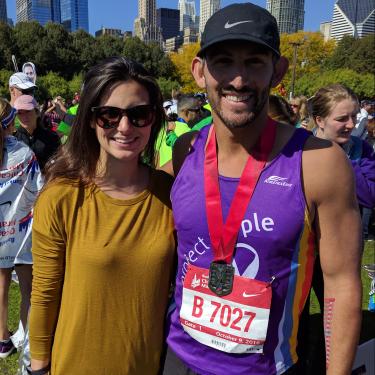 Running is My Way of Showing Support
As soon as Jeremy learned of Assen's diagnosis, he knew he wanted to support the fight against pancreatic cancer. A long-time distance runner, he has now run for Project Purple multiple times and is returning to run the 2017 TCS New York City Marathon with the team. He explains, "There is nothing I can say to my wife or her family to make up for their loss, but running is my way of showing my support. Pancreatic cancer is such a devastating cancer. It deserves more recognition and funding for research." Victoria is his biggest fan and she breaks out her Project Purple gear to cheer Jeremy on at every race.
Jeremy is excited to return to run the New York City Marathon for the 12th time. Born and raised in New York, he loves his 'hometown race'. The crowd support is particularly extraordinary. "It is just a great race," Jeremy explains. "There aren't five feet on the course that aren't packed with people. It is so exciting to hear the crowds."
What Sets Project Purple Apart from the Others
Jeremy ran for other charities before finding Project Purple. Right from his first experience, he was impressed with Project Purple. He feels the charity is exceptional because of its organization and runner support. "Project Purple is incredibly organized. They have their act together and that's great. It is a phenomenal group of people," Jeremy explains. "Project Purple has been able to curate an amazing community around pancreatic cancer and the people who are passionate about it. Running is a social sport. Being a part of the Project Purple community is inspiring. The community (Project Purple founder) Dino Verrelli has created is incredible."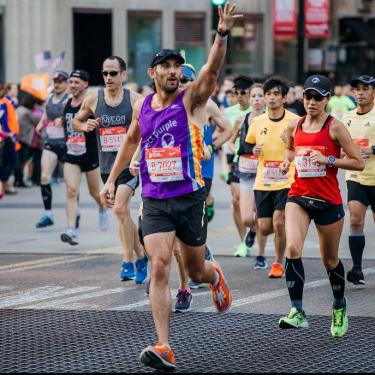 Jeremy extends his best wishes to the rest of the New York City Marathon team. He is looking forward to meeting the other runners at the pre-race event. Jeremy enjoys meeting those who share a passion for fighting pancreatic cancer by 'making a positive from a negative situation'.
To make a donation to Jeremy Levy's Project Purple fundraiser, click HERE