Several dedicated Project Purple Alumni are returning to run for our charity this year at the 2017 TCS New York City Marathon! The iconic race, which runs through all 5 boroughs, is a 'must do' race for any marathon runner. For Project Purple runners, however, taking on the 26.2 mile distance is always about more than one particular race. Several of our alumni explain what motivates them and why they are returning to run for Project Purple this year in New York City.
Project Purple Alumni Kristi Devert
Kristi met her inspiration in fighting pancreatic cancer, Rick Carone, through a mutual friend. She and Rick quickly became friends and Kristi did all she could to support his Team Carone Foundation. Inspired by her friend's courage in the face of a terminal diagnosis, she also signed up to run and raise money for Project Purple in Rick's honor. Kristi has done a number of Project Purple events and has raised an incredible amount of money for the charity.
This past summer, Rick Carone passed away after a four-year battle with pancreatic cancer. Everyone who knew him, including Kristi, was devastated by the loss. But all who knew Rick also knew he would want them to continue to fight against pancreatic cancer on his behalf. That is why Kristi decided to return to run for Project Purple."
Kristi explains, "All my runs for Project Purple have been for Rick Carone. Back in April he started to take a turn for the worst and was hospitalized. It was around that time I started to look into doing another marathon on his behalf. In May his health rapidly declined and I told Dino I wanted to run NYC Marathon for Rick. It was kind of my own way of letting Rick know I would continue the fight for him. He passed away in June knowing I was going to be running this for him."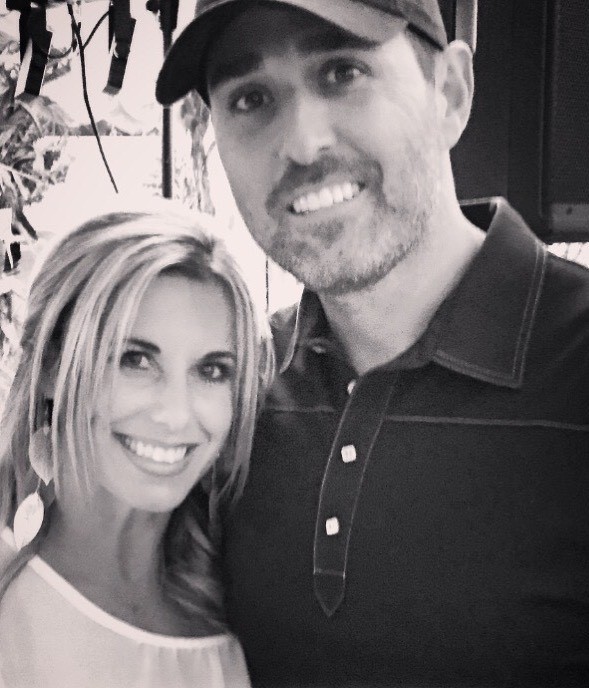 To donate to Kristi's fundraiser, please click HERE
Project Purple Alumni Tova Markowitz
Tova Markowitz lost two relatives, an aunt and an uncle, to pancreatic cancer. Soon her dad, Martin Abrams, learned he had a precancerous lesion in his pancreas. He had 70% of his pancreas removed in hopes it would prevent him from getting cancer. Tova, who has battled Crohn's Disease for many years, ran the New York City Marathon with Project Purple in 2015. Unfortunately, her family's battles with pancreatic cancer were not over. Tova's mother, Louise, was diagnosied with the disease, too.
Tova, who just finished the Chicago Marathon for the Crohn's and Colitis Foundation, is returning to run the New York City Marathon for Project Purple. She says, "The simple answer is I'm running to celebrate life. I am so grateful and lucky that both of my parents are alive. Both my parents are pancreatic cancer survivors. My dad was proactive after two of his siblings died from PC. He had the tail of the pancreas removed before the cells turned cancerous."
"My mother went to her internist complaining of a stomach ache. This caring, thorough doctor sent her for a sonogram and ultrasound. After, she went to her GI who, after looking at where she was pointing to the pain, immediately sent her for a CT scan," Tova says. Her mom had stage II pancreatic cancer.
"My mom had the whipple surgery in February. She went through 6 months of intense chemo, receiving treatments 3 weeks out of each month," Tova explains. Tova's mom is currently preparing to undergo radiation to make sure all cancerous cells are eradicated.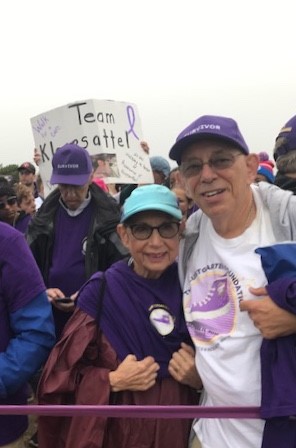 Tova adds, "The joke is together they have a full pancreas. So I'm running to celebrate life. I am so grateful and lucky."
To make a donation to Tova's fundraising campaign, click HERE
Project Purple Alumni Christen Koribanics
Christen Koribanics is also returning to run with Project Purple. She started running only one year ago but she has already racked up an impressive number of race finishes. Christen, as always, will be running in honor of her grandfather, who she lost to pancreatic cancer.
Christen says, "I began running one year ago when I was training for the New York City half marathon. I entered the lottery, and got in. The previous January my family lost my grandfather to Pancreatic Cancer, and I wanted to run in his honor. So I found Project Purple and trained with him in mind."
"I ran the NYC half, and then two other half marathons after that. I wore my Project Purple shirt while running the mini 10K this past spring in Central Park, and someone running alongside of me stopped me and thanked me for running for this cause. It's moments like that that make you realize what a difference you can make, and running brings you closer to that goal. "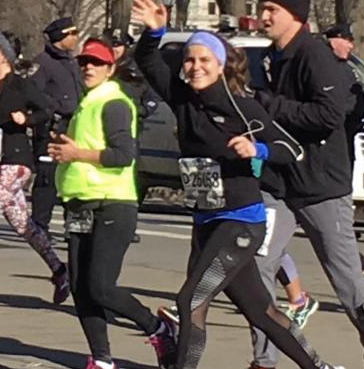 "I decided in June to run the full, and of course wanted to run with Project Purple. I started a 16-week training program, and once again trained with my grandfather in mind. Marathon training is tough, but running for a cause helps put everything into perspective and makes me feel thankful that I have the ability to run."
"I've heard from my friends who ran marathons before me that you will learn so much about yourself in those 16 weeks of training. And they were right. I learned a lot about myself, and also felt very connected to my grandfather. In fact, he taught me something without him even being here. In running for this cause, my grandfather helped me discover not only what I was capable of doing for others, but what I was capable of doing for myself. "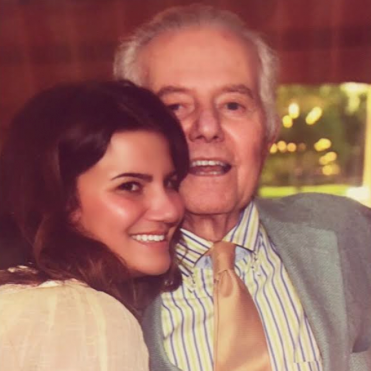 To make a donation to Christen's Project Purple fundraiser, click HERE
Join Project Purple as we wish our entire TCS New York City Marathon team good luck in their upcoming race! Interested in joining Project Purple in the battle against pancreatic cancer? Click HERE