Robin Schroeder is a fighter. She's been battling pancreatic cancer for about three years, and in her words, she has no plans on going anywhere anytime soon. 
"I have an incurable cancer," said Schroeder, "so I have to live with the fact that I have cancer every single day. It's difficult at times, but I really have the fight within my soul to survive as long as I can."
Schroeder plans on using her time now to support other patients through their battles, both by talking about her cancer journey and by raising funds for research and patient care. This year, she is going to run the Detroit Marathon with Project Purple, demonstrating to herself, and the cancer community, that perseverance pays off.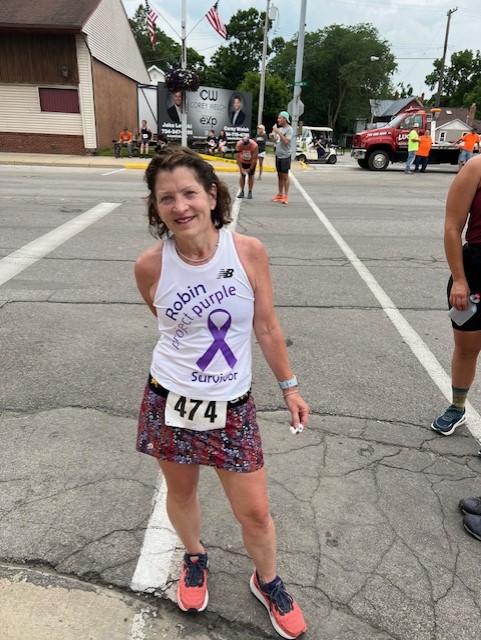 Battling with a Runner's Mindset 
Schroeder stumbled on running by accident. Though she always tried to take care of herself, she had never considered that running would be for her until one chance encounter opened her eyes to the sport. 
"I'm phobic of bats," Schroeder explained. "One night I was out walking at dusk and a bat was flying above my head. So I ran really fast, and as hard as I could all the way home. And I sat down and I was like, 'This feels really good.' So the next day, I went out and bought running shoes, and I've been running ever since." 
Quickly, Schroeder fell in love with the sport. She began to run half marathons with her uncle, which gradually led her to participate in longer and longer runs. 
"[My uncle] got me into the endurance part of running," said Schroeder, "and ever since my first half marathon, I've been addicted to it." 
Schroeder's passion for the sport paid off during her pancreatic cancer journey. She believes that her running ability is what pushed her to fight against the diagnosis to begin with.  At the start of the COVID-19 pandemic, she began experiencing several health issues, including a pain in her abdomen. After going back and forth with her primary care physician and ER hospital staff, Schroeder was finally able to receive a diagnosis of stage three pancreatic cancer. 
The Whipple surgery was Schroeder's best option for treatment. On May 22, 2020, she went in for the procedure. Typically after such an intensive surgery, most patients prefer to rest in the company of friends and family. Schoeder, however, wanted to take the time to reflect and recover in solitude. 
"For me, that time in the hospital wasn't really meant to entertain people, it was for me to recover," said Schroeder. "And I used my running as my way to focus. You get into a certain mindset when you're running, especially endurance running. That mindset kind of found its way with me during my recovery. I was able to really do well with my recovery, and I attribute it to my marathon training and I attribute it to all my runs. There is a drive and a focus that I have." 
This drive and focus pushed Schroeder to get herself up and moving after the procedure. She refused to let her cancer limit her physical activity. 
"By day three or four, I had over four thousand steps a day," Schroeder said. "When I got out of the hospital, I was logging I think 3 miles on my third-week post-op. And I really just kept going. Within eight weeks, I think I had over 200 miles under my belt."
But Schroeder, a passionate marathoner, wasn't content to just walk. She wanted to run.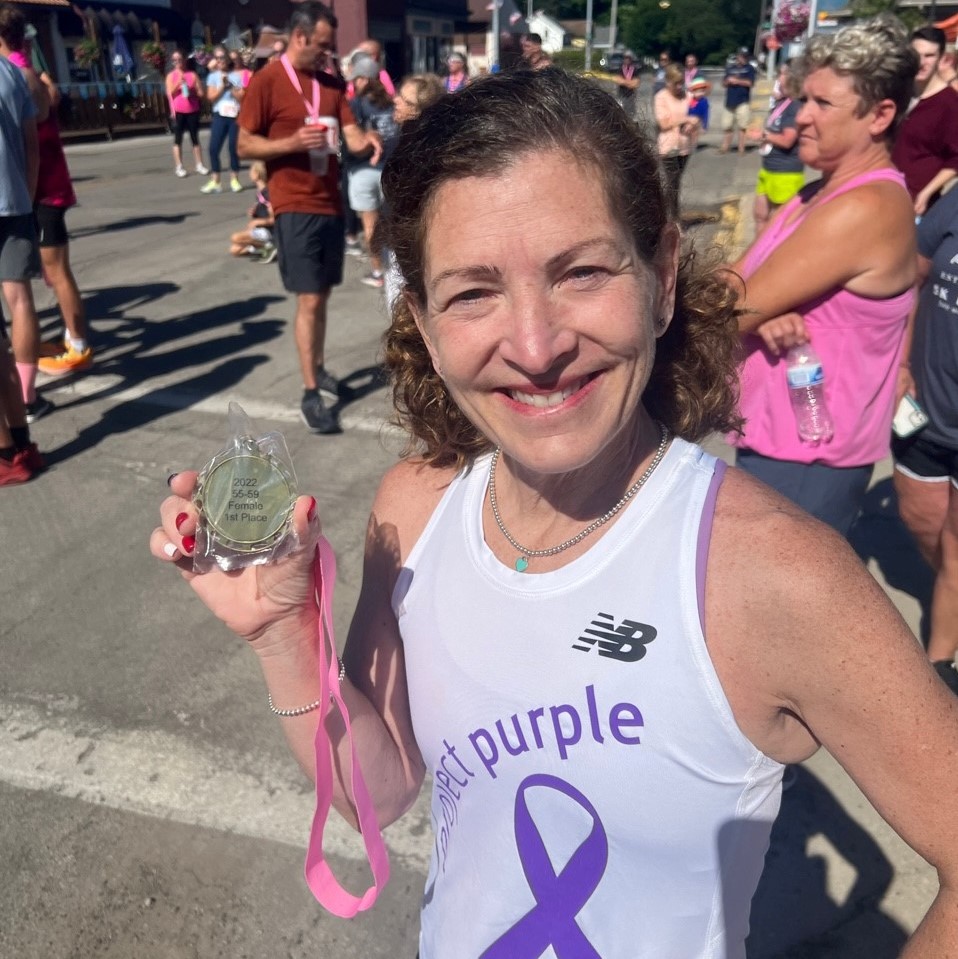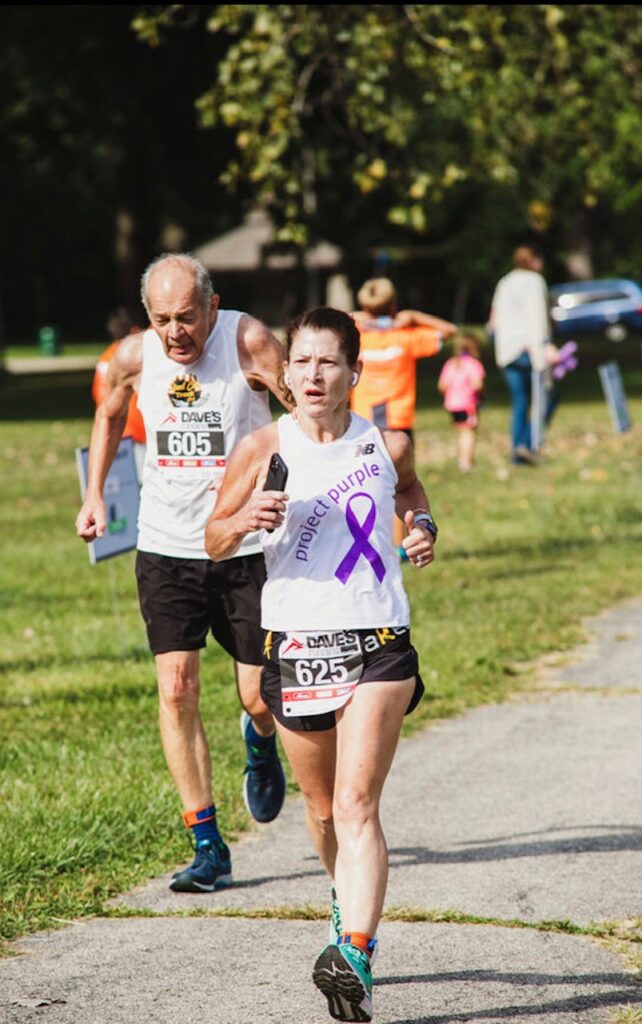 Mind Over Matter
Getting back into running was a step-by-step process for Schroeder, quite literally. 
"I went out one day, and I thought, I wonder if I can run because I felt so good walking," said Schroeder, "I held my stomach really really tightly and I tried to do one or two steps and I couldn't do it, and I thought, 'that felt really weird.' After Whipple, you feel like your insides are sort of self-suspending, like there is nothing holding them. So every week I would try and I got a couple steps more and a couple steps more, and then eventually I could go hands-free. It was tough." 
After slowly getting her body accustomed to running, Schroeder decided to hire a coach to help get her stride back. Now, almost three years after her surgery, she feels better than ever. 
"My running is a lot easier for me now," said Schroder when talking about her well-being since her cancer diagnosis. " I'm a healthier person post-cancer, and it's hard to understand that. Before I was diagnosed, I had a lot of issues with sinus and breathing problems, I was always on antibiotics…I'm performing better. And the fact that I'm a cancer survivor makes me try harder." 
She credits her success after her surgery to movement. Getting up and moving, Schroeder believes, is key to any patient's recovery. 
"It's a mental fight as well, and I encourage everyone after Whipple with your doctor's permission, you have to walk. I've had a lot of abdominal surgeries; I had a ruptured appendix, I had a c-section, I had a hysterectomy, and then Whipple. And Whipple, by far, was my best recovery, and I attribute it really to walking." 
Schroeder recognizes that her circumstances are very different from others battling pancreatic cancer. Knowing this, she pushes herself to work harder, honoring those who cannot. 
"When I go out and I run, there's an amazing amount of gratitude," said Schroeder. "I know a lot of people can't; I know there are a lot of people who have died from this disease. There are also a lot of people that don't have a fabulous recovery. So a lot of runs, I dedicate to them. I dedicate to the people who are struggling. It's a very powerful ability to be able to move." 
She now celebrates the anniversary of her surgery every year by running a half marathon, celebrating not just her endurance, but the perseverance of all other patients who are battling pancreatic cancer.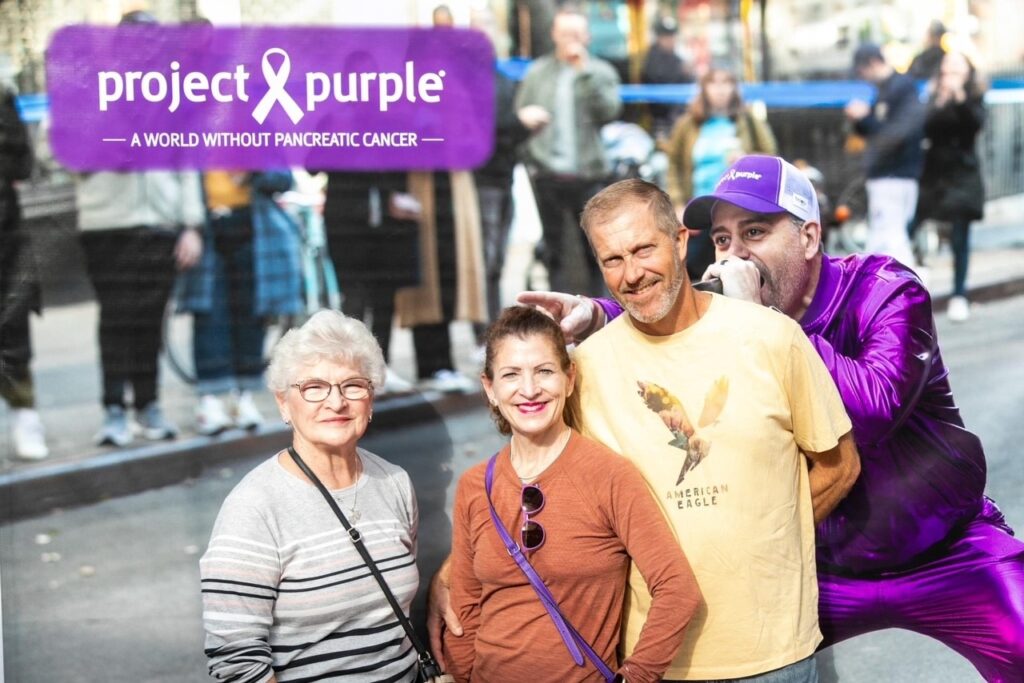 You Never Stop Fighting 
Dedication for Schroeder stretches beyond running. She is committed to finding ways to build up the pancreatic cancer community. One way she has begun to give back is by using proceeds from bottle returns to fund donations. 
"I work with my community; in Michigan, we have returnable bottles, so I've been getting returnables from my community and donating them," Schroeder explains. "And the community has been really supportive of my journey. They'll say, 'You know, most people just ask people for money, but you're actually doing something.'" 
Schroeder also works hard to spread awareness for this disease. She shares her story to inspire others to advocate for themselves and to fight back against pancreatic cancer. 
"I tell my story a lot, I post a lot on social media, and it's really to get the word out; if you're not feeling right, you need to pursue that and if you aren't happy with how you're doctor handles you, or if they blow it off as nothing, you need to get another opinion, and you can do so gracefully. And you have to take loyalty with your doctor out of the picture because it can be a life-saving decision." 
Now, she is getting ready to combine the two efforts into one by running with Project Purple as a member of their Detroit Marathon team. 
"It's pretty rewarding. It makes it even more spectacular," said Schroder when describing what it feels like to run for Project Purple. "You know, you can go and run a marathon and just run, but when you're running for a team that helps so many people, it's important… You aren't an individual trying to go out and make a difference, you have the power of the Project Purple voice" 
She believes that Project Purple provides resources for patients that don't just help them cope with their diagnosis, but gives them hope for the future. 
"This disease strikes everyone, whether you have insurance, whether you are financially okay, etc. And location. You could be in a Metropolis or a small country village. And it's important to really get the best care," said Schroeder, "I think with Project Purple, there are programs and making sure people can get to the right medical centers to get that medical attention needed for survival. I don't think people without Project Purple would even think that it was possible." 
Schoeder is looking forward to running in Detroit, inspiring patients to believe in the possibility of survival. If you are interested in supporting Robin, please click here for her fundraising page. If you are interested in getting involved with Project Purple, please click here. 
For more stories about Robin, check out: