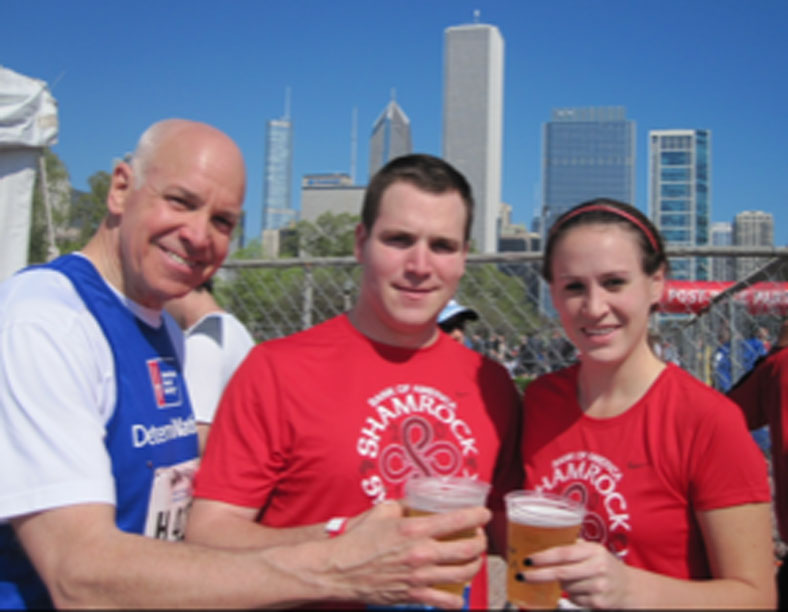 Pancreatic cancer doesn't discriminate. Kevin Grodzki was a life-long athlete. A college football and basketball player, and an avid runner. His love for fitness amplified with his almost 30-year career at Life Fitness. He ran the Chicago Marathon multiple times and carried his life with great enthusiasm and zeal toward leading an active life. He planted this seed with his son, Ryan, who is part of the Project Purple community. Ryan shared with us the legacy of his dad, Kevin, who passed away last year after a two-month battle with pancreatic cancer. 
As Ryan gets ready to run his first ever marathon in honor of his dad, he shared with us the story of his father and the importance of having something to channel your energy toward after you suffer a loss. 
"Up until the day he passed, my dad would get up at 3 am, even in retirement, and go workout, do yard work, go for a run or a swim. He had an incredibly energetic life," Ryan said. Kevin even had a hip replacement and a knee injury, but he didn't let that stop him. He got an elliptical and kept up with his active days. Time passed and Kevin retired from working. It was 2020 and the world shut down so he wasn't able to take the trips he had wanted. But he kept up with his active lifestyle. 
However, about a year ago, he started having abnormal pains and weakness. He noticed he was losing muscle mass despite lifting weights and training. Something was off. 
On June  3, 2021, he went to the doctor and they discovered some kind of growth so they ran tests. The doctor examined him and said he had a stellar BMI and was healthy as a horse, but that he had stage 4 pancreatic cancer. "You're an overachiever, but so is this cancer," the doctor said. "But let's fight it. Let's try different treatments and do the best we can."
Kevin underwent three rounds of chemo, the third one being extremely aggressive. Ryan visited his dad at the hospital, knowing he didn't have very much time left with him. The pair talked about running and Ryan promised him he would run a marathon. His dad enthusiastically shared tips about the Chicago marathon, training, and nutrition. Running became a father-son bond in Kevin's final weeks. 
For Ryan, as one life was ending, another was beginning. Ryan's daughter Celia was born on July 14, 2021, in midst of his father's illness. The day Ryan picked up his daughter's birth certificate, was the same day his family decided to move Kevin into hospice care. He passed away on August 3rd, exactly two months from the day he first came to see the doctor. "That's the thing about pancreatic cancer," Ryan said. "It comes out of nowhere and at late stages like this there's nothing you can do to stop it."
Shortly after, Ryan's wife found Project Purple online and Ryan decided it was time to run a marathon in honor of his dad and to help raise funds for early detection. He knew his family wasn't unique in witnessing a loved one's quick deterioration of health. 
Ever since he started marathon fundraising for Project Purple, Ryan was greeted by the generosity of strangers. His posts on LinkedIn and through word of mouth triggered so many of his father's acquaintances and co-workers to give a hand of support. Ryan was blown away by how much his dad had meant to so many people. 
As Ryan gears up for the 2022 Chicago Marathon, he says all his training has helped him stay connected to his dad in a way. That the race will be a special moment for him and his family. Channeling his sadness, energy, and hope into impacting something positive has been life changing for him. Knowing the Project Purple community is there by his side at all times means everything to him. 
If we can learn something from Kevin is the inexhaustible energy to stay active. He was even on the treadmill with a catheter on, said Ryan. He'd make jokes with the nurses despite knowing he didn't have much time left. Kevin lived life with joy. Despite it all, his attitude of strength was unwavering. Ryan is committed to continuing that strength through an active life and through running like his dad did. 
Kevin's story is why Project Purple is dedicated to funding critical research for early detection. Pancreatic cancer oftentimes goes undetected as it did for Kevin, and caught in the late stages it's hardly treatable. From marathon fundraising to recurring donations to our 360 Patient Financial Aid program, there are many opportunities to get involved and support patients and families.