Monthly Giving
Pancreatic cancer is a devastating disease that gets worse every year. There is no cure, no method for early detection, and most will be diagnosed too late to receive treatment. Become a monthly donor and you can make a direct impact on much needed research and the lives of patients battling now.
A monthly gift is an easy way to give back at a pace that you can manage, and make a continuous impact on pancreatic cancer. You choose how much to give, set it up with Crowdrise, the company you work for, or directly through your bank, and you're done!
What's great about monthly giving?

+ Making an impact on research and patients is quick and easy.
+ You can set up your monthly giving through Crowdrise, the company you work for, or bank draft.
+ Cancel or change your gift amount with ease, if needed.
+ We will send you a tax receipt at the end of the year, making your deductions simple.
+ Everyone who sets up online giving through Crowdrise HERE will get a Project Purple S'well Bottle.
Click here to set up your monthly donation online.
Work for a company that has a recurring gift program? Many companies offer programs for monthly giving, and may even be able to match your gift. Reach out to your company's HR department to find out how to set up preauthorized gifts (also called recurring, monthly, sustaining or regular giving).
One of our current donors, Kevin, uses the recurring donation program offered by his company. Kevin appreciates the automation. He sets up the donations once a year through HR. Kevin likes that it just happens and at the end of the year he doesn't have uncertainty about who and how much he has donated during the year – the amounts are summarized in his year end pay stub and W-2. Another automated benefit is that his company (Ameriprise) will match Kevin's recurring donations, all of these benefits, with one decision a year.
How do I make my monthly gift online?
Once you've clicked the link, you will be taken to our online donation platform, generated by Crowdrise (it should look like the image below). Make sure that you click over to the monthly option to make a recurring donation. Note that there are options to add a comment, give your contact details to join our newsletter list, and a company giving section.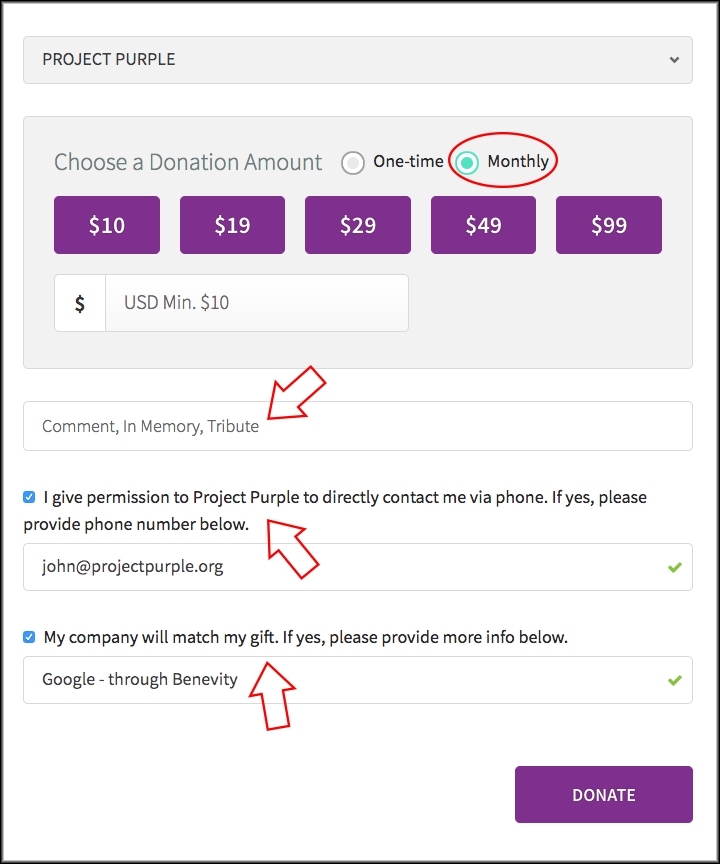 Have questions about the best way to give back? Contact us via email or give us a call at 203-714-6052.