Chris Schoell has learned a lot since his father's pancreatic cancer diagnosis in 2020. He has discovered what it means to be a father, how to talk about his thoughts and feelings, and how to focus on the positive when times are tough. Though he is still grieving the loss of his father, these life lessons help Schoell to keep going. Now, he is hoping to raise awareness for this disease by running the Sono Half Marathon, honoring the man who, even during his cancer battle, was able to teach him so much.  
If you are interested in supporting Schoell on his 300-mile journey, please click here. To learn how you can get involved with Project Purple, please visit our "Ways To Give" page.
Loss and New Life 
Gary Schoell was diagnosed with stage four pancreatic cancer on April 15, 2020, right at the height of the pandemic. His father had previously been experiencing stomach discomfort and had been receiving treatment for other possible causes. It wasn't until the doctors did a scan that the family learned that Gary not only had a large tumor on his pancreas but that the cancer had already spread to other parts of his body.
"Pancreatic cancer in many ways is a silent killer," Schoell said. "It develops for years and you have no idea because other than getting a scan, you likely wouldn't show any other symptoms until the cancer is in an advanced stage."
The diagnosis came out of nowhere, like it does too often for many patients and their families. The Schoell's had no family history of pancreatic cancer and Gary was a healthy and active man who had just retired, ready to start the next phase of his life. Suddenly, the family had to adjust to not just the pandemic, but to Gary's terminal diagnosis.
"Cancer is something you hear about your whole life and you just hope you never have to experience its effects firsthand," said Schoell. "So when we found out that my dad had cancer, and cancer in such a late stage at a time when it seemed that resources were very limited, it was a tough blow to everyone in our family."
COVID-19 complicated Schoell's involvement in Gary's battle, however, he still did everything he could to be there for his father. For example, Schoell remembers taking him to chemo appointments but having to wait outside as his father went through the treatment alone with no visitors allowed inside; going on long walks with their dog Quinn (Gary's pal); and having family meals "together" but distanced in his brother's yard to ensure that Gary, who was immunocompromised, was at no increased risk of COVID while still creating moments he inevitably knew would be some of the final cherished memories of the family's time with his father. Schoell remembers how his family struggled with the circumstances that complicated caring for Gary during COVID.
"It was a very unique time," said Schoell, "We didn't want to put him in harm's way, but at the same time, we wanted to be with him every step of the way. It was something we struggled with."
To make the situation more complex, about a month after Gary's diagnosis, Schoell learned that he and his wife were expecting their first child.
"My wife and I found out we were going to be parents about a month after my dad was diagnosed with cancer," said Schoell. "We wanted him to know that he had one more reason to fight and give him a little bit of happiness at a time that was very hard on all of us."
At first, treatment was going well for Gary, so much so that Schoell became very hopeful that his father would make it to see the birth of his child. However, things went downhill in late 2020. 
"When my dad's treatments were working, it almost seemed like a given he would be here for the baby's arrival. Unfortunately, the treatments stopped working and his health quickly took a turn for the worse," said Schoell, "We all sensed how close it was going to be."
Though Gary fought hard and made it to the due date which was his goal, Schoell's daughter came five days late. Even though his father wasn't there to see the birth of his granddaughter, Schoell made sure that his father was let in on the surprise. 
"The baby's gender was a surprise, but we had the doctors write the gender on a piece of paper in a sealed envelope, which my dad was able to open when he felt the time was right," said Schoell. "We also told him our boy and girl names, so he was the first to know."
Even though the situation was challenging, Schoell says that he learned a lot through the process of preparing to be a father while also preparing to lose his father.
"It was really difficult losing my dad and becoming a dad in the same week. That week taught me how precious life is and how important family is," said Schoell.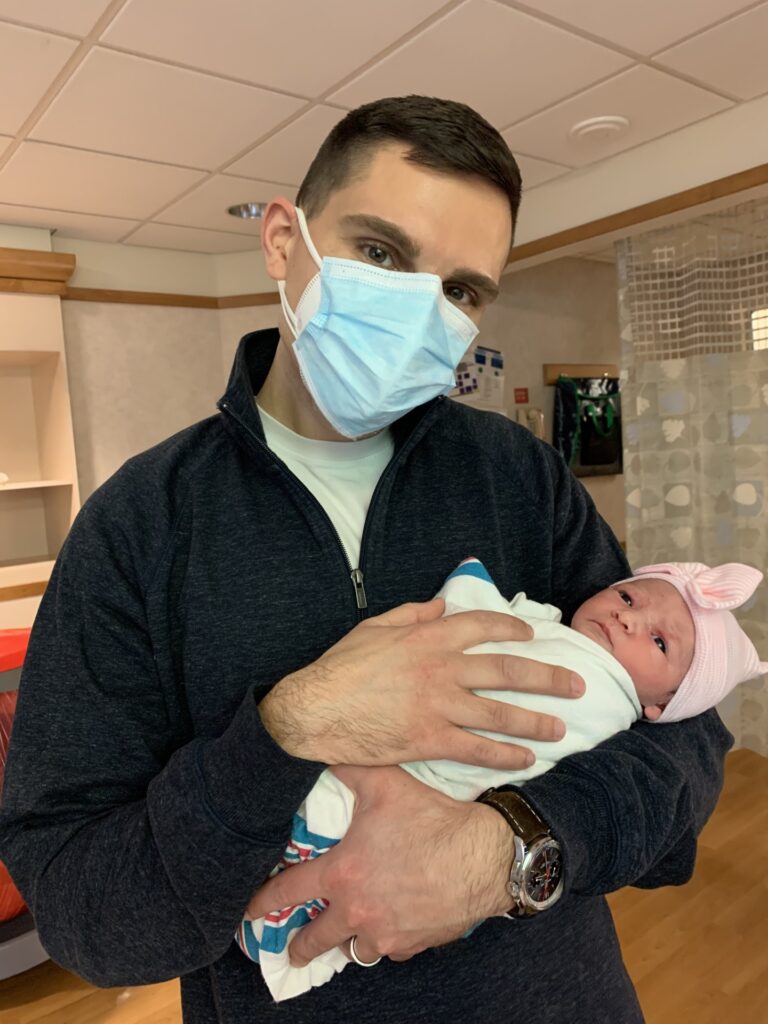 Communication is Key 
Grieving for Gary pushed Schoell to express his thoughts and feelings. He picked up several healthy habits, such as talking more openly with loved ones and making sure to never skip a physical.
"I learned to talk more about my emotions, more than I ever talked about my emotions in my entire life," said Schoell. "It was a lot to internalize. To this day I still struggle with it. The pain doesn't go away. You just find different ways to cope with it over time."
He also rediscovered his passion for running.
"Running was an escape for me. It was the only time that my mind was a little bit at rest, given all that was going on," said Schoell.
After his father's passing, running seemed to cut through the grief. Now, he is excited to be running for Project Purple in the Sono Half Marathon this year.
"It means a lot to me," said Schoell. "During my dad's battle, he expressed that sometimes life isn't fair but you have to try your best to find the positive. With those words in mind, I knew I wanted to channel my efforts into something that can do good."
Running has now transformed from an escape into a passion and a way to create positive change. When he was looking for a charity to run with, Project Purple stood out to him not just because it helped fund research efforts, but because it gives a platform and community for those who have had experiences with this disease.
"Through my dad's journey, I found the importance of being able to discuss your experience and how you're feeling," said Schoell, "I believe that organizations that put their efforts into supporting families and that provide a sounding board for people to share their experience is very important."
Schoell believes that sharing experiences not only helps people cope with a pancreatic cancer diagnosis but also helps process the basic information about treatments and care schedules.
"When our family found out about his diagnosis, there were a lot of medical terms thrown at us. It's hard to digest and it's hard to understand the different treatment options," said Schoell. "It was helpful to hear from friends or family who had stories of loved ones who dealt with pancreatic cancer. It helped us better understand the journey we were facing."
Even though Schoell pushes himself to be more open, it is still a struggle, as it is for most people who have lost a loved one. However, he continues to push himself to share Gary's story.
"It's not easy to talk about these things, and to this day I don't feel entirely comfortable talking about what happened with my dad," said Schoell, "but it is important. I found that internalizing all of my feelings only added to the pain."  
Now, Schoell hopes that his Sono race will help him raise funds for the research, spread awareness, and share his story.
So Many Miles Left to Go
Schoell has been following a sixteen-week program to train for this race. Now, after two months, he has already run a significant distance. However, he still has a long way to go towards accomplishing his goal of reaching the finish line in October. 
"Since I started training in early June, I've already run well over 100 miles," Schoell explained. "Based on the training program, I'll be at nearly 300 miles come race day. Ironically enough, this represents roughly one mile for every day my dad fought to be here."
If you are interested in supporting Schoell on his 300-mile journey, please click here. To learn how you can get involved with Project Purple, please visit our "Ways To Give" page.