Young people are the movers and the shakers who make things happen in American society. They have been at the forefront of many social justice campaigns over the years. They have been amazing agents of change and are increasingly throwing their influence behind charitable causes. Enthusiastic, energetic teens and young adults frequently partner with Project Purple in the fight against pancreatic cancer. In particular, we have seen a surge in support from athletic teams. Toay we pay tribute to these young athletes who have helped us spread awareness about pancreatic cancer.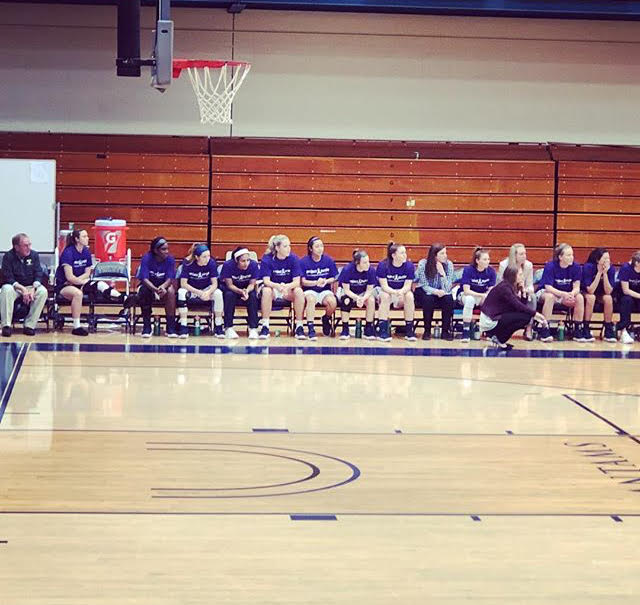 Many younger people have supported Project Purple's through running and walking events. This year, high school and college athletic teams got in on the action. Several basketball teams hosted Project Purple pancreatic cancer awareness nights in support of raising awareness for the disease.
College Athletic Teams Raise Awareness
Helping spread the word about pancreatic cancer was easy for our young supporters. College athletic departments helped to advertise the awareness events (see Trinity College's press release HERE).
The student athletes wore Project Purple t-shirts during the pre-game warm-ups. In addition, the teams encouraged their fans to wear purple in support of the cause. Many of the schools set up a table where other students distributed information about pancreatic cancer to the fans.
An Extra-Special Night in Maine
In Maine, when Bowdoin and Bates Colleges played each other, the night was particularly poignant: Bates had recently lost a women's basketball coach to pancreatic cancer. Spectators pitched in and donated several hundred dollars to Project Purple to help in the battle against pancreatic cancer in honor of their beloved coach.
Putting on Purple for Pancreatic Cancer
Many sports teams have historically honored the fight against breast cancer with 'pink outs'. Advocates wish pancreatic cancer received the same kind of support and attention from the public. We are absolutely thrilled to see these athletes wearing purple in support of those fighting pancreatic cancer!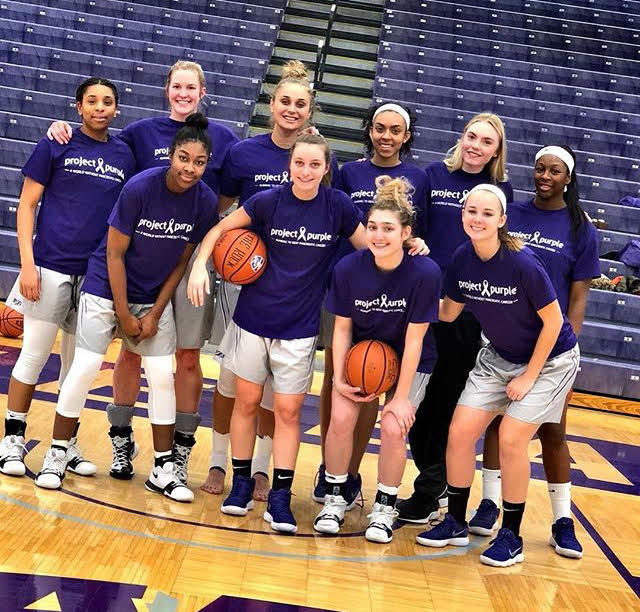 Raising Awareness is Important
The main goal of the basketball partnership has been to help spread awareness about pancreatic cancer. "Just purely spreading awareness is important," Chelsey Bunyer of Project Purple explains. "There are still a lot of people who do not know anything about pancreatic cancer."
We at Project Purple extend our heartfelt appreciation to the teams who joined us in raising awareess for pancreatic cancer this year. We hope we can keep the momentum going through the rest of 2018!
It is simple and easy for any athletic team or club to help Project Purple spread awareness for pancreatic cancer. We would be happy to help any group organize a pancreatic cancer awareness event.
For more information, contact Chelsey at Chelsey@projectpurple.org.