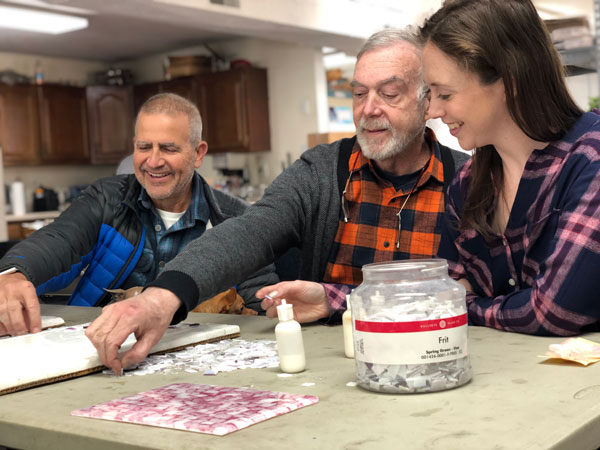 "I've always had this sort of spiritual connection to my art," Gary Rosenthal said. Gary is the founder of the Glass Ribbon Project, which allows those going through cancer treatment to share Strength Stones with their loved ones.
"Within our glass shop we create glass mosaics, which are then cut up into one-inch squares and refined into soft stones," Gary said. These stones can then be given to friends and family members of those going through treatment so they can have a connection to them during it.
"The thought behind the stones is it's a connection," he said. "You basically give it to a friend and say, 'I know you can't be with me during chemo, but I'll be there at 10 tomorrow, can you take out the stone and say a prayer for me?'"
Gary says that the focus groups his studio has held have found that people don't know how to connect when someone is diagnosed with cancer.
"Having cancer is very alienating to both sides," he said. "So the Strength Stones act as an icebreaker." He also said he expanded to pancreatic cancer after his diagnosis, and he mostly works with Project Purple because of the staff, especially founder Dino Verrelli. "Dino is such a pleasure," Gary said. "He obviously understood where I was coming from when I first reached out."
The project has also sent out kits to those going through treatment, so they can make the mosaics themselves. "Your fingerprints stay on the glass forever," he said. "I spoke to a rabbi, and he said it's not just your fingerprint but your soulprint."
All in all, Gary wants the people with the stones to stay connected during a troubling time in their lives, which he has seen firsthand. "People send us notes and send us pictures," he said. "It's very moving."