Kristin Wood doesn't regret at all the six months she spent with her father during his pancreatic cancer journey. The chemotherapy appointments, the doctor's visits, even the spreadsheets she spent hours making planning out medications and doctor's visits and questions.
"It was a very stressful time period but I value every second I had," said Wood. "When I think about it, I wouldn't have done it any differently, no matter how hard it was at certain times."
Now, with her father gone, Wood has found solace in running, and the community of runners she has created who help to boost her up. They have supported her not just through her grief, but through her training as well. With the help of her friends and neighbors, Wood is heading to Germany to run the Berlin Marathon in September.
"Getting Old is a Team Sport"
Wood's father was diagnosed with pancreatic cancer just five days after her brother's wedding. His diagnosis only lasted six months.
"It was a lot of ups and downs," Wood remembers.
He was eligible for the Whipple procedure, however, there were many complications with his biliary track and stints put in that made his treatments more stressful. Another complication arose when Wood's father wouldn't take to chemo.
"My dad was 6'2" and towards the end, I was at 5'6", outweighing him," recounted Wood. "That was the turning point for me, I just knew that [his passing] was inevitable."
Finally, when he became septic, Wood's father had to be airlifted to Yale New Haven Hospital. It was there he met the surgeon for his Whipple procedure and was given the green light. The surgeons were able to remove the head of the pancreas and 21 lymph-nodes, 16 of which were cancerous. It was at that point's her father's diagnosis was terminal. The procedure did extend his life, giving Wood a little more time with her father.
"I appreciate every moment that I had with him in the end," said Wood.
Thankfully, everyone in her family had a role to play in her father's cancer journey. Her brother, a CAT scan technician, was able to translate the medical terminology for the family. Wood, the planner of the group, took on the task of planning out medication schedules and keeping track of her father's information. Her mother, who had been married to her father for 46 years before his passing, took care of her husband through it all, filling in the gaps and doing some heavy lifting. Along with this small team, the Woods had a group of family and friends that helped to support them through her father's diagnosis.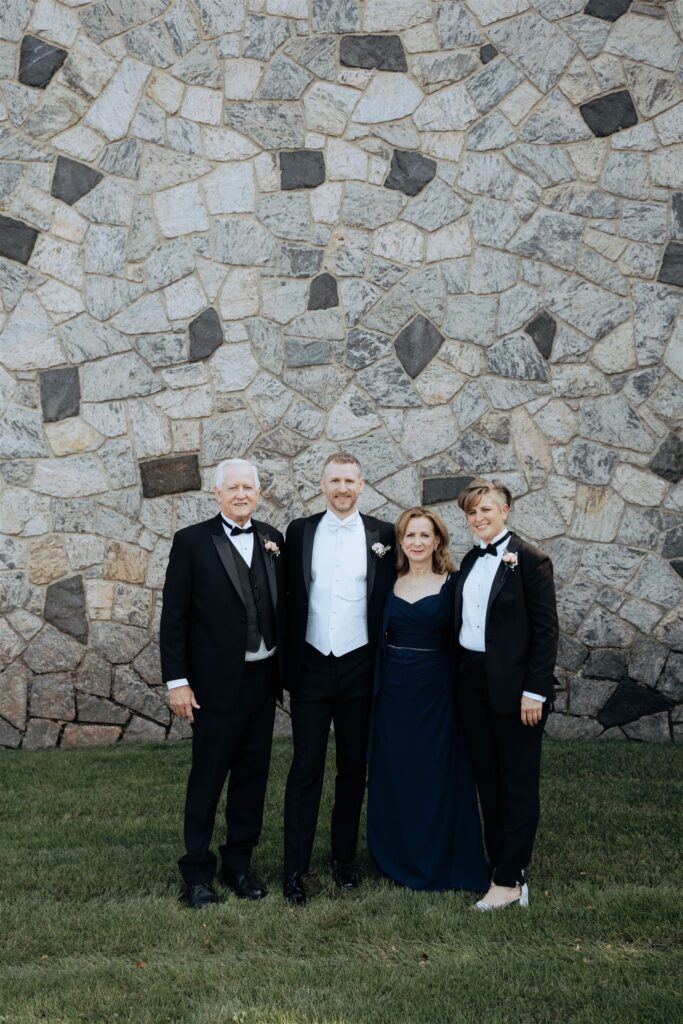 "I think the biggest thing I learned throughout the whole thing is how much it takes a village to get through something like this and then empathy for other people that are in similar situations," said Wood. "I just don't think you know until you know. And that's what I keep telling people. You don't know about losing a parent until you know. You don't know about going through cancer treatments until you know. It's not something you can explain. It was a huge learning and growth experience. I'm sad it ended up the way it did, but I think it will make me grow as a person."
Wood's father passed away in March of 2023. The experience of his diagnosis was trying for the family, but Wood feels that ultimately, she doesn't regret being there for her father during his cancer journey.
"It was the hardest thing I ever did in my life. My dad was like my other half. To see him go through such a transition in such a short period of time was very stressful," said Wood. "And I don't regret being a part of any of it, the chemo, the doctor's appointment, helping him get around in the end when he couldn't really walk. I was just so grateful that I got to be there."
One of the lessons she learned from this experience is how important it is to both give, and receive a helping hand.
"I never knew how hard it was to accept help until we went through this," said Wood. "As far as getting meals from other people so we just didn't have to spend time cooking, or somebody mowing the lawn. It takes a village and getting old is a team sport. That's my new motto, getting old is a team sport. Make sure you have the right people around you."
This new mindset not only carried her through her father's battle with pancreatic cancer, but also pushed her to seek help after his passing, specifically when it came to running.
Running Together
Being a caregiver gave Wood a new appreciation for running. Today, she believes that it is a part of her personal self-care routine.
"I like to say I work out to burn off the crazy," Wood joked, "So to me, health is a triangle, it's mental, physical and social. And it's not an equilateral triangle, and I think you need to balance those three points out to be happy. And I think being a caregiver for those six months, it's really easy to lose sight of yourself and prioritize the other person, but you really do need to take care of yourself in order to be there for the person in need."
After her father's passing, running became a way to feel close to her father while also feeling like she is taking care of herself.
"And when I'm running I feel the closest to him because he was always my biggest fan," said Wood. "So, in one way or another he's always with me during a run, whether it was holding off the rain at the Brooklyn half this May or keeping the sun behind the clouds for my twelve-mile run in Washington, I'm always like, 'okay, thanks dad!"'
Even though Wood feels like her father is always with her, she has other people around her to support her running journey. She is a member of a running group called Three Little Birds, that formed in 2021 when her best friend's son was diagnosed with autism. She asked a group of seven women to come together and help raise money for her son to have an adaptive playground at his preschool. According to Wood, together, they raised around $12,000 for her friend. 
"I found that to be super healing," said Wood. Now, she has a group of women she can count on to support her and help her through her running journey.
"We call ourselves because of the Bob Marley song, Three Little Birds," Wood explained. "And [the group is] part of the social point of the triangle. I have seven people I can tap on at any point of the day. We text each other all day long, and it's just amazing to be part of that kind of community."
And these women are there for her, no matter what.
"Whether its having a bad day and I don't want to go out for a simple three-mile run, I'll text them and they give me the motivation to go, or when I did my twelve-mile run in Washington, I met one of the girls on the Tappan Zee Bridge and we ran eight miles together."
Now, Wood has found an even larger community with Project Purple.
Wood Finds a New Community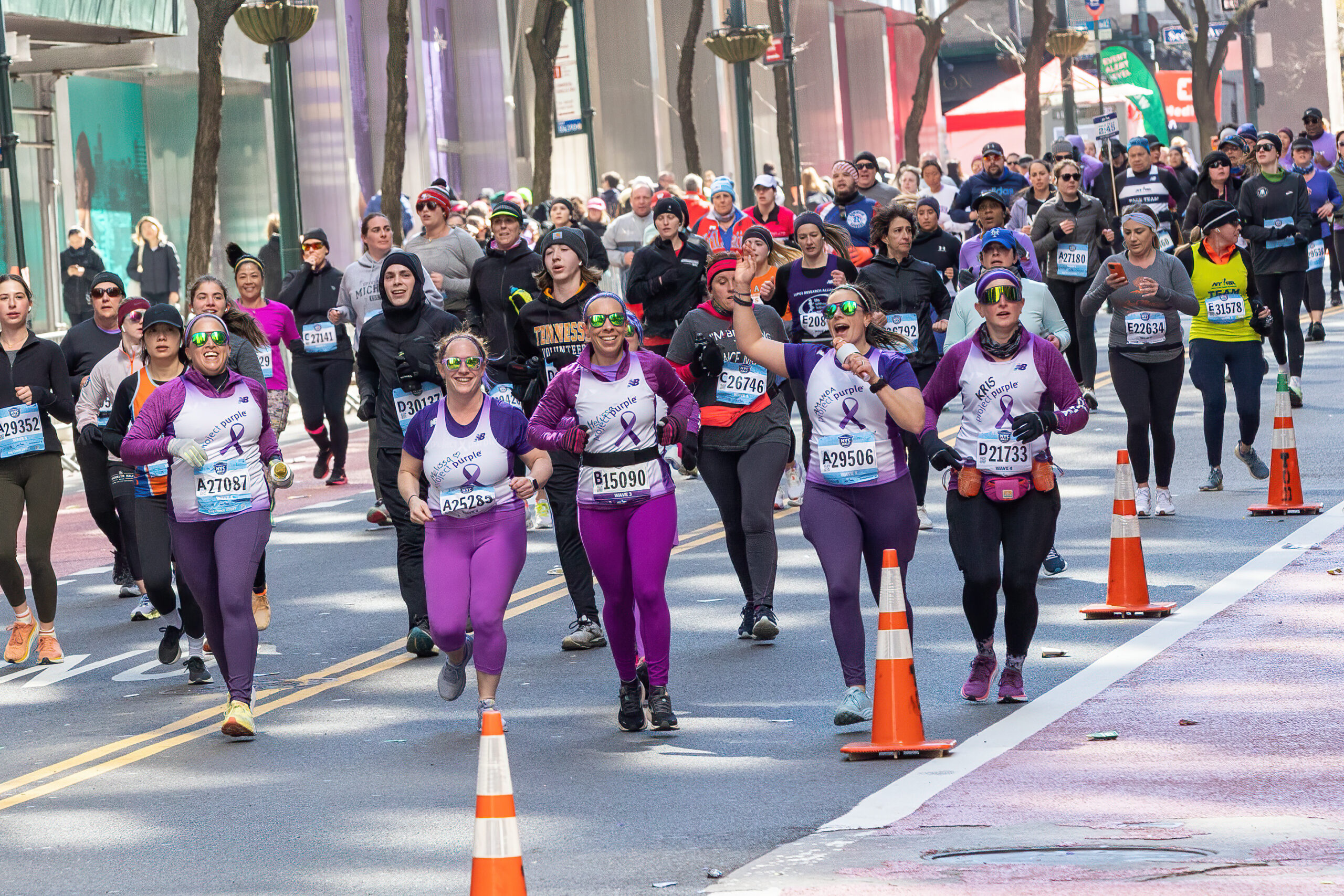 Wood will run Berlin with the Project Purple team. She appreciates how this organization believes in taking care of others.
"What makes Project Purple unique is the financing of people in need," said Wood. "We were very fortunate that we didn't have a financial need to get through treatment, but I can see how somebody who's going through this alone may need help. [Cancer is] mentally debilitating."
Now, Wood is excited to run for something bigger than herself.
"Being able to run and fundraise for Project Purple gives running a new meaning," said Wood. "It's pretty awesome."
If you would like to run like Kristin, please click here for more information about our upcoming races. If you would like to help Kristin in her fundraising efforts, please click here. Thank you to Kristin and all our Berlin runners for helping to create a world where no one has to face pancreatic cancer alone.