Tracey McGee suffered a serious injury in April, 2016. While many people would focus on their own suffering, Tracey is not one of them. Meeting a man with stage IV pancreatic cancer inspired her to look outside of herself once again. She has joined Project Purple for her 'comeback' race and she is raising money to help those with pancreatic cancer, and to help reach a very lofty lifetime goal she set for herself.
Tracey McGee: Mom becomes Runner
Tracey McGee had a one-year-old son, Connor, when her twins, Jack and Ryan, were born three months prematurely. Due to the premature birth and complications which developed in utero, the twins' health was precarious. In fact, doctors predicted they would not survive. Fortunately, after spending three-and-a-half months in the Neonatal Intensive Care Unit, both babies were well enough to come home.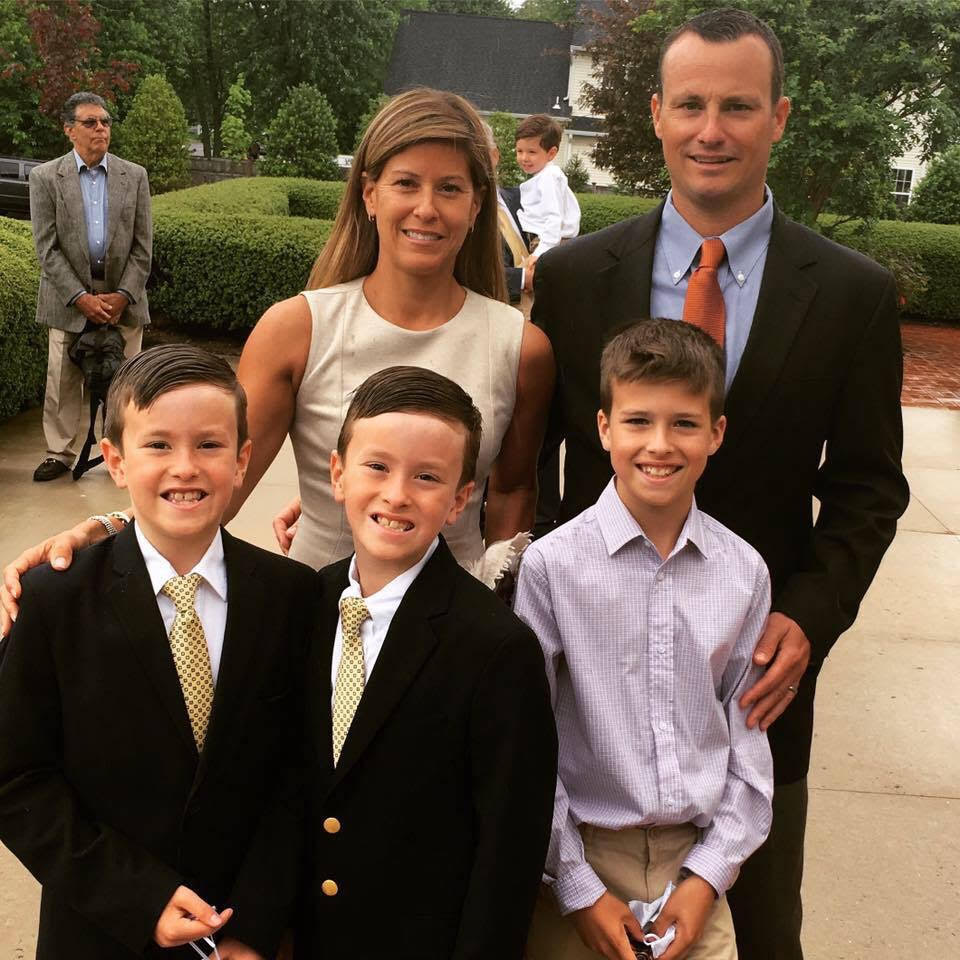 As anyone with children knows, caring for three little ones can be exhausting and challenging. One day, in need of a mental and physical release, Tracey walked out her front door and ran one block. That was all she had in her that day, but it was just the beginning. Over time, she built up her distance and running became an important part of her life. Running provided an outlet for her as she juggled all of the responsibilities of raising her children and fulfilling her duties as a buyer for retail clothing stores TJ Maxx and Marshall's.
The Thrill of Competition
Tracey, a very competitive person, soon discovered running was a perfect fit for her personality and her lifestyle. The first race she ever entered was a half-marathon. Since then, she has completed 5 marathons. The marathon, an incredibly daunting race for many runners, is her favorite distance. She says, "I love training for the marathon. I love my long runs. Most people dread them, but I just love them."
Tracey spent the early part of 2016 training for a race most runners consider a dream goal: the Boston Marathon. Things were going well in her race build up until she was ready to begin her taper. Just a couple of weeks away from race day, she felt pain in her groin. While it was concerning so close to race day, she assumed it was just a pulled muscle and figured her taper would help it heal.
The Boston Marathon
When race day rolled around, Tracey was thrilled to be in Boston and was excited to run. When she hit the half-marathon point, however, she realized something was seriously wrong. As the miles clicked by, she could barely walk. She hobbled for an unbelievable 13 miles and was in so much agony, she collapsed as she reached the finish line.
A dedicated charity runner, Tracey ran with a team which was raising money to support the Massachusetts General Hospital. Ironically, an ambulance took her directly to Mass General from the Boston Marathon finish line.
A Shocking Injury
As it turned out, Tracey's injury was not a pulled muscle. In fact, healthy marathon runner Tracey McGee had multiple stress fractures in her hip. The doctors could not believe she finished the marathon. One doctor asked her how she was even able to walk.
A femoral head stress fracture is a very serious injury. Tracey stayed at Mass General for four days so doctors could help stabilize her condition before she was transported back to her home in New Jersey.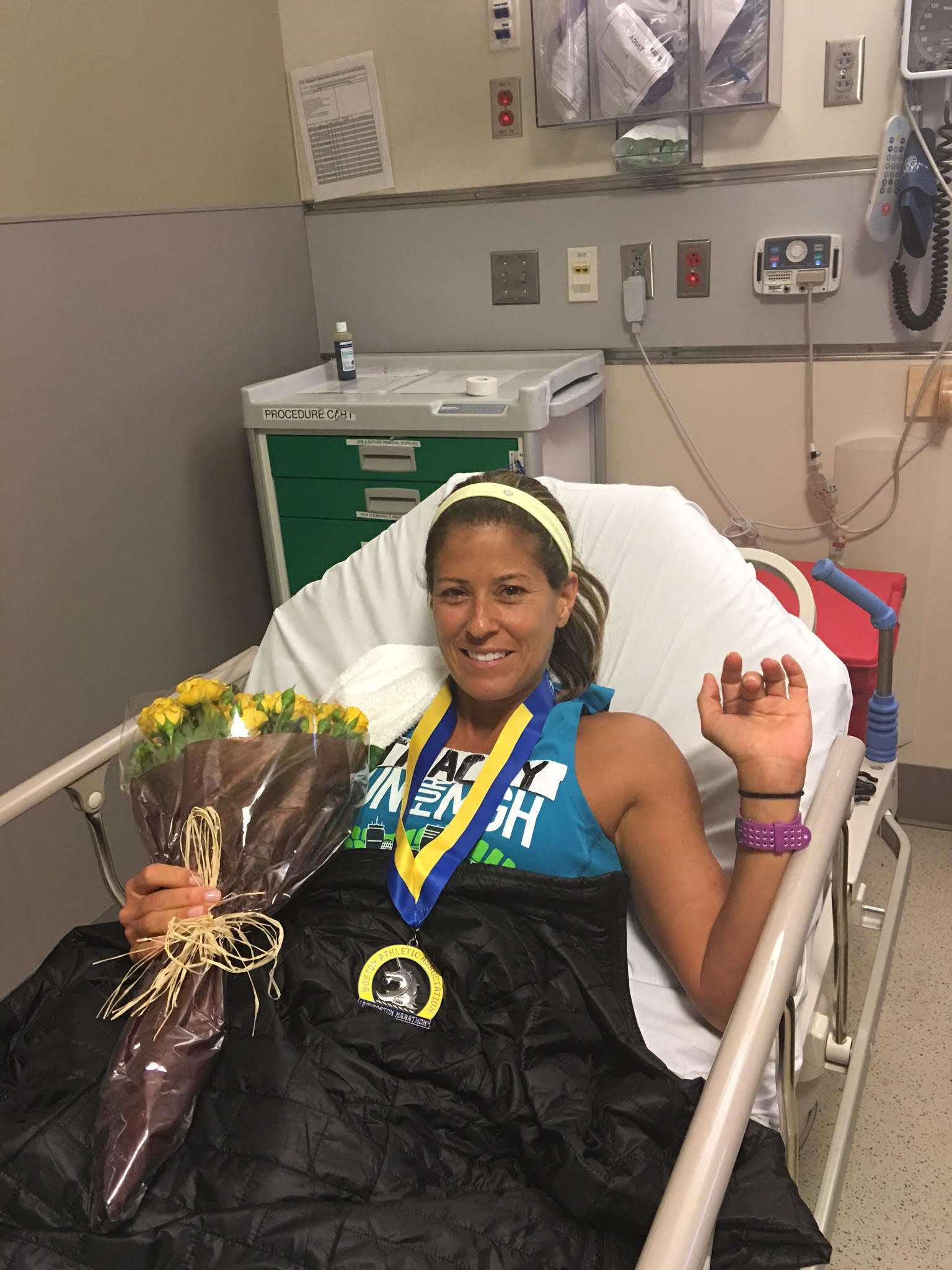 Once Tracey was back in her home state, surgeons repaired her hip. Recovery was painfully slow. She was on crutches for 8 weeks and was completely non-weight-bearing for four weeks. Tracey knew how serious her injury and was dedicated to healing properly.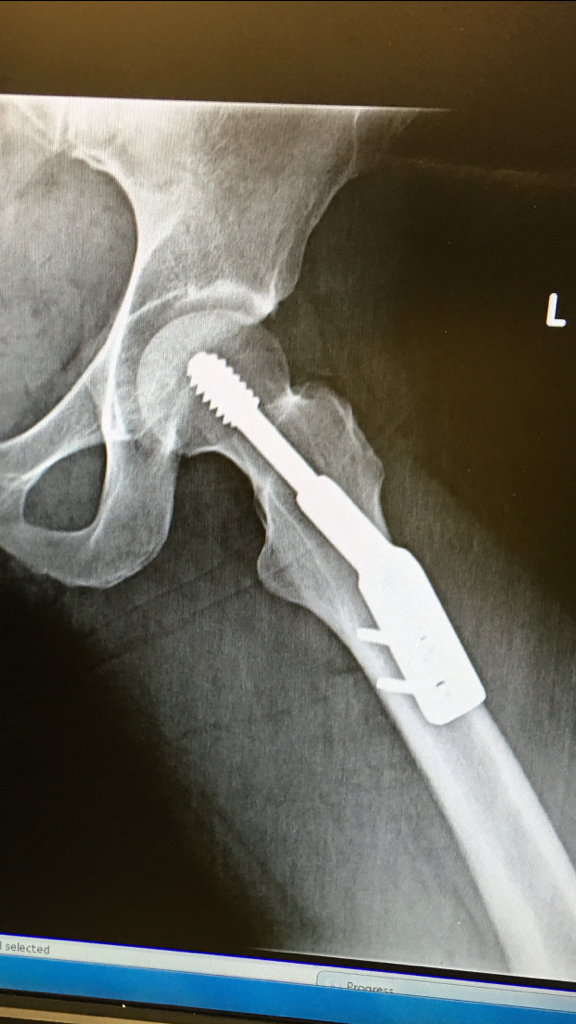 A Slow Recovery
Though she thought she would feel better and better each day, that was not the case. Tracey's recovery was often often bumpy, with plenty of setbacks along the way. However, Tracey's recovery taught her a great deal about patience and life. "My injury reintroduced the definition of patience to me. Being on crutches gives you a new perspective. For example, I couldn't go to the grocery store and push a grocery cart. Now if I see someone on crutches, I go out of my way to help them."
Return to Running
Though she was in pain for months following her accident, she was finally released to run again. "The scariest thing ever was when I started running again. My first 'real run' was in September. I did about 3 miles. It was scary and exciting at the same time," Tracey recalls. Ultimately, those forced months of patience and recuperation ended up being a gift. Tracey says, "I am grateful this happened to me. I know…who wishes to have some traumatic event happen to them? But life is about so much more than running."
Rick Carone
In November 2016, Tracey accompanied her friend Heather Chenery to a Project Purple gathering in New York City. Heather was running for her friend, Rick Carone, who was battling stage IV pancreatic cancer. Tracey met Rick for the first time and was blown away by their encounter. "He made such an impact on me. I sat and talked with Rick for about two hours. I had never met anyone before who had stage IV cancer."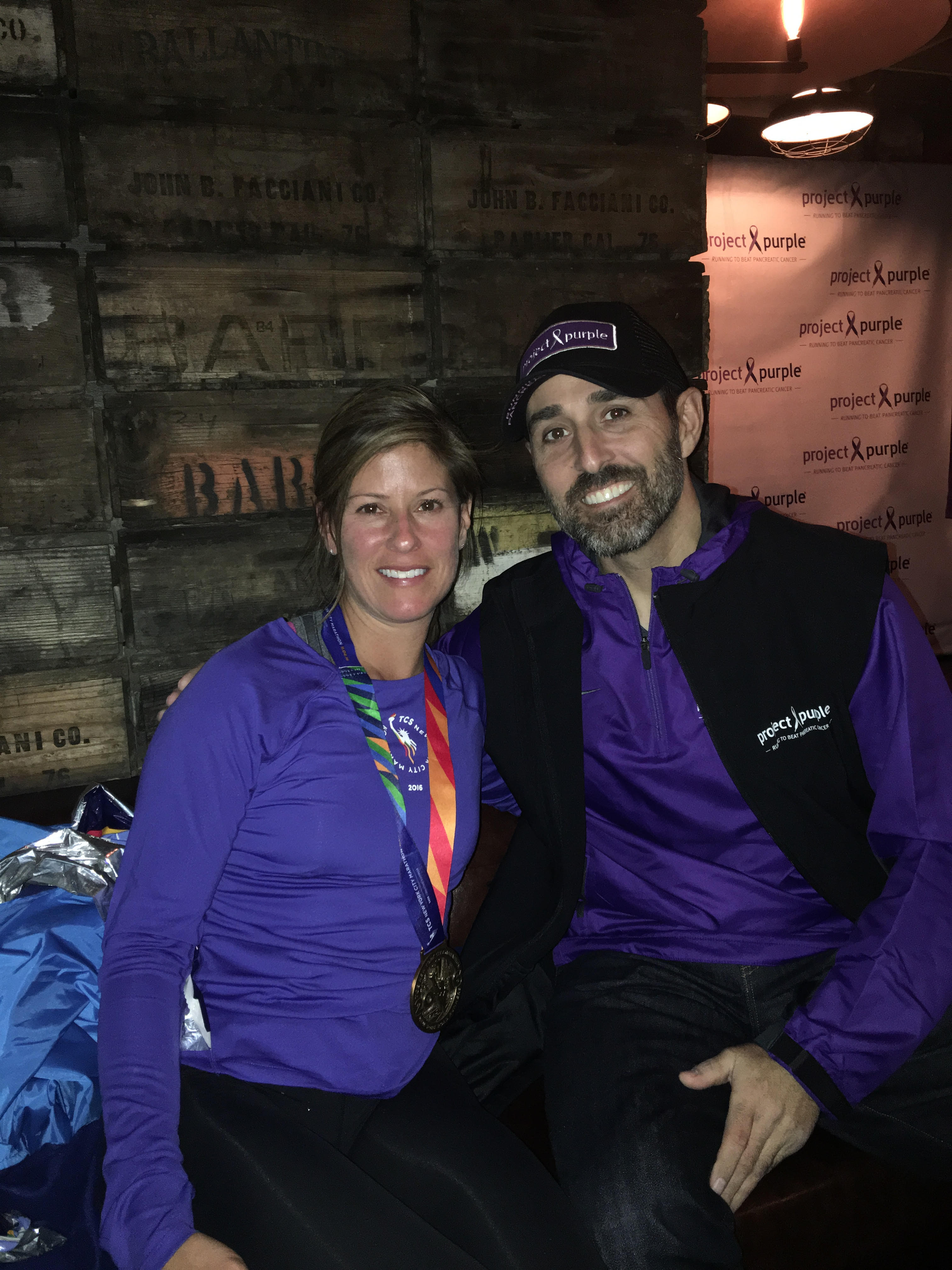 That brief meeting made a huge impact on Tracey. "I have never met anyone so spiritual. He knew what he was facing and he was very resolved. The resilience and persistence he showed-the will to fight- those are things I have taken with me."
Tracey McGee Joins Project Purple
Already a dedicated charity runner, Tracey decided then and there that she would run the Chicago Marathon and raise money for Project Purple in 2017. She has already raised approximately $25,000 for charities, but she has a goal of raising $100,000 in her lifetime. She says, "When I hit $100,000 raised for charity, I can hang up my running shoes!" Though she had already earned entry to the race via the lottery system, she promised Rick and Project Purple CEO Dino Verrelli that she would not show up at the starting line without raising money for Project Purple.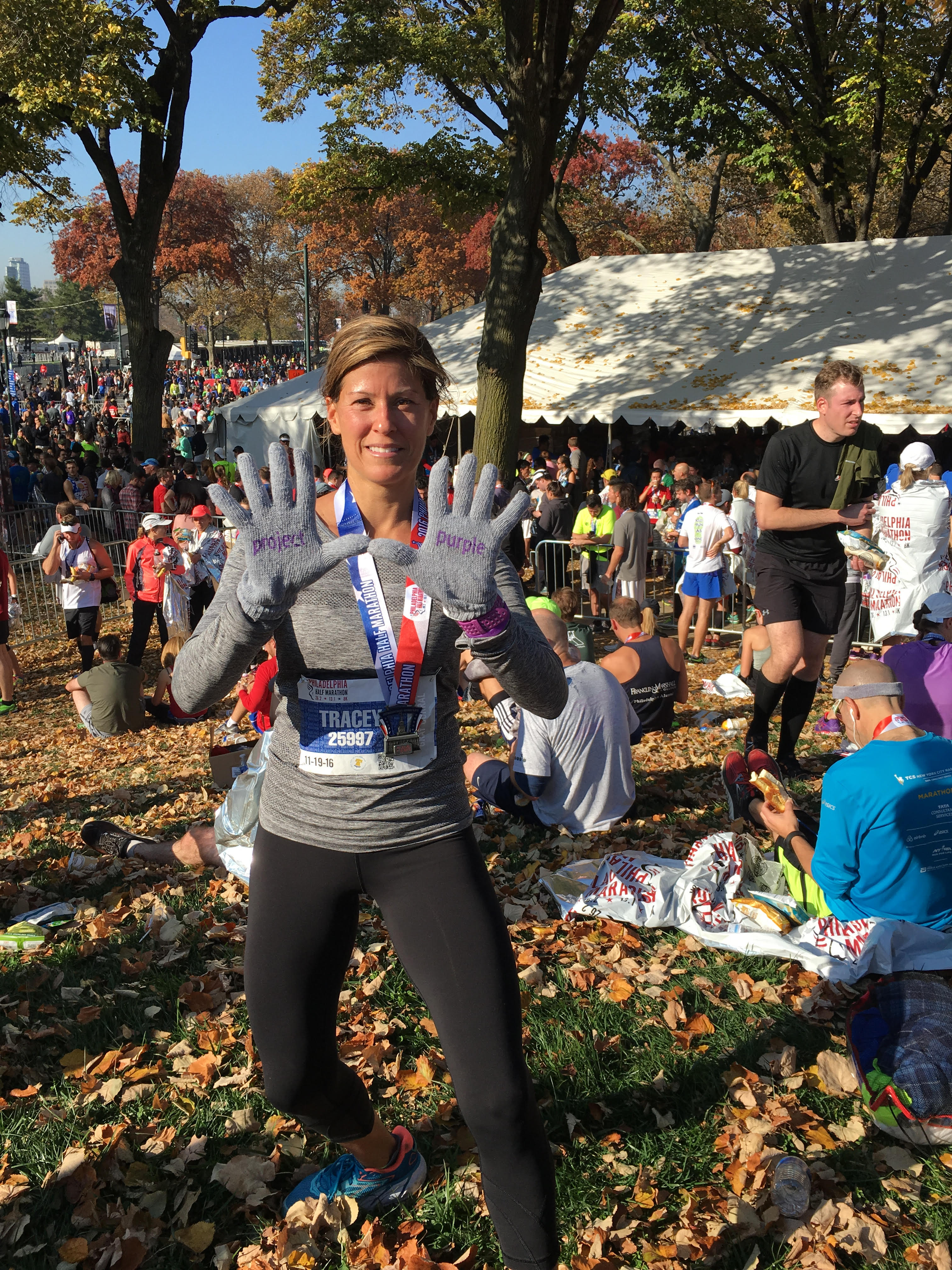 Pancreatic Cancer
Once she put the word out that she was running to raise money for Project Purple, people began sharing their own pancreatic cancer stories. She has now heard many stories of friends and family losing someone special to the disease. Her inspiration, Rick Carone, passed away June 29, 2017. Tracey was deeply affected by Rick's passing, adding, "There is not a day that goes by that he is not on my mind."
As she prepares to run her comeback race at the Chicago Marathon, she dedicates her runs to people lost to pancreatic cancer. On Sundays, she dedicates her friend Meg's mother, Suzanne, who passed away from the disease. Although she is working on her comeback from a devastating physical injury, she keeps the cause at the forefront of her mind at all times. She says, "I am running for a cause so much bigger than a marathon time."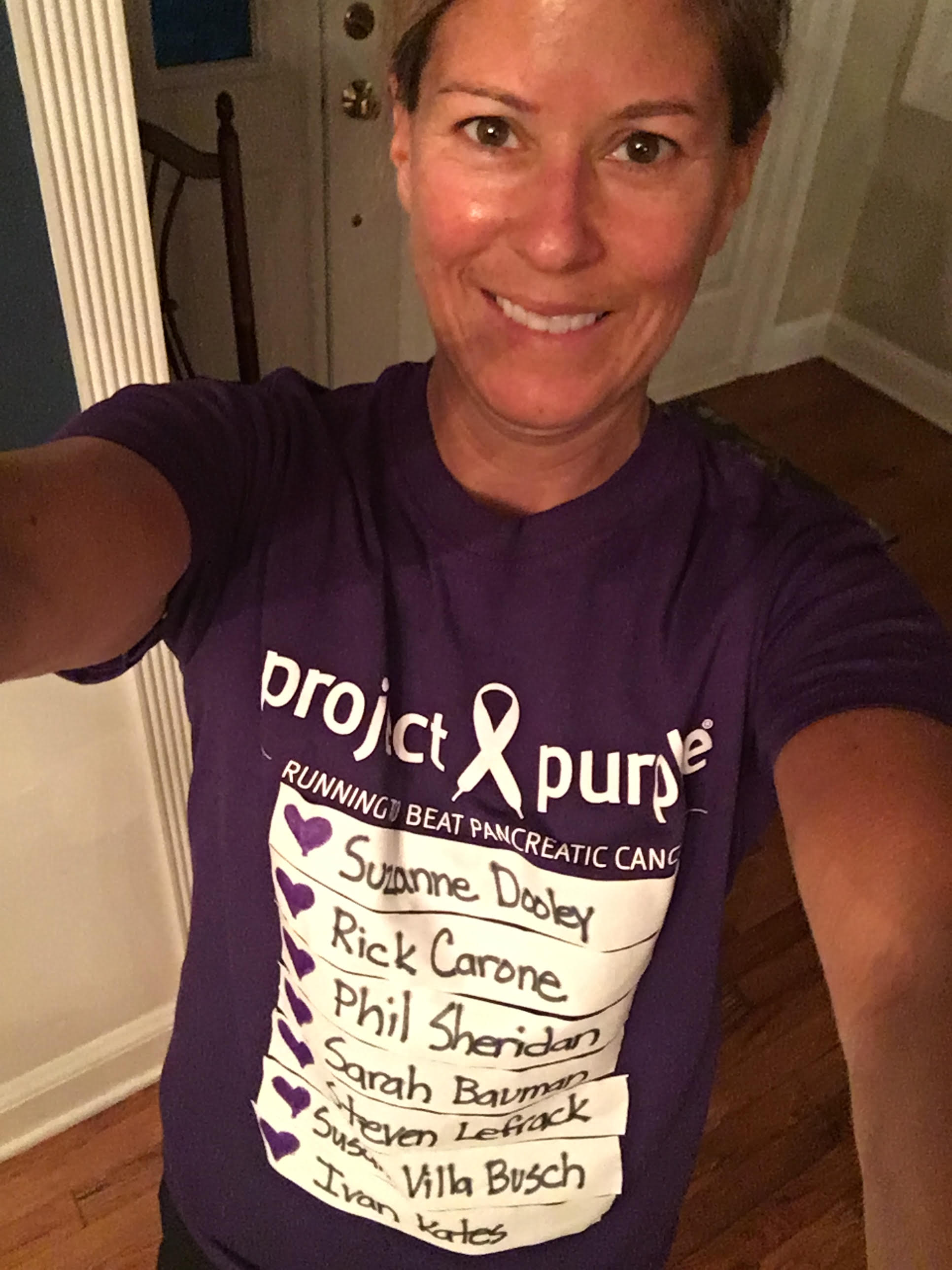 Running for Those Who Can't Run
"Chicago will be my sixth marathon and my big comeback. I am so excited to meet the other Project Purple runners. My goal is to enjoy the experience. I have been very fortunate so far in my life and I am running with people who have had a much harder time than I have had. I am going to be running with men and women who have lost mothers, brothers, fathers, and sisters to pancreatic cancer." For Tracey, this run will be for her teammates, for Rick, and for everyone lost to pancreatic cancer.
To support Tracey McGee's Project Purple fundraiser, please make a donation HERE
If all goes well for Tracey is Chicago, she will be running the New York City Marathon with Michelob's Team Ultra. She is featured in a commercial you can see HERE