Kathleen Dunne Balducci and her family started the Horner Hustle 5K run in 2017 to honor the legacy of her brother-in-law, Mike Horner. Mike's battle with pancreatic cancer only lasted nine months, but in that time he showed incredible strength and resilience towards this disease. Today, this in-person and virtual run has been a staple in the Project Purple community for six years now, pushing our pancreatic cancer community to get moving for a highly important cause. 
Mike Horner and His Battle
Horner entered Kathleen's family when he married her older sister Heather. The couple connected with each other through eHarmony, only to realize they had met years before at a New Year's Eve party. Through the simple serendipity of life, this second meeting for Mike and Heather sparked a beautiful marriage and created their daughter, Mary Helen. 
Everything was on track for the couple in December of 2015. They had just moved into their dream home and had been blessed with a new baby. However, Mike was experiencing severe indigestion and pain, enough to push him to see his primary care physician. The doctor believed that Mike had ulcers, spurred on by the stress of his recent switch in occupation. 
When his condition worsened, the Horners took a trip to the emergency room, hoping they could find some relief to Mike's pain. Instead, they received a stage four pancreatic cancer diagnosis. 
At first, the couple was in denial. They consulted several other medical professionals, hoping the diagnosis would change. When they finally had to accept Mike's new condition, the couple needed advice on how to navigate through their shocking new normal. 
Because Mike was so young, only 45 at the time of his diagnosis, and he had lived a happy and healthy life until this point, doctors expected him to be able to withstand the aggressive chemotherapy necessary to combat his tumors. However, the cancer had already spread to his liver, and treatment only seemed to make his condition worse. 
Mary Helen was only 6 months old at the time of her father's diagnosis. Even as he went through treatment, Mike tried to maintain a positive attitude and a sense of normalcy at home. He made time for his daughter and pushed himself to continue working. However, it wasn't enough to stave off the effects of this disease. 
Sadly, Mike passed away just before his forty-sixth birthday, nine months after his diagnosis.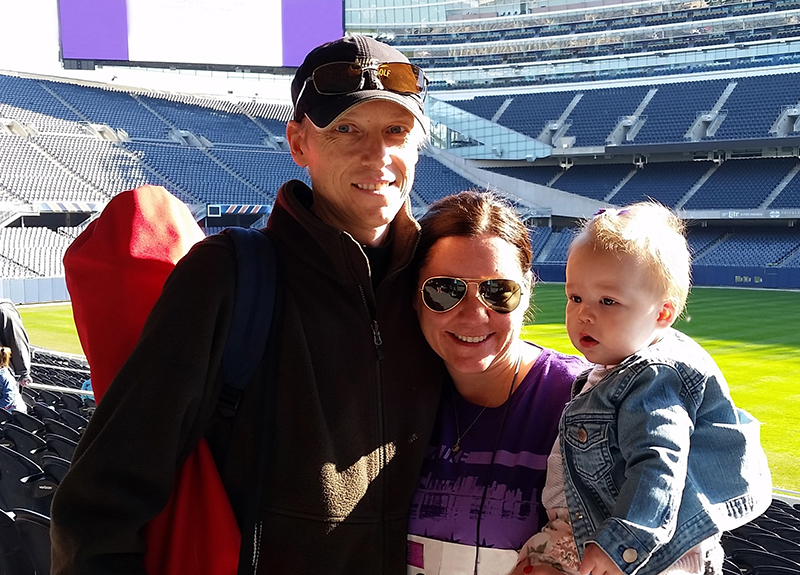 Grief and Running
Heather and her family were heartbroken after Mike's passing. Kathleen and her sister Kelly needed to find a way to bring the family back together. They decided that running might be the way to reconnect with their heartbroken sister. 
Kathleen and her sisters had been runners before Mike's passing,  but Kathleen hadn't laced up her running shoes in several years.
Together with the help of her family, Kathleen began to look for ways to fight against this disease that took Mike too soon. When they found Project Purple, they realized it was a great organization to become more involved.
Now, Kathleen is on the Executive Board at Project Purple, working directly with the organization in the hope of creating a world where no one else will have to lose a loved one to pancreatic cancer.
Hustling for Pancreatic Cancer
Horner Hustle has always been a popular event in the Project Purple community, and this year, the event saw a total of 259 registrations. These nearly three-hundred participants raised a total of almost $10,000 for the fight against this disease. Online, people also showed up to support Project Purple and the Horner family, raising over $14,000. 
All the proceeds from the event contribute directly to Project Purple's mission of a world without pancreatic cancer and the search for new treatment methods and early detection for this disease. Kathleen and her family believe that research is the best way to combat this disease. 
Project Purple wants to thank Kathleen and her family for all the support that they have given Project Purple over the years. This year, in total, Horner Hustle raised nearly $25,000 for the organization to support our mission of a world without pancreatic cancer. 
If you are interested in getting involved with Project Purple please click here for more information. If you want to hear more about Mike and Heather's story, please click here for more information.