As Mother's Day approaches, Project Purple honors the moms affected by pancreatic cancer. Some are moms we have lost after battling the illness while others are still engaged in the fight for their lives. Project Purple runners tell us why their moms and their fight are so important to them.
Tova Markowitz
Project Purple New York City Marathon runner Tova Markowitz's mother, Louise Abrams , was recently diagnosed with Stage II pancreatic cancer. Louise had the Whipple surgery and now is receiving chemotherapy. Tova says, "The side effects are not fun, but even today, my mom said, 'If I have to wear compression socks for the swelling and take mouth wash for the cold sores, it's not so bad. It could be worse'."
Tova, who has engaged in a long health battle herself, gets her sunny disposition from her mom. "When you look up the word optimism in the dictionary, you will find the name Louise Abrams. My mom sees the positive in every situation." Tova was shocked to learn her mom had cancer. Louise called her daughter in tears, saying, "I have pancreatic cancer and I'm not as brave as you." Tova adds, "I felt the world turn upside down with those eleven words." She told her mom, "We will get through this. Who do I get my courage from anyway? I am strong because of you." Louise is currently undergoing treatment in hopes she will remain cancer-free.
Louise walked a 5k in April and is looking forward to getting back in the gym with her trainer. For Mother's Day, Tova will celebrate her mom's continued survival.
Ryan Welsh
Project Purple Boston Marathon runner Ryan Welsh lost his mom, Anne Lessing, to pancreatic cancer when he was just 27 years old. He reflects on losing his mother at such a young age, saying, "It's an extremely empty feeling knowing that you're losing the one person that molded you into who you are today, the person that knows you better and longer than anyone on this planet. It's a lonely feeling that creates a void that can never be filled honestly."
Ryan explains, "As someone that is younger, I have to find ways to continue to press forward in my life and in my career, with a major void that's missing. And for me, that means that every new person I meet doesn't initially really know me until they learn about this terrible, sad secret that I have. People have said to me, 'Oh you'll find a new normal' or 'She's in a better place now', but I think that's BS. There isn't anything normal about what I had to watch my Mom go through, and the best place for her right now would've been with us on Thanksgiving, opening presents on Christmas, having brunch on Mother's Day, or waiting for me at the Boston Marathon finish line!"
When asked what he misses most now that his mom is gone, Ryan adds, "Just talking to her. I didn't realize until she was gone how often I went to my Mom for basic advice. Whether it was a relationship/friendship that was falling on hard times, advice I needed on my career, feedback on decorating my apartment, or how long I needed to bake a chicken for, my Mom was very much a part of my everyday life. I miss those talks, I miss her positivity, I miss her wise knowledge, I miss her voice, and I miss her unwavering support for me through the good times and the bad times."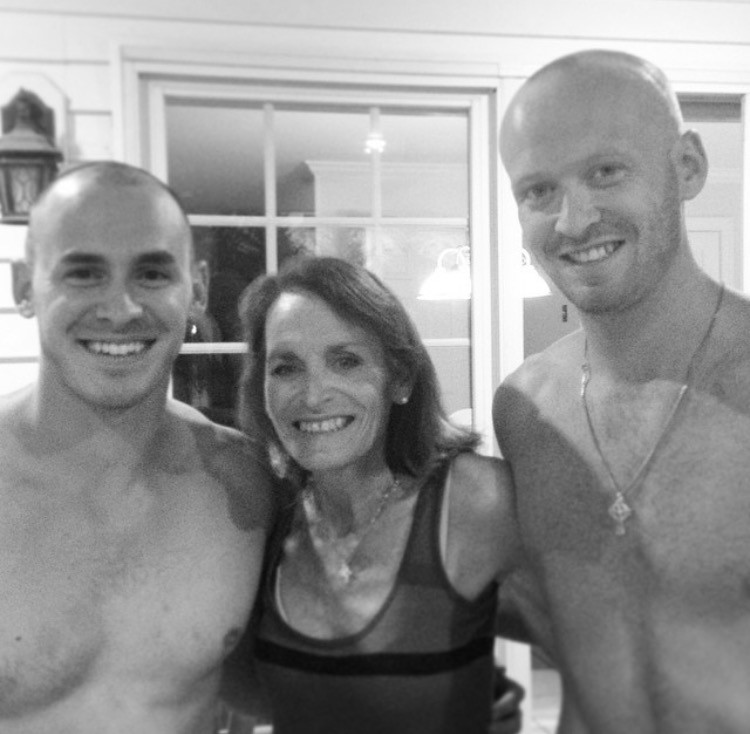 Chelsea Hackett
Chelsea Hackett ran the New York City Marathon for Project Purple in honor of her mother, Rochanne Hackett. Rochanne was diagnosed with pancreatic cancer in May 2014 and passed away just months later in December 2014. She spent twenty years working in the banking industry. Her passion was protecting the financial interests of the Native American community as they moved into the gaming industry. However, it was her sense of adventure that influenced Chelsea the most. Rochanne inspired her daughter to run a marathon, travel and pursue her dreams.
Chelsea says, "When I think about my mother, Rochanne Hackett, I think about perseverance, laughter, genuine connection, and love. She was blazing trails her entire life. She worked in a field where women were rarely seen, and her ability to make genuine connections and value relationships became her greatest asset. My mom was a present and loving mother who knew how to laugh, feel deeply, and love truly. I think of her in my most challenging moments, as well as my greatest moments of joy. She is my greatest inspiration."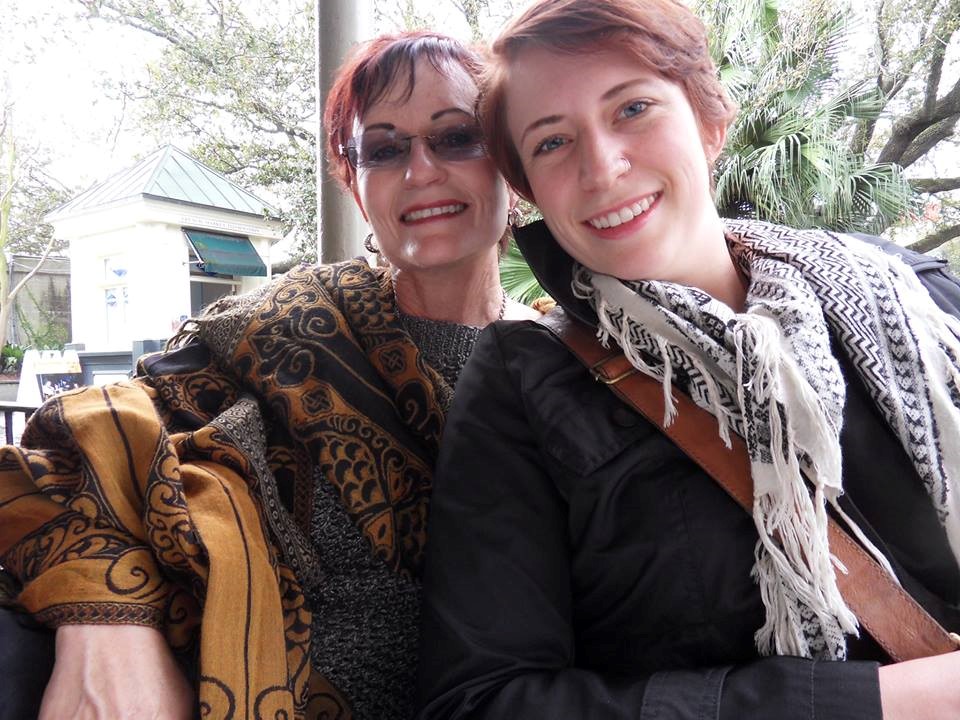 Michael Rice
When Project Purple Twin Cities Marathon runner Michael Rice's mother, Barbara Phelps, learned she had pancreatic cancer in June, 2016, she was told she only had six months to live. With treatment and the love and support of her family, she continues to defy the odds to this day. Though she is still battling pancreatic cancer, she is living her life and enjoying time with her family and friends. She and her husband are currently planning a trip to Austin, TX, while she takes a temporary break from chemotherapy.
Michael describes his mom as the kind of person who makes friends easily. Their family is tight-knit and Barbara has been a second mom to Michael's daughter, Meghan. While some families have strained relationships, Michael is thankful that he and his mom have remained close throughout their lives. He lives just minutes away from his mom and plans his running routes so he can stop in and check on her.
Michael sends a Mother's Day message to his mom, saying, "Thank you for being my mom. As the saying goes, she might not be perfect, but she is a perfect mom for us. She has always been there. She has done so much to shape and form the man I am and I am forever grateful for that."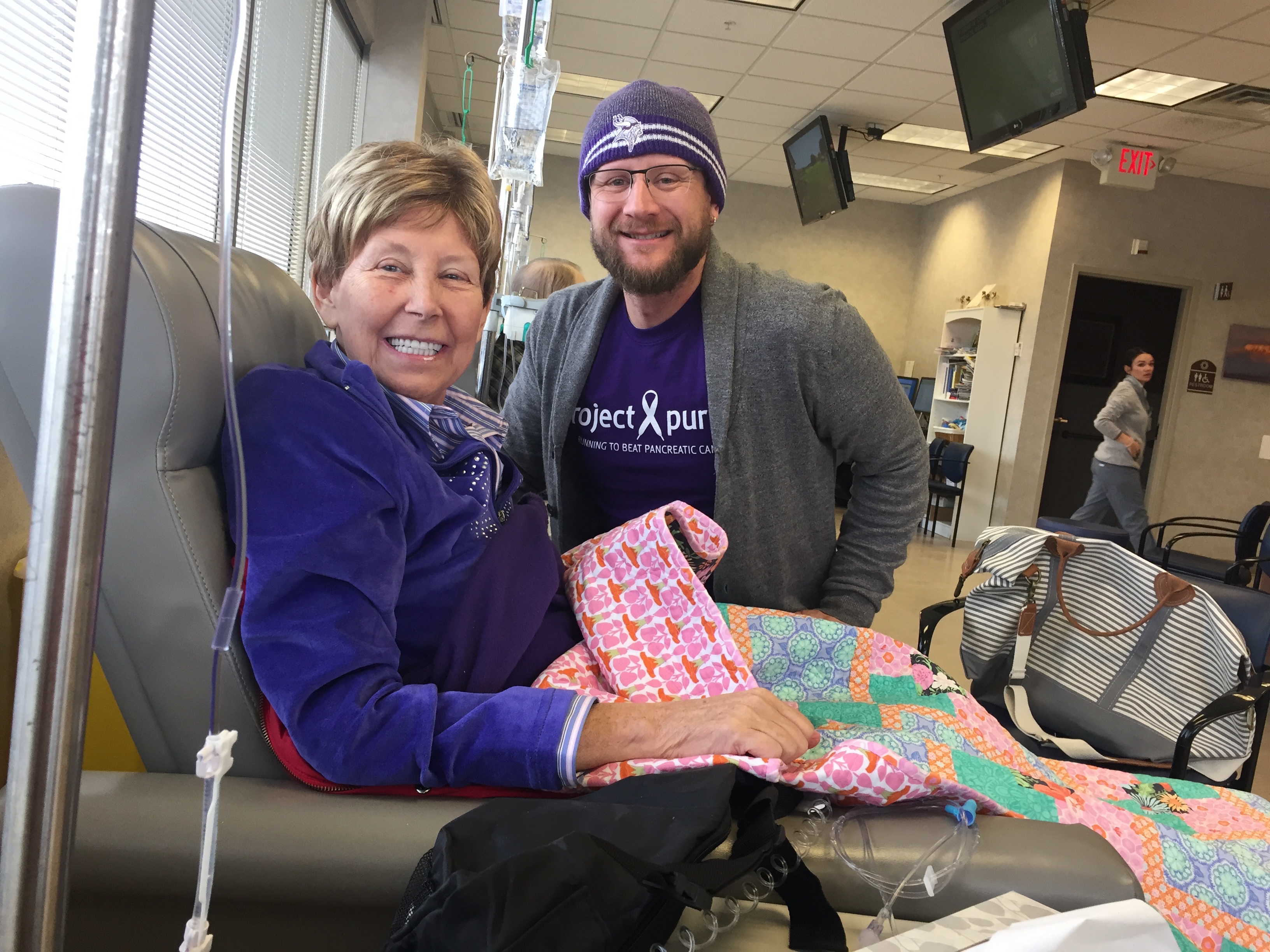 Join Project Purple's fight for mothers this Mother's Day
Project Purple wants to thank moms for all they do. Mothers are the backbones of our families. We send condolences to those who have lost their moms and strength to the moms who are currently fighting.
For more Mother's Day tributes, click HERE
To run or raise money in support of Mothers battling pancreatic cancer, click HERE
To make a donation to Project Purple click HERE